Kevork Djansezian/Getty Images
November 21, 2011
The BCS rankings of 2011 bear a striking resemblance to their 2007 counterparts, when five teams held the top spot in a seven-week span and the likes of South Florida, Arizona State, Kansas and West Virginia all held the revolving-door No. 2 spot at one point.
To summarize the comparison, both sets of BCS rankings have had considerable turnover and no shortage of drama and shock.
Last weekend's action sent the biggest shock wave through the human and computer polls to date, with No. 2 Oklahoma State falling to Iowa State, sanctions-laden USC shocking No. 4 Oregon in Eugene and No. 5 Oklahoma blowing a golden opportunity to move back into the championship picture by losing at the last second to Baylor. 
Does anyone want to move up in these standings?
An inconceivable chain of events has yielded a situation equally inconceivable: Alabama, a loser to No. 1 LSU just two weeks ago, is now back in the catbird seat at No. 2. Usually in college football, a November loss for a BCS-bound squad is a death sentence, banishing the vanquished program to the Gator/Holiday/Champs Sports/Cotton Bowl level against another second-tier team. The fact that the Crimson Tide are anywhere near the top of the BCS heap is hard to imagine. 
Making this situation even more far-fetched is the rise of the late-charging Arkansas Razorbacks, the third SEC West team to occupy the top three in the BCS. An early loss to an elite opponent (Alabama) has been the Hogs' greatest ally as they've run the SEC table over the past several weeks. 
No. 1 LSU. No. 2 Alabama. No. 3 Arkansas. Pretty remarkable turn of events.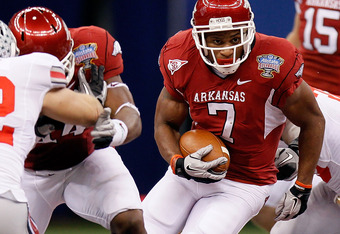 Will Arkansas star RB Knile Davis make his return in time for an upset of No. 1 LSU?
Kevin C. Cox/Getty Images
The insanity doesn't stop with the current landscape; the fact is, two of these three are guaranteed to shake up the standings again, because LSU and Arkansas finish off their seasons against each other this Friday in Baton Rouge. Arkansas is one of the hottest teams in the country and is hopeful to get star RB Knile Davis back from a long-term ankle injury. 
LSU has steamrolled through every challenger on the schedule with an oppressive defense and menacing home-field advantage. The quarterback play has been just consistent enough to keep the Tigers untouched, but Arkansas boasts the best passing and scoring offense in the SEC and is riding as high as ever after seven straight wins. 
Something has to give in this compelling matchup. I think LSU has every advantage, as Arkansas' strength, the passing game, plays right into the LSU strength in the secondary. Throw in the unbeaten record and sizable home-field atmosphere, and LSU should pull this out to remain on top of the standings heading into the SEC Championship against Georgia. 
So that's one team that will drop out: Arkansas.
Another likely tumbler in the latest standings, by no fault of their own, is the 11-0 Houston Cougars. Led by Heisman hopeful QB Case Keenum, the Cougs have represented Conference USA with great honor. 
Unfortunately, the current occupant of the No. 8 slot in the BCS will probably finish on the outside for a few reasons outside their control. First, the Big Ten, possessing no team in the top 10 at current, must be granted an automatic qualifier as a power conference. The Big Ten qualifier will be the winner of this week's No. 19 Penn State vs. No. 16 Wisconsin tussle or No. 14 Michigan State. That's one team that is guaranteed a spot before Houston receives an at-large bid to the BCS party.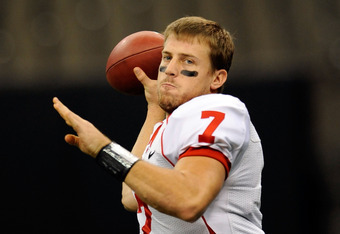 Case Keenum is re-writing NCAA record books every week, but would trade all the personal accolades for a BCS berth.
Stacy Revere/Getty Images
Another reason that Houston is on thin BCS ice is because the computer rankings love No. 9 Oklahoma, which still has room to ascend with a chance to beat No. 4 Oklahoma State in the Bedlam Game Dec. 3 in Stillwater. If Oklahoma wins that game, they're sure to vault Houston into the No. 8 spot or higher, further weakening Houston's case.
Third, No. 10 Oregon, the Pac-12 North champion, will earn the inaugural Pac-12 Championship, barring a shocking upset at the hands of UCLA in the title game. A win will not only push Oregon above Houston in the standings, but it will also give the Ducks an automatic bid before Houston gets any at-large invite.
The last team in right now, but likely to be out on BCS selection day, is the No. 5 Virginia Tech Hokies. Frank Beamer's bunch has silently climbed up the polls and BCS rankings since getting rolled up 23-3 at home by Clemson on Oct. 1. Clemson's explosive athleticism made Virginia Tech look completely outmatched, playing a style and pace that the team isn't suited for. 
Barring a loss to Virginia in the season finale against Virginia, the Hokies should clinch their ACC division and a rematch with Clemson in the ACC Championship game. The Hokies' fate rides on that game, with a BCS berth at risk and a possible BCS Championship berth to gain with a win. A Virginia Tech win would mean great things for the non-AQ teams like Houston and Boise State, but a Clemson ACC title will earn the Tigers a BCS berth while knocking Houston and Virginia Tech out in all likelihood. 
My assumption is that, despite a six-game win streak since that Oct. 1 loss, Virginia Tech is ill-equipped to beat Clemson. The Tigers have lost two shockers since the win in Blacksburg, but still have their swagger and a lot to gain from their rematch with Virginia Tech. 
There is only one week left, plus conference title games, to go in the college football season. The BCS rankings, however, are in as much flex as ever, which lends some serious drama to these last two weeks of college football.
Keep your seat belts fastened, and watch for even more BCS shakeup before the names are called and invites made.
Like the new article format? Send us feedback!