BCS Bowl Projections 2012: Who's Set to Stick Atop the BCS Standings?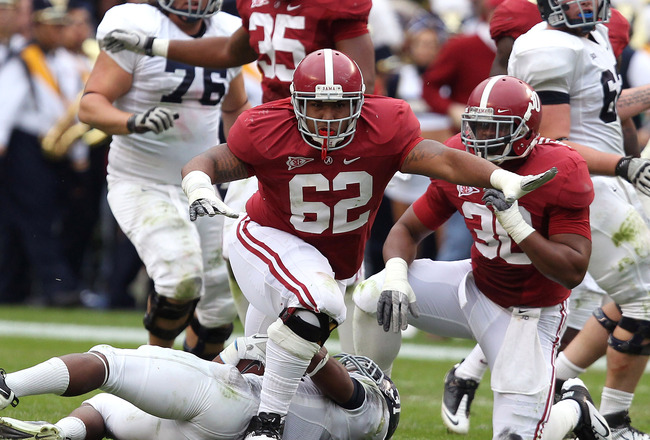 Mike Zarrilli/Getty Images
We have a new round of BCS Bowl projections, and after one of the wildest weekends in recent college football history, you can rest assured that there have been some significant changes to go right along with the post-upset-apocalypse BCS rankings that were released last night.
LSU is still the undisputed king of college football, but where do the rest of the one-loss—and now two-loss teams—fit into the larger BCS picture? Who still has a shot at the title, and who is just barely hanging on to a slim BCS hope?
Let's take a look at our 2012 BCS Bowl projections after Week 12 and which teams are going to be sticking around the top of the BCS standings.
No. 14 Michigan State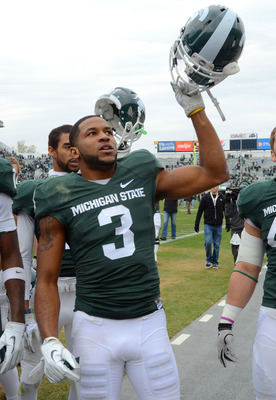 Mark A. Cunningham/Getty Images
Michigan State's drubbing of Indiana meant more than capturing the Old Brass Spittoon for the third-consecutive time (2007, 2008, 2011—MSU and IU did not play in 2009 or 2010). Combined with Michigan's dismantling of Nebraska, the Spartans captured the inaugural Big Ten Legends Division title.
The Spartans will play in the first Big Ten Championship Game on December 3 against the winner of next weekend's Penn State-Wisconsin contest for a trip to Pasadena—a location the Spartans haven't visited in January since since 1988, when they defeated USC 20-17.
Mark Dantonio has certainly build MSU back into a winning program, and another Big Ten championship would mean big things when it comes to recruiting.
At worst, Michigan State is probably looking at a Capital One Bowl berth this season, but depending on how the final BCS rankings shake out, it's entirely possibly that Michigan State could earn a second BCS berth for the Big Ten as an at-large team, should the Spartans fall short on Dec. 3.
No. 13 Georgia and No. 12 South Carolina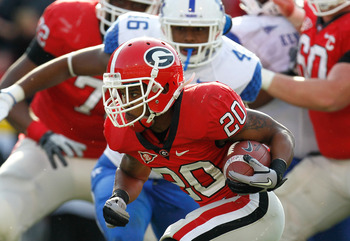 Kevin C. Cox/Getty Images
These two teams are combined because they're basically in the same boat.
It's highly unlikely that either of these BCS-eligible teams will play in a BCS game this January unless the unthinkable happens.
South Carolina is all but eliminated from consideration as there are three SEC teams ahead of the Gamecocks in the rankings, and SC has been eliminated from SEC-East contention.
Georgia stands only a slightly better shot, but in order to reach the BCS this season, they'll need to knock off whoever emerges from the traffic jam at the top of the SEC-West.
Winning the East Division this season is a great accomplishment for Georgia (especially after last season), but the West is just too powerful to allow any BCS at-large bids to be handed out to teams from the East.
Still, don't expect either of these teams to drop very far, even if Georgia were to lose to a guaranteed top two team in the SEC Championship Game.
No. 11 Kansas State
Brett Deering/Getty Images
Who would have believed that after Week 12, Kansas State still had a shot to win a share of the Big 12 title?
That's exactly what will happen if Oklahoma beats Oklahoma State as each of the three teams will finish with a 10-2 (7-2 Big 12) record assuming K-State can take care of business against a high-flying Iowa State team.
The BCS computers seem to really like the Big 12 this season, and it's likely that the Big 12 could find itself with two BCS berths this year.
Even if the Wildcats don't finish the year as Big 12 co-champions, it's still likely we'll see KSU in a BCS game. An Oklahoma loss would almost certainly drop the Sooners below the Wildcats in the BCS rankings, which puts K-State in a perfect position to gobble up an at-large bid.
No. 10 Oregon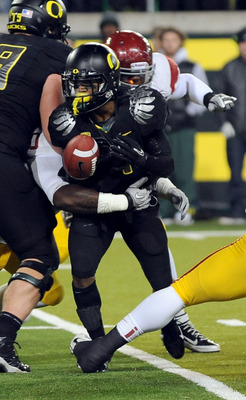 Steve Dykes/Getty Images
At this time last week, we were toying with the idea of Oregon possibly making a late push towards a BCS Championship Game berth (provided all of the right things happen). While the Ducks needed Oklahoma State to lose, they forgot to take care of their own business at home against USC.
A stunning win by the Trojans—who were 16.5-point underdogs—ended any fantasies about seeing the Ducks playing in New Orleans this January.
However, the season isn't quite over for Oregon. The Ducks will still claim the Pac-12-North championship if they defeat Oregon State next weekend (as the Ducks hold the head-to-head tie-breaker against Stanford).
With the South Division making a strong case to be renamed the JV Division, it's likely that the Ducks will be booking hotel rooms in Pasadena for the day after New Year's.
No. 8 Houston and No. 7 Boise State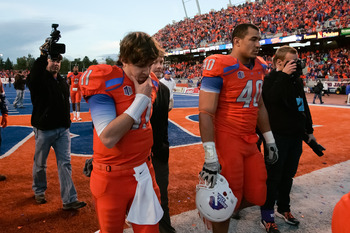 Otto Kitsinger III/Getty Images
We're giving you another two-team snapshot, this time with both of our non-AQ top 10 teams.
If ever there was a season that proves the FBS needs some sort of small playoff system, this would be it.
Who among us wouldn't want to see a potential Houston-Boise State meeting this year? Or maybe Boise State-Alabama or Houston-LSU (the potential first-round meetings in an eight-team playoff)?
There have been some questions from both Houston abd Boise State fans about what needs to happen to reach the BCS this season. We're here to help, so pay attention, class.
Houston's path to the BCS is fairly simple: win and you're in. If the Cougars finish 13-0 with a C-USA title in hand, according to BCS selection rules, they will automatically qualify as the highest-ranked non-AQ conference champion while being ranked in the top 16.
Boise State's road is a bit more murky, and the Broncos will need some help.
The BCS's elite program protectionism prevents more than one non-AQ program from participation each season. So if Houston gets in, Boise can't. Further, if Houston somehow doesn't win the Conference USA title, then TCU would be the next most-likely candidate, as long as the Horned Frogs can crack the top 16. The Frogs will be the champions of the Mountain West (as they hold the head-to-head tie-breaker over Boise State), and should TCU be the only non-AQ conference champion in the final top 16, the Horned Frogs will be making yet another BCS appearance this season.
It's certainly not fair, but Boise State's only chance now—even as a top 10 team in the BCS, is to have TCU lose (dropping them out of a likely top 16 position) and Houston to fail to capture a conference title.
No. 6 Stanford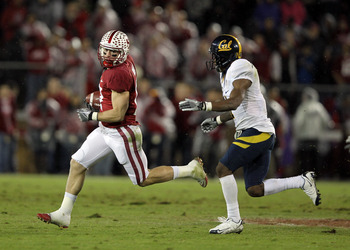 Ezra Shaw/Getty Images
Stanford's Pac-12 season is complete, and the Cardinals posted an 8-1 conference mark, putting them a half game up on the Ducks.
If the BCS powers that be grant the Pac-12 two BCS bids this season (which is far from certain), Stanford likely only needs to win their final game at home against Notre Dame to return to the BCS this season.
Of course, there's still the possibility that Oregon could lose to Oregon State, which would give Stanford a bid to the Pac-12 Championship Game, but that's a long shot.
Of course, with the rash of upsets lately, anything is possible.
No. 1 LSU, No. 2 Alabama, and No. 3 Arkansas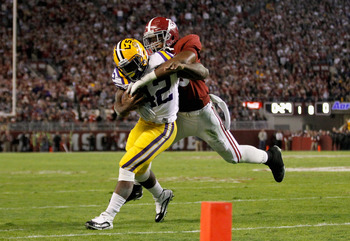 Streeter Lecka/Getty Images
We might as well lump the top three together, since their fates are so intertwined.
The mathematics are pretty convoluted, and it's likely that no one can accurately predict exactly how the polls and computers will react to the remaining scenarios for these three teams, but we'll attempt to shed a tiny bit of light to this incredibly byzantine system.
First, LSU is, at this point, a likely lock for the BCS title game. The only remaining scheduled game for the Tigers is next weekend's battle with No. 3 Arkansas in Baton Rouge.
Should LSU lose this game, the numbers point to LSU dropping a single spot to No. 2. Remember that LSU has, by far, the strongest strength-of-schedule argument in the nation, and No. 1 losing to No. 3 won't be penalized by the computers like a No. 2 losing to an unranked opponent (and Oklahoma State wasn't punished that much by the microprocessors).
If Arkansas beats LSU and Alabama loses to Auburn, you'll likely see Arkansas jump into the No. 1 spot, claim the SEC-West bid to the SEC title game to face Georgia, and LSU may simply wait in a holding pattern to see if they play Arkansas or Oklahoma State in the BCS title game (sorry Virginia Tech fans, but there's too much of a drop between No. 4 Oklahoma State and No. 5 Virginia Tech to realistically believe the Hokies can make the leap).
Where things really get fun is the selection process for the SEC title game...
The SEC Championship Game Selection Chaos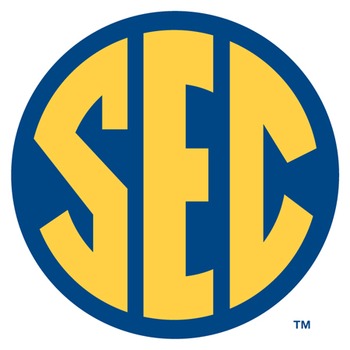 We all know Georgia will represent the SEC-East on Dec. 3 in Atlanta. But who will the Bulldogs play?
There are a few possibilities of outcomes for this next weekend's games.
First, LSU and Alabama win.
Second, Arkansas and Alabama win.
Third, LSU wins and Alabama loses.
Fourth, Arkansas wins and Alabama loses.
Let's take a look at the first option. This is perhaps the easiest to understand, since if No. 1 and No. 2 take care of business, we expect to see a rematch no one outside of Alabama is excited to see. Even Crimson Tide fans have to admit that Alabama's loss to LSU was not only ugly, it was painful and mind-numbing to watch.
Arkansas would obviously drop a position or two with this loss, but there's not nearly enough mathematical room for No. 4 Oklahoma State (.8408) to leapfrog No. 2 Alabama (.9491) given the fact that OSU is now playing a two-loss Oklahoma team on December 3.
So if both the Tigers and Tide win, the nation will be treated to what will be the BCS title game with perhaps the lowest television rating since the inception of the current system.
But what if Arkansas and Alabama win?
That all depends on how far LSU falls in the BCS rankings. According to the SEC, the tie-breaking procedure for selection a divisional participant for the SEC Championship Game is to look at BCS rankings. The SEC eliminated the lowest of the three teams in the BCS rankings as long as the top two teams are within five ranking positions of one another (which will be the case).
So, Arkansas could win and will likely leapfrog Alabama into the No. 1 spot (as Arkansas has a slightly higher SOS rating in the computers than Alabama). Since Alabama will be the No. 2 team (withing five positions), Alabama wins the SEC-West tie-breaker and plays in the SEC title game against Georgia.
If, however, Arkansas wins, LSU drops to No. 2, and Alabama falls to No. 3, then Arkansas would win the tie-breaker, earning a trip to Atlanta.
Confused yet? Just wait. It gets better.
If Arkansas is the No. 1 team but Alabama plays in the SEC title game, you can bet that an Alabama win over Georgia would supplant Arkansas as the No. 1 team in the nation, and Arkansas would likely fall to No. 2 or even No. 3.
If both Arkansas and Alabama lose, it's possible that Arkansas will still leapfrog Alabama (since Alabama will lose to a much lower ranked team), or it's conceivable—however unlikely—that Oklahoma State could make up enough ground with some human intervention.
If LSU and Alabama both lose, you'll likely see LSU fall to No. 2 in the rankings, while Arkansas goes on to play in the SEC title game. In that situation, an Arkansas win in the SEC title game would likely give us an LSU-Arkansas rematch in the BCS title game.
So what's the bottom line?
It's highly likely we're headed for what no one really wants to see: an all-SEC BCS Championship Game.
While SEC fans might like this on the surface, let's say LSU and Alabama face off on January 9 in New Orleans. What if Alabama wins? LSU fans would have a legitimate beef win another national championship claim by 'Bama.
BCS Bowl Projections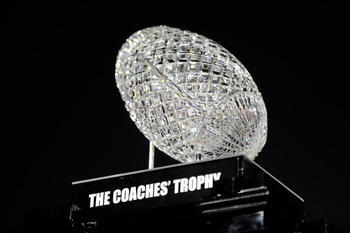 Again, we are going to raise the point that if ever there was cause to institute a mini BCS playoff system, this year has to be the prime example. With so many deserving teams—and so much yet to be decided—it's almost impossible to make accurate predictions—especially given the penchant for upsets during the 2011 season.
But we're going to give this another shot. After Week 12, here are our current BCS Bowl Projections.
Rose: Michigan State vs. Oregon
Fiesta: Oklahoma State vs. Houston
Orange: Virginia Tech vs. West Virginia
Sugar: Stanford vs. Kansas State
BCS National Championship: LSU vs. Alabama
Keep Reading