10 Most Dazzling Touchdowns in Saints History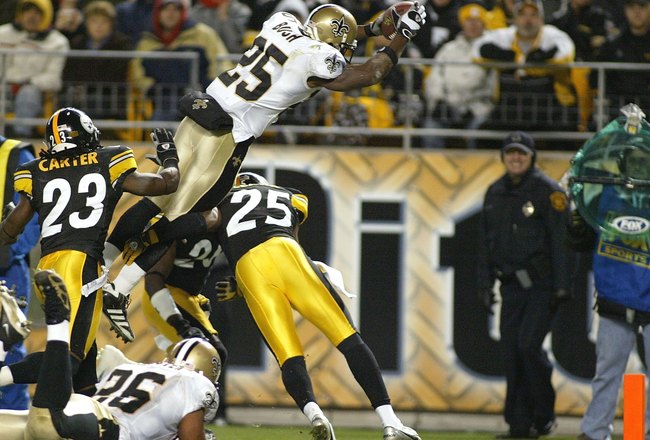 Rick Stewart/Getty Images
With the high-flying, potent offensive attack of the New Orleans Saints, pinning down 10 touchdowns even in the last decade is a difficult task.
The Saints have been the most explosive offense in the NFL for the past six seasons under Sean Payton and Drew Brees.
As a result, a lot of eliminating has to be done in comprising such a list. There are some very worthy candidates that will be left off—Marques Colston's array of over-the-middle touchdown grabs between two defenders, key touchdowns in some of the playoff games (though a few playoff touchdowns will also be included), and even some defensive touchdowns that for many teams would make the cut.
The list I've comprised is meant to be the most spectacular and memorable touchdowns the Saints have had in the past decade, save for one, for obvious reasons. And in most cases they are also the most important.
Enjoy the touchdown-fest put on by and for Who Dat nation.
10. Robert Meachem's Strip Fumble Recovery Return vs. Washington in 2009

Few plays were as emotionally impactful for the 2009 Saints.

Minus the dramatic production, Robert Meachem's strip fumble recovery return against Washington was the emotional turning point in the Saints' 12th win of 2009.
In fact, it is likely the play that Robert Meachem will most be remembered for in his New Orleans Saints career, which is fitting since he's one of the hardest-working no-nonsense type players the Saints have.
Say what you want about Brees' poor decision and throw, this play is all about the incredible effort and determination Meachem showed to rip the ball away from the Redskins' defender and then the wherewithal to immediately transition back to offensive mode and run in for the touchdown.
Meachem has become known as a smart player and a guy who makes big plays—both of which were displayed ever so brilliantly here.
9. The Hook and Ladder so Successful, Then so Not Successful
Down by seven with seven seconds and 75 yards to go, the Saints dialed up the only play reasonable.
Aaron Brooks hit Donte' Stallworth up the sideline, who then lateraled sideways to Michael Lewis, who then threw it backwards to Deuce McAllister, who finally threw it back to Jerome Pathon, who walked in for the Saints' tying—err, down by one point.
Unfortunately, this play became less spectacular because of John Carney's unbelievable miss.
But he and the Saints would have better days down the road.
8. First Play in Team History Is a Touchdown!
Rookie running back John Gilliam returned the opening kickoff against the Los Angeles Rams 94 yards for a touchdown.
Unfortunately, the play seemed to act more as a curse than a good omen for many, many years.
Some may say it was worth it.
Others may say they would've rather had a more inauspicious start only to have success come quicker.
Either way, the Saints' opening-play touchdown is rather remarkable.
7. Reggie Bush Flies into the End Zone from a Mile out vs. Steelers
The next two touchdowns ought to be dedicated to and sponsored by Reggie Bush.
The player was nothing if not spectacular in his time as a New Orleans Saint.
In 2009, playing in a back-and-forth game against the then-defending champion Pittsburgh Steelers, Reggie Bush took the reverse and flew through the air in what was the most acrobatic touchdown I had ever seen to that point.
Of course, Reggie wasn't done.
6. Reggie Reprises His TD Acrobatics vs. Dolphins to Help Saints Stay Perfect
In a game where the Saints were once trailing 24-3 to a Miami Dolphins team which frankly wasn't very good, the Saints had a number of big plays to get back in the football game.
None were as exhilarating as Bush's end around and dive from six yards out in the fourth quarter.
It might be the most amazing thing I'd ever seen in a football game if he hadn't done it before.
Reggie's acrobatics never seemed to leave us with breath, only they were too few and far between.
Nonetheless, this play was as exciting as any Reggie ever produced in a Saints uniform.
5. Lance Moore's Incredible Touchdown vs. Baltimore in 2010
Lance Moore has caught a number of touchdown passes in his Saints career.
None of them have been as spectacular, bizarre and unreal as the juggling reception while tip-toeing the sideline against Baltimore last December.
Though the Saints lost the game, they certainly won in the area of spectacular catches, as Jimmy Graham had an incredibly spectacular touchdown catch as well in this game.
4. Deuce Fights for a Game-Winning Touchdown vs. the Eagles in 2006 Playoffs
This view doesn't capture just how tough a run Deuce made against the Eagles defense to get in the end zone.
But it does successfully capture the emotions of what this touchdown meant for New Orleans and the team.
It was a game-clincher and an emotional teaser, as the Saints gave the city of New Orleans tons of hope going into their first NFC Championship Game.
The Saints won 27-24 in a game Deuce McAllister almost single-handedly won by himself.
3. The Punt Block
Is there a more memorable touchdown in Saints history?
If the New Orleans Saints hadn't won the Super Bowl, then it's likely there wouldn't be one more memorable.
But Steve Gleason's block and Curtis Deloatch's recovery in the end zone instantly became the play by which all of America thinks when they think of the New Orleans Saints post-Katrina.
For that reason alone, its spectacular-ness is way up the charts.
Not to burn any candles, but one must be honest when viewing the play and notice that the Falcons didn't block anybody.
For that reason, the play was much easier and not quite as spectacular as the final two. But it is absolutely an incredibly memorable play—one that will live on forever in Saints' lore.
2. Pierre Scores the Saints First-Ever Super Bowl Touchdown
If not for No. 1 and No. 3 on this list, I would say this would be the most memorable touchdown in Saints history.
Because of those two, I would argue this is the third-most memorable, though the second-most spectacular.
Scoring a touchdown in the Super Bowl is something every kid dreams of growing up—or the equivalent in baseball, basketball or hockey. Pierre Thomas actually did it.
And he did it the same way he's scored countless touchdowns before and after—with patience and determination.
Thomas' 16-yard screen-pass scamper and dive into the end zone was the first Saints Super Bowl touchdown ever.
And he made a difficult play look so easy. The whole team executed their job on the play and in the game, which is why they were Super Bowl champs.
1. Tracy Porter Picks off a Legend and Goes All the Way to Become One Himself
The video says all that needs to be said except this: this wasn't actually the game-winning touchdown, as I believe most people incorrectly remember it to be.
This was, however, the most memorable play of the game and in Saints history.
Watch this clip to see how it all developed, and relive the glory of a Saints Super Bowl victory.
Keep Reading

New Orleans Saints: Like this team?