Cesc Fabregas Is World Football's Answer to LeBron James
November 21, 2011
Mike Hewitt/Getty Images
LeBron James is an athlete that literally needs no introduction. Touted as the next Michael Jordan, James' initial hype seemed to be nothing short of fan pandemonium. "King James" possessed all all the talent and ability, albeit at that point in a raw sense, to go on and potentially usurp Jordan as the NBA's greatest player ever.
However, James' fantasy so far hasn't seemed to have panned out as he probably would have liked, or at least initially expected.
After seven barren years with the Cleveland Cavaliers, where he was worshiped as the team's crown jewel, "Mr. Basketball"—as he was referred to back in high school—essentially jumped ship. For a Cavs' fan, hearing James talk of his intention to "take his talents down to South Beach" was arguably an all-time low.
The Cavaliers would now have it all to do without their main man. Essentially, at least as far as Cleveland was concerned, the King was no more.
Though James' decision to depart and move to the Miami Heat—a team that, with the acquisition of James himself, now boasted three superstars in all—in itself speaks volumes of his character, it also helps us, the detached audience, draw parallels with athletes in similar situations, even those from other sports.
As a football/soccer fan, several players fall into at least similar categories. However, as far as virtual exacts go, the one football player that compares most to LeBron James is none other than Arsenal legend Cesc Fabregas.
Here's why.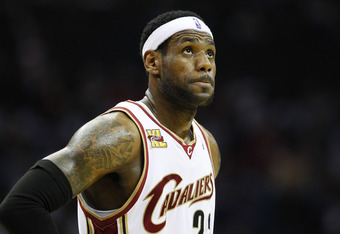 Gregory Shamus/Getty Images
The Early Start

Like LeBron, Cesc Fabregas was a "wunderkind," as at the age of just 17 he broke into an Arsenal team that boasted the likes of Patrick Vieira, Robert Pires and of course Thierry Henry. Though upon James' arrival to Cleveland, the team boasted virtually no superstars, and it's worth remembering that the powerful small forward started his NBA career right out of high school.
Essentially, both Fabregas and James started their careers in unconventional styles. Whereas most players in the NBA—though, admittedly, there are few exceptions to this rule—start their professional careers out of college, LeBron was drafted at the age of just 18. Fabregas, in similar circumstances, started a career playing in the pivotal midfield role for Arsenal at just 17, which is at least five years earlier than the average midfielder.
The Early Signs
Fabregas and James both took to professional sports like seasoned veterans. Fabregas, a virtual unknown upon his debut, was showing maturity and composure beyond his years, as week in and week out he put in strings of impressive displays. Meanwhile in the NBA, James had announced himself as the league's premier rookie by way of some awe-inspiring individual performances.
Even as early as January, it was an uncontested fact that he was to win the coveted Rookie of the Year award, despite stiff competition from fellow debutantes and future teammates Chris Bosh and Dwayne Wade.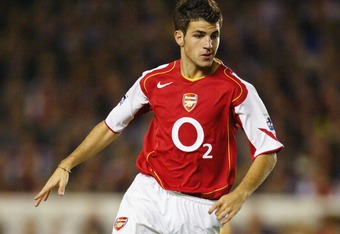 David Rogers/Getty Images
Simply put, both players similarly showed early warning signs of their ability.
Their Ability
Fabregas and James were far and out considered athletes part of their respected sports' elite group, if not top of it, as they were known to be standout performers.
While Fabregas was displaying his abilities harnessed at Barcelona's famed La Masia academy, and in turn developing into the world's youngest and most sought-after playmaker, James was showing exactly why people compared him to the game's greatest, Michael Jordan.
Their Inability to Win
Just as is the case for most Cavalier fans, the one thing that haunts all supporters of Arsenal is their playmaker-turned-captain's inability to lead the team to glory.
Though Fabregas did taste success early on (in 2005 as part of Arsenal's FA Cup winning team as captain and crown jewel), the Spaniard was unable to guide his team to glory. Having appeared in two unsuccessful cup finals (2006 UEFA Champions League and the 2007 Carling Cup Final), as well as at least two title challenges, the Gunners' playmaker will be famed as being one of the club's greatest players never to have won a major honour.
In striking resemblance to that, James too was unable to deliver a championship to the Cavalier faithful, having gone all the way to the Finals but eventually losing out to the San Antonio Spurs in 2007. Like Cesc's Arsenal in the UEFA Champions League final, it was the first time in the franchise's history that they had made it that far.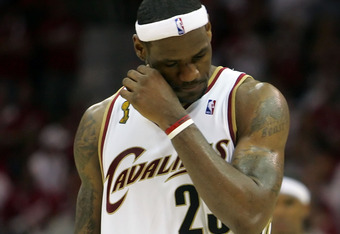 Ronald Martinez/Getty Images
Their Departures
After enduring seven barren seasons with Arsenal, Fabregas joined Spanish outfit Barcelona, a team praised as being "the greatest ever." For a player who so often came marginally tasting victory, it was a move touted as one of ambition, as he felt that in a star-studded team like the Catalan outfit he'd stand a better chance of winning a major honour.
Essentially, it was the end of an era for Arsenal and the fans. A player that literally grew up in front of their eyes and blossomed into one of the game's current greats was now playing for a different team.
James too left in somewhat emotional circumstances. After frustratingly coming close to the elusive NBA championship by making the playoffs year in and year out, the "King" decided a change of scenery was required if he was to finally achieve glory.
His choice: the Miami Heat, a team already boasting Dwyane Wade recently acquired Chris Bosh, of Toronto. Like Cesc, it seemed LeBron had decided that if he was to finally win something and be remembered as an all-time great, it would have to be playing alongside other big names.
The Differences
Though one can always draw similarities between different athletes, at the end of the day every situation and person is unique. And it's no different as far as Cesc and LeBron go either.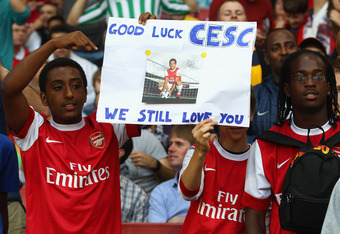 Julian Finney/Getty Images
While Fabregas entered an Arsenal team already boasting a plethora of talent, LeBron joined a team with virtually none. Fabregas was also involved in more finals than James, as the Spaniard's involvement in no less than two finals trumps LeBron's single appearance in a finals (with the Cavaliers).
That being said, Cesc is yet to complete his first season with his new team, Barcelona. LeBron James, on the other hand, is coming off the back of another NBA Finals defeat, this time to the Dallas Mavericks. Simply put, it's too early to draw comparisons between the players in their new surroundings.
Of course the other obvious difference is the fact that Cesc Fabregas is still deeply revered and loved by Arsenal fans. While the Spaniard had a legitimate reason to depart for Barcelona, it being the team of his hometown, LeBron James is actually an Ohio native. While both moves were no doubt driven by ambition to succeed, Cesc's departure will be seen by most sports fans as being the nobler of the two.
However, with Real Madrid, Barcelona's arch rivals, looking stronger than ever this season, the similarities strangely enough may yet continue to pan out if the Catalan outfit fail to defend their La Liga crown.
Some More Things Worth Mentioning
When picking a candidate for this topic, I chose Cesc Fabregas simply due to the similarities both him and LeBron James have undergone throughout their careers.
In terms of raw talent and ability, the obvious choice would have been Cristiano Ronaldo or Lionel Messi. However, given the two's unparalleled success over the years, I felt it to be a comparison less fitting.
Agree or disagree? Post your thoughts in the comments below or simply tweet/follow me @saqibddb