Bleacher Report's NFL Awards Week 11: Handing out Hardware
Gregory Shamus/Getty Images
Another Sunday of football is all wrapped up, and it's time to pass out the awards for the games we've seen.
There were all the hallmarks of a classic week of action, including some bizarre fines, clutch touchdowns and a few surprising replacements stepping up to make big plays.
In addition to the typical awards for the best and worst players and games, this week's awards will highlight the biggest play review of the week along with the player with the most candor.
With Thanksgiving only days away, there's a special holiday message at the end of this slideshow as well.
Here are the awards for the NFL's Week 11.
Game of the Week: Tampa Bay Buccaneers vs. Green Bay Packers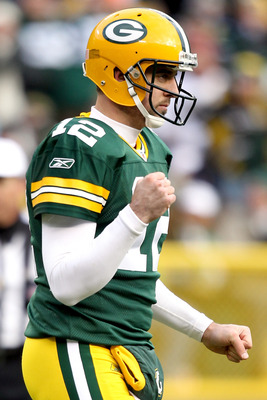 Matthew Stockman/Getty Images
The Green Bay Packers have been practically flawless as they have moved toward a perfect record, but they saw a major challenge Sunday against a young Tampa Bay Buccaneers team.
The Buccaneers, who outgunned the Packers, were able to hang around with the Packers deep into the fourth quarter, until a late 40-yard touchdown pass from Packers quarterback Aaron Rodgers to wide receiver Jordy Nelson. The Packers would win 36-25.
In what could have been a trap game, the Packers showed some major resolve. It's clear it will take a top-level effort to bring down the reigning champions' undefeated streak.
Honorable Mention: San Diego Chargers vs. Chicago Bears, Denver Broncos vs. New York Jets
Stinker Game of the Week: San Francisco 49ers vs. Arizona Cardinals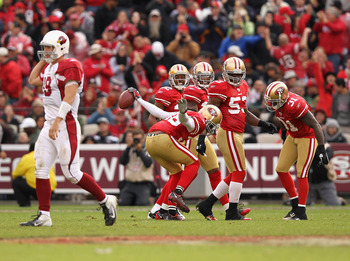 Ezra Shaw/Getty Images
It may have been satisfying to watch for fans of the San Francisco 49ers, as they're now 9-1, but overall, the Niners' matchup Sunday versus the Arizona Cardinals was pretty depressing.
The Cardinals could barely muster any offense, and the Niners couldn't do much better. Though the team did control the ball for nearly 45 minutes, they struggled a bit in the red zone and missed three field goals (to be fair two were blocked). The Niners won comfortably 23-7.
Overall a pretty disappointing display.
Dishonorable Mention: St. Louis Rams vs. Seattle Seahawks, Jacksonville Jaguars vs. Cleveland Browns
"Nice Catch, Guy!" Award: Larry Fitzgerald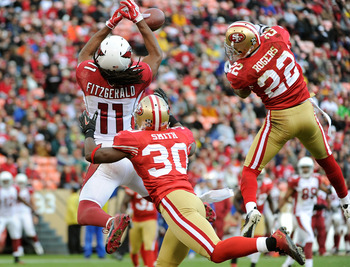 Thearon W. Henderson/Getty Images
It's a testament to how much talent Arizona Cardinals wide receiver Larry Fitzgerald has that catches like this one can be almost completely overlooked.
In one of the few positive plays for the team Sunday, he made a touchdown catch in traffic…after it had been tipped through the hands of cornerback Carlos Rogers.
Coming down with the grab, he secured the team's only points on the afternoon.
Honorable mention: Jason Avant
The Philadelphia Eagles needed some solid play from their offense to help out quarterback Vince Young, who was thrown into action this week after an injury to starter Michael Vick. Wide receiver Jason Avant was more than happy to help.
Making the grab at his shoestrings, he somehow held on and kept it just inches above the ground to finish the completion.
Unstoppable Award: LeGarrette Blount
There are times when it's clear a runner is going to score no matter what, and that was the case Sunday, as Tampa Bay Buccaneers running back LeGarrette Blount took on nearly the entire Green Bay Packers defense as he went for a whopping 54-yard run.
Clearing the line, Blount ably clears the first few tacklers before finally getting the room and blocks needed to make the final push to the end zone.
The Bucs may not have won, but it's clear nobody can blame the team (especially Blount) for a lack of effort.
Review of the Day: Jermaine Gresham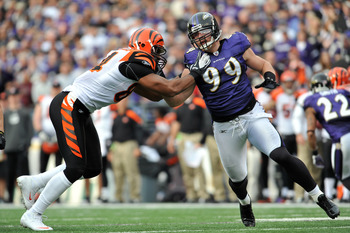 Larry French/Getty Images
In what has become a difficult process in defining what is a catch, the informal "Calvin Johnson Rule" has seen itself used more and more often.
The loose rule, which stipulates a receiver must keep control with the ball all the way the ground (and then some), was a big factor in the Cincinnati Bengals loss to the Baltimore Ravens.
Cincinnati Bengals tight end Jermaine Gresham made what appeared to be a great catch ("Nice Catch, Guy!" Award type stuff), only to learn he had not fully controlled it to the ground.
The juggling effort was for naught.
Overreach Award: The NFL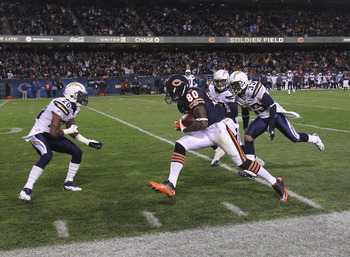 Jonathan Daniel/Getty Images
The NFL does not play around with its uniform policies. For those that may not believe that sentiment, observe the league's treatment of Chicago Bears wide receiver Earl Bennett and his orange shoes.
The orange shoes (which match the team's accent colors) have run against the league's policy of teams selecting to wear either black or white dominant shoes and informing the league by July (see page 28 for applicable rules).
Some might call that consistency, but I call that an overreach.
Initially fined $5,000 (then $10,000 and $15,000), Bennett was informed that if he did not change his shoes, he would be removed from the game until he put on an acceptable pair of footwear.
According to Yahoo! Sports, Bennett wore the orange shoes again Sunday, but only after putting on large amounts of black tape to cover up most of the shoe's color.
(On a side note, the shoe controversy is very similar to the outrage when Chicago Bulls megastar Michael Jordan was fined big money by the NBA for wearing black shoes in violation of the league's policy. The controversy spawned a major marketing campaign for Nike, who would pay Jordan's fines.)
Fake-out of the Week: Sidney Rice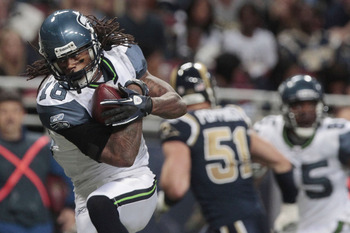 Whitney Curtis/Getty Images
Seattle Seahawks wide receiver Sidney Rice has been the team's primary offensive weapon, so it's no surprise that the team would allow him a shot to chuck the pigskin around against the lowly St. Louis Rams to start the afternoon.
Taking a pitch from quarterback Tarvaris Jackson on Seattle's first play, Rice would complete an excellent pass to fellow wide receiver Mike Williams for a 55-yard gain.
The play would spur the team to a confident 24-7 win, in the race to be second to the San Francisco 49ers in the NFC West.
Disappointment of the Week: Cam Newton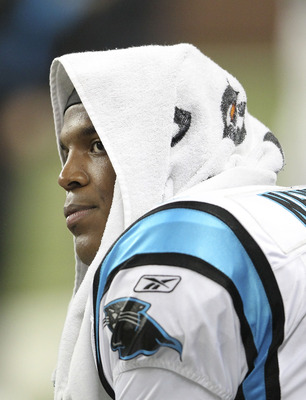 Leon Halip/Getty Images
I am a big fan of Carolina Panthers quarterback Cam Newton, and in his rookie campaign, he has been superb. However, his play has as of late has left some real questions.
Sunday's performance against the Detroit Lions did little to change my mind. Newton's pass accuracy has been a little suspect, but most frustrating has been his turnover ratio. While Newton did score an overall three touchdowns, he threw a maddening four interceptions.
While he was the early favorite for the Offensive Rookie of the Year award, his recent play may have left him behind Cincinnati Bengals quarterback Andy Dalton. Dalton's play (along with the Bengals' success) may be too much to catch at this point of the season.
Candor Award: DeAngelo Hall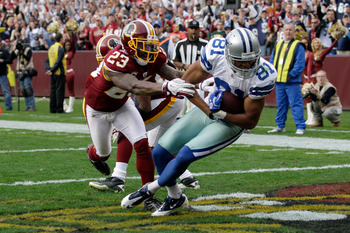 Rob Carr/Getty Images
It's rare for players to take credit for a loss, but Washington Redskins cornerback DeAngelo Hall put the outcome of the team's loss to the Dallas Cowboys on his shoulders. He took it an extra step, calling for his own dismissal from the team.
"But I can't point a finger at anybody but myself," Hall said to the Washington Post. "The way I'm playing, they need to go and cut me because I'm definitely not worth what I'm getting."
Though I doubt the team will indulge his request, it's a pretty bold statement from one of the more visible faces of Washington's defense.
Story of the Week: Injuries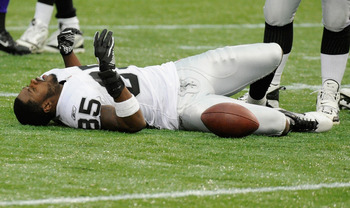 Hannah Foslien/Getty Images
Injuries are always a frustrating part of football, so it's particular difficult to hear the number of marquee players getting hurt this past week. Among the injured are:
-Chicago Bears quarterback Jay Cutler, whose broken thumb may end his season.
-Minnesota Vikings running back Adrian Peterson, who was removed from Sunday's action after spraining his ankle.
-Oakland Raiders wide receiver Darius Heyward-Bey (pictured), whose neck injury had him leaving the game on a stretcher.
-Tennessee Titans quarterback Matt Hasselbeck, who had to leave the team's game Sunday due to a sprained elbow.
-Buffalo Bills running back Fred Jackson, who suffered a bruised right calf.
-Green Bay Packers running back James Stark, who sprained his knee.
Overall, a very painful day around the league.
Read of the Week: Life in the NFL Trenches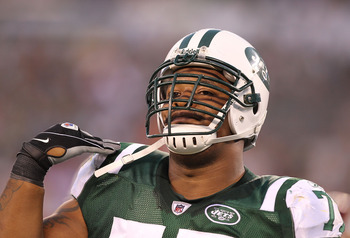 Al Bello/Getty Images
I hope this award, recognizing one of the most interesting football reads of the week (outside of this awards slideshow), will become a regular fixture in my slideshows for the rest of the season
This week's read is a piece from the New York Times' Greg Bishop about the playing career of former lineman Kris Jenkins. Reflecting on the injuries he sustained in his playing career, Jenkins notes the tremendous physical price players make in playing in the NFL.
Disappointing read of the week: Watching football alone
This depressing piece from Slate.com's Luke O'Neil explains why he watches football by himself. In his mind, we have created distractions that have isolated our fan experiences. In his words, we are millions of audiences of one.
I disagree with his overall outlook. While the distractions around football can be best processed alone, there's a lot to be said about the social dynamic of getting together with others.
Football is a fun viewing experience, and that experience is best shared.
Special-Est Special Teams: Arizona Cardinals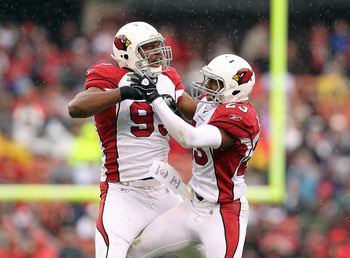 Ezra Shaw/Getty Images
Fighting through poor offensive play and inclement weather, the special teams unit of the Arizona Cardinals was able to get things done against the San Francisco 49ers.
Most importantly, the Cardinals unit was able to block two field goal attempts by the Niners' David Akers.
Though it wasn't enough to turn the tide of the game, it did extend the team's chances a little longer in the first half.
"Ouch!" Award: Ron Winter
It's important for referees to stay on top of the fast-moving action, but referee Ron Winter got a little too close to the action. Overseeing the game between the Baltimore Ravens and Cincinnati Bengals, Winters found himself in the midst of a nasty pileup for a recovered fumble.
He seemed to be pretty shaken up in the exchange, but somehow, he was able to finish the game.
Ouch!
Shane Falco Award: Jake Locker
This award, named for Keanu Reeves' character in the movie The Replacements, recognizes the best substitute quarterback of the week.
This week's honor goes to Tennessee Titans quarterback Jake Locker.
Stepping in for the injured Matt Hasselbeck, Locker was able to keep the Titans competitive against the difficult Atlanta Falcons. In addition to throwing a nice touchdown to wide receiver Nate Washington, he avoided making any turnovers.
It may only be a first start, but there should be a lot of reasons to be excited about watching his development.
Honorable Mention: Vince Young
Clutch Award: Rex Grossman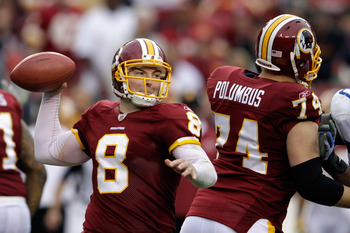 Rob Carr/Getty Images
It's admittedly surprising that an offensive award could be going to Washington Redskins quarterback Rex Grossman, but his pass near the goal line late in regulation Sunday against the Dallas Cowboys was a thing of beauty.
With only seconds left in the game and trailing by seven, Grossman connected with wide receiver Donte Stallworth.
Though the Redskins would eventually fall in overtime to the Cowboys, 24-27, Grossman's play was critical in evening the score.
That Was Not Smart Award: Dashon Goldson
Despite leading by several scores, the San Francisco 49ers' Dashon Goldson couldn't steer clear of a fight when initially hit by Arizona Cardinals wide receiver Early Doucet.
Reacting to Doucet's hit, Goldson landed a few shots of his own until the two were separated by teammates.
For his efforts, Goldson was promptly ejected from the game.
MVP: Matthew Stafford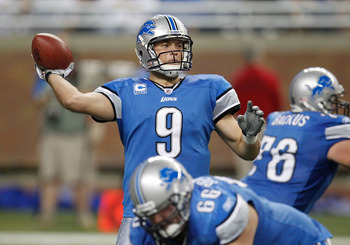 Gregory Shamus/Getty Images
The Detroit Lions have been all over the place quality-wise in the past month, but Sunday's win over the Carolina Panthers was made possible by the improved play of quarterback Matthew Stafford. Down 24-7 in the first half, they would need a big performance from their man under center to get the win.
Stafford was up to the challenge.
Connecting on 28 of his 36 passes, he ended the day with 335 yards passing, along with a ridiculous five touchdowns. The Lions would go on to win 49-35.
He made a few mistakes (like two interceptions), but overall, his play was the impetus for the team to turn itself around.
Honorable mention: Kevin Smith, Aaron Rodgers, Tony Romo, Jay Cutler (especially given the injury to his thumb)
LVP: John Skelton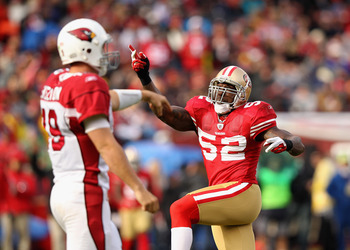 Ezra Shaw/Getty Images
It was a rough day at Candlestick Park for the Arizona Cardinals, and few had it worse than quarterback John Skelton. Filling in for an injured Kevin Kolb, Skelton was abysmal in his efforts to move the team's offense.
Completing six of 19 passes, Skelton also chucked a painful three interceptions. His overall quarterback ranking on the day: 10.5.
While his replacement, Richard Bartel, wasn't all that much better, he smartly used the team's only offensive weapon (wide receiver Larry Fitzgerald) to score Arizona's only points.
(Dis)Honorable Mention: Chris Johnson
Twelve rushes for 13 yards is a depressing sight for the running back most people said was the best in the game only a season ago.
Special Thanksgiving Message
With my next awards column not until next Monday, I wanted to drop a quick message wishing everyone a Happy Thanksgiving.
Enjoy your time with both friends and family, stay safe when doing your Black Friday shopping and take some time in the next few days to reflect on the things that you are thankful for in your life.
And please…don't pull the ball away on any potential holiday kickoffs.
Keep Reading