NASCAR Sprint Cup: One Writer's Ho-Hum Reaction to Tony Stewart
November 21, 2011
Chris Graythen/Getty Images
Carl Edwards won himself the pole for Sunday's race and ran strong all afternoon, but the rain, a pit choice and some bad luck prevented him from winning the title and the race.
While both drivers ran awesome all day, including Tony Stewart's almost constant struggles to overcome, only one could hold the title. While I made the argument that Edward's consistency would be too much for Stewart, apparently I was wrong.
Sure, he's a bit of an arrogant, overconfident jerk, but for now Stewart finds himself a five-time champion and a whole lot richer.
Sure, NASCAR.com will rave how he's an everyman, and what an amazing story it is, but all it shows is that something, possibly somewhere, is broken—namely, points. I'm not complaining that Stewart doesn't deserve the title, or that he didn't run exceedingly well as the race wore on. Hell, I will say it was exciting, knowing it came down to the bitter end, one small call changed it all.
On the flip side, though, I can't help but have a "WTF" moment. Carl Edwards ran fantastic all year, out-ran Stewart on most race days, yet somehow Stewart emerged victorious. Sure, racing is about winning, but with NASCAR being a team sport, shouldn't consistency account for more? Should the Sprint Cup really to a degree boil down to pure luck?
Let's look at the numbers:
Carl Edwards: 3 poles, 1 win, 19 top 5's, 26 top 10's
Tony Stewart: 1 pole, 5 wins, 9 top 5's, 19 top 10's
Sure, those five wins mean something, but clearly he wasn't the better driver all year. If wins make a driver, then Kyle Busch deserves better than a 12th-place finish since he has four wins on the year.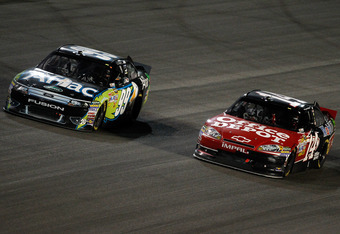 Jonathan Ferrey/Getty Images
Maybe it's just my approach to it, but I like a driver who, come the end of the race, is always near the top rather than a streaky driver. Stewart fans' catchphrase of late has been "Tony has gotten hot" or the always spoken "Stewart is winning the chase," which points out one major thing: Before the Chase he did average, well enough to make the Chase but still nothing impressive
Do we really want to encourage that as a society? Is that any different than slapping our kids on the back for doing homework last minute and making an A+?
On the flip side, Edwards was in the top 10 for 26 of the 26 races, including 19 being top 5's. So basically, 72 percent of the time Edwards put himself and his team in a position to truly win the race, and 52 percent of the time Edwards was in the top 5, a truly dominant position.
Stewart found himself in the top 10 52 percent of the time.
Generally speaking—I'm not a numbers guy—any given day I think any given guy can win, but sometimes things just seem a bit confusing. Numbers-wise, the best guy didn't win, so shouldn't we find a way that the champion at the end of the year has to be the best driver all year? Not just during one or 10 races?
This isn't college football, where everything has to go in the toilet come championship time. We have statistics, we can see who does better week in and week out. I have no real correction to the system for which I have complaints, merely pointing out flaws.
I'll say this, Tony Stewart ran a good race, he ran a great Chase and congratulations to his Sprint Cup Championship—but he wasn't the best driver in 2011.
And before the comments begin about by backing of Carl Edwards, I'm really more of a Mopar and Brad Keselowski fan.