5 Things We Learned from Premier League Weekend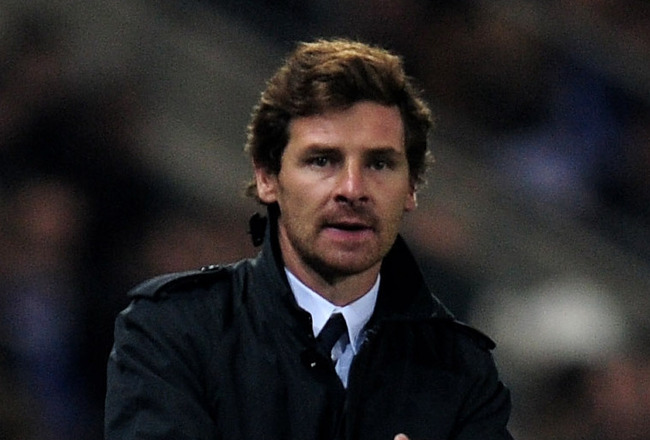 Jamie McDonald/Getty Images
After two weeks off, the Premier League didn't miss a beat. Week 12 was another exciting one in England that saw the last two undefeated teams, Manchester City and Newcastle, square off, as well as what has recently become one of the biggest matches on the calendar, Chelsea versus Liverpool.
Arsenal continued their quiet climb up the table with another victory, Manchester United maintained their not-so-impressive but nonetheless effective form and Chelsea's defense continued to fall apart.
At the other end of the table, Bolton, Blackburn and Wigan all sit in the relegation zone with fewer than 10 points from 12 games, so it's probably safe to say at least one of them won't be climbing out anytime soon.
December is a pivotal month for Premier League clubs as fixtures start to pile up, and it becomes harder to overcome point differentials in the new year.
So, what did we learn in Week 12 of the Premier League?
Are We About to See the Real Newcastle?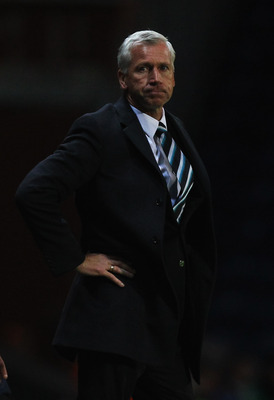 Matthew Lewis/Getty Images
Newcastle have been the surprise of the season so far, currently sitting in third place with 25 points, and the Magpies just lost their first game of the season on Saturday 3-1 to runaway league leaders Manchester City.
The scoreline doesn't quite do Alan Pardew's men justice, though, as two of City's goals came from the penalty spot, and for the most part, Newcastle kept the Citizens at bay.
Looking at Newcastle's squad, you would think the team is sitting somewhere mid-table. Truth is, they haven't faced much opposition until now.
Newcastle's next two matches are away to Manchester United and at home to Chelsea. They get a bit of respite before they go to Liverpool on December 30 and welcome United just five days later.
December should tell us a lot about what kind of team Newcastle really is and what Pardew can make of them.
Luckily for Pardew and the Toon Army, they should then have the whole January transfer window to figure out what reinforcements they need to ensure they do more than finish mid-table.
Don't Get Too Carried Away with Arsenal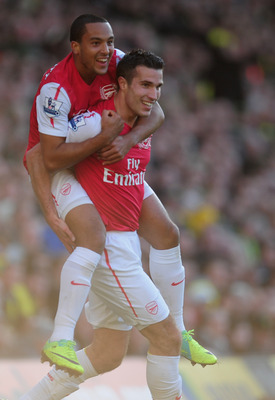 Jamie McDonald/Getty Images
Arsenal are currently riding a five-match Premier League win streak and sit in seventh place on 22 points, tied with Chelsea and Liverpool.
The Gunners look like they could certainly contend for a Champions League spot this season, but let's not get carried away.
Since Arsenal's 2-1 loss to archrivals Tottenham in early October, the Gunners have played just one side that is expected to finish in the top five. And given the state of Chelsea's defense and their form at the moment, there should be an asterisk next to that 5-3 win.
Per Mertesacker has not adjusted to the pace of the Premier League yet, and Mikel Arteta has not quite been the midfield maestro Gunners fans were hoping he would be.
The defense is surely suspect, and it's the form of Robin van Persie that is keeping Arsenal relevant. The Flying Dutchman is winning games for Arsenal and leads the league with 13 goals.
Unlike Newcastle, Arsenal faces just one quality opponent before the new year—Manchester City next month. The Gunners could find themselves in a very nice position come Christmas, something no one could've expected after their 8-2 drubbing at Old Trafford in Week 3.
However, the cupboards at Arsenal are quite bare, and if van Persie or defensive stalwart Thomas Vermaelen go down to injury, it could send the Gunners right back down the table.
When Can Manchester City Wrap Up the Title?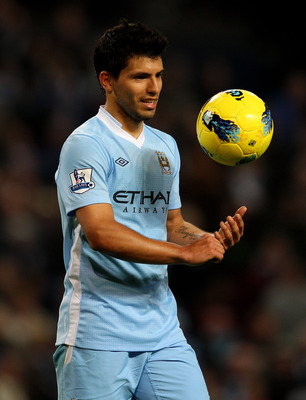 Alex Livesey/Getty Images
Manchester City have had a truly blistering start to the season with 11 wins out of 12 and just the one draw. Roberto Mancini's men have 34 points to their name and a massive plus-31 goal differential.
Their five-point cushion over their slightly less neighbors, Manchester United, seems like much more, as United have looked anything but impressive. United, however, continues to stick around, eking out 1-0 wins almost each week.
Meanwhile, City has players all over the pitch who can scores goals, and unlike the other top sides, they have yet to show a true weakness.
Can United keep up all season? Will anyone hit a good run of form to challenge City? Or will the Blues wrap up the title come April?
For the sake of competition, you'd hope another team will keep City honest and take the title race all the way to the end, but it's looking more like the battle for the top four—between Chelsea, Liverpool, Tottenham, Arsenal and Newcastle—will really be the one to watch.
What Will Happen with Fernando Torres and Andy Carroll?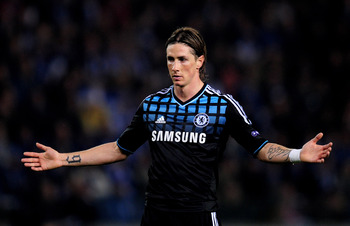 Jamie McDonald/Getty Images
Fernando Torres and Andy Carroll both cost their respective clubs a staggering amount in the January transfer window earlier this year, and neither one has proven his worth.
Both were left on the bench for Chelsea and Liverpool, respectively, at Stamford Bridge on Sunday, only increasing the chatter that their time is running out.
Well, really, it's Torres who is facing more scrutiny. Torres cost more, had a much bigger reputation when he moved and is the more compelling story.
Roman Abramovich chased Torres for years before he finally landed him, and he isn't the kind of man who will admit he's wrong.
Unfortunately for Abramovich and Chelsea, Torres has been hot/cold so far in London, following a run of good games with an even longer run of bad ones. Most importantly, though, he's not scoring, and more often than not, he's not even coming close to scoring.
Up in Merseyside, Kenny Dalglish is doing a good job of deflecting questions over Carroll, and because Luis Suarez is performing so well, the pressure is off the former Newcastle man a bit more than with Torres.
The fact that Carroll is still just 22 years old helps as well. Carroll has the backing of his manager, and his spot is occupied by one of the best players in the league at the moment, so he shouldn't be too worried.
Torres, however, is being left out for Didier Drogba, who has lost pace and who's hurting the team more than helping these days. And his manager just doesn't seem to want to play him.
That being said, you just can't give up on £50 million so quickly.
Which of these players is more likely to regain his previous form first? Which is more likely to be sold first is probably the more intriguing question.
Andre Villas-Boas Cracking Under Pressure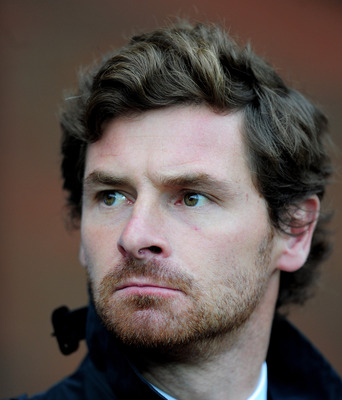 Shaun Botterill/Getty Images
Being Chelsea manager is one of the most stressful jobs in world football. Owner Roman Abramovich is breathing down your neck, expecting you to win every game, and you know your time could be up at any moment.
Andre Villas-Boas, who replaced Carlo Ancelotti in the summer, has not had a good start in West London, and he could be going the same way as Luiz Felipe Scolari in 2009.
Under AVB, Chelsea have just 22 points from 12 matches, and most worrisome, their defense is in shambles. AVB has also failed to solve the Fernando Torres-Didier Drogba-Nicolas Anelka conundrum.
Torres was only given a 10-minute substitute's appearance against his old side Liverpool on Sunday. Even if he was on form, he wasn't given any good opportunities in his brief cameo.
Chelsea hasn't looked impressive at all this season aside from Daniel Sturridge and Juan Mata, and AVB needs to address problems all over the pitch.
Luckily for AVB, the trophy Abramovich really wants is the Champions League, and Chelsea look well on course to advance to the last 16 in Europe.
However, if that campaign goes south early in the knockout stages, or if Chelsea falls farther down the Premier League table, AVB could be sent packing before the season ends.
Keep Reading