College Football Bowl Projections: BCS Rankings Week 13 Edition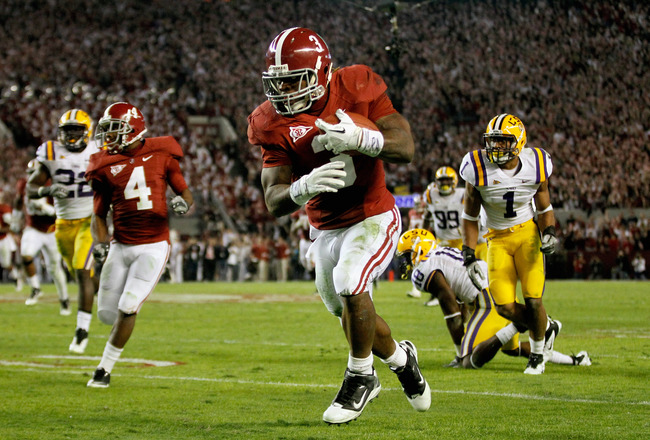 Streeter Lecka/Getty Images
After a wild weekend in college football, the projected bowl games seem much different than they did a week ago. The BCS bowls especially have a new look to them.
Four of the top-seven teams in the BCS standings were defeated in Week 12, and it has led to chaos all around.
It is now very likely that the BCS Championship Game in January will feature two SEC teams. Even with a loss, LSU should still have enough support from voters to keep them near the top of the polls.
As for the rest of the bowl schedule, there is enough talent and depth in the sport to allow for some really interesting matchups.
Dec. 17 New Mexico Bowl: Wyoming vs. Toledo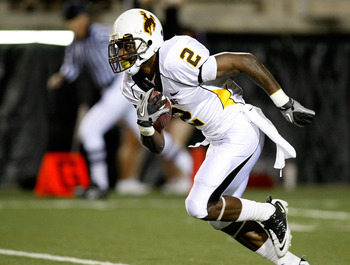 Ethan Miller/Getty Images
Toledo gets the nod due to the lack of eligible WAC or Pac-12 teams. The team does not play a lot of defense, but the offense has scored the eighth-most points per game in the country.
Wyoming has put together a solid year after going 3-9 a season a ago, and has placed itself behind only Boise State and TCU in the Mountain West Conference standings.
The Cowboys will most likely be victims of an angry Boise State team next week, but Wyoming has done enough already to put themselves in a bowl game.
Dec. 17 Famous Idaho Potato Bowl: Temple vs. Nevada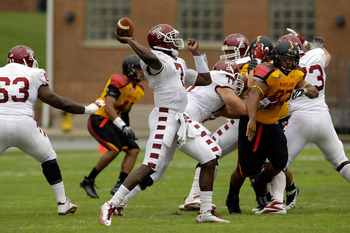 Rob Carr/Getty Images
Last week's loss to Louisiana Tech took Nevada out of position to win the WAC, so it finds itself playing a bowl game in Boise.
The Wolfpack was much more appealing to bowl officials last year with Colin Kaepernick at the helm, but he is now a member of the San Francisco 49ers.
Temple has stumbled a little down the stretch, but still has one of the best defenses in the country and would provide Nevada with all kinds of trouble in this matchup.
Dec. 17: New Orleans Bowl: Louisiana Lafayette vs. UTEP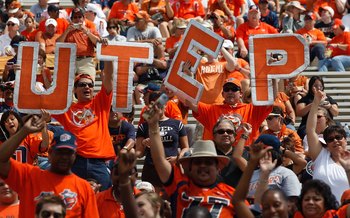 Ronald Martinez/Getty Images
With Arkansas State already accepting a bid to the GoDaddy.com Bowl, Louisiana Lafayette gets the spot normally reserved for the first-place team from the Sun Belt Conference.
UTEP has struggled this year, but the Miners should defeat UCF this weekend to secure the all-important sixth win of the season to become bowl-eligible.
If one of the bottom Big East teams becomes eligible, it might take this spot but at this point that does not seem likely.
Dec. 20 Beef O'Bradys Bowl: Pittsburgh vs. Tulsa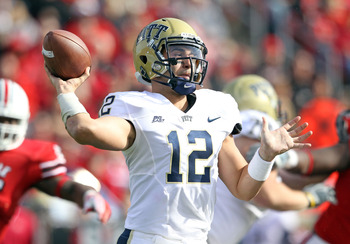 Andy Lyons/Getty Images
Pittsburgh has a proud history, and it will not be too happy to raise "Beef O'Brady's Bowl" banners next season, but that is all the Panthers deserve. The team has multiple bad home losses and still needs one more win to become bowl-eligible.
Fortunately, the Big East is so bad that Pittsburgh still has a chance to win the conference. More likely it will lose at West Virginia on Friday night, then defeat Syracuse to earn its sixth win of the season.
The team would only face Tulsa if the Golden Hurricane is unable to upset Houston in its matchup this weekend.
Dec. 21 Poinsettia Bowl: Boise State vs. Louisiana Tech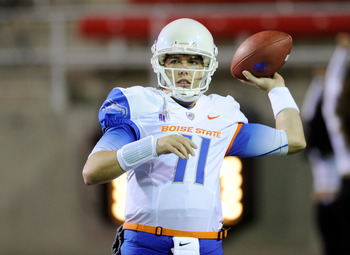 Ethan Miller/Getty Images
Boise State has the biggest discrepancy of bowl possibilities of any team in the country.
The Broncos are currently No. 7 in the AP Poll, so there is a distinct possibility of being selected for a BCS bowl. However if they are left out, the next option will be the Poinsettia Bowl against the winners of the WAC, Louisiana Tech.
This is the life of a non-AQ team.
Dec. 22 Maaco Bowl: Washington vs. TCU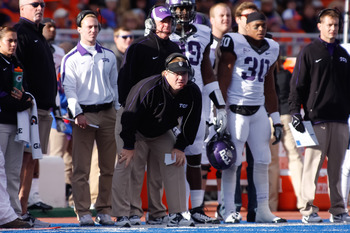 Otto Kitsinger III/Getty Images
The trip to Las Vegas is reserved for the top team in the Mountain West, and surprisingly that will be TCU.
The Horned Frogs were forgotten about after an overtime loss to SMU earlier in the year, but they remained undefeated and shocked Boise State with a one-point victory in Idaho.
Washington gets a boost due to the fact that there should be two Pac-12 teams in BCS bowls, plus the fact that USC is ineligible for postseason play.
TCU should be able to handle whichever Pac-12 team is selected.
Dec. 24 Hawaii Bowl: Hawaii vs. Marshall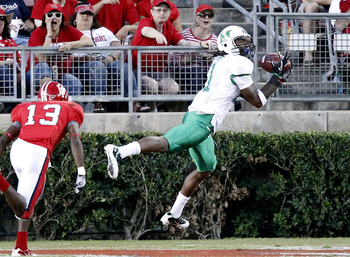 Bob Levey/Getty Images
If the season ended today, neither of these teams would be eligible to participate in postseason play with each team holding a 5-6 record.
Hawaii is a shoe-in for this bowl game if the team can get enough wins to qualify.
Marshall has to face East Carolina in an elimination game, where the winner gets the chance at a free trip to Hawaii. Marshall has taken care of business at home this season, with its only loss to Virginia Tech, so expect the Thundering Herd to earn their sixth win this weekend.
Dec. 26 Independence Bowl: Wake Forest vs. San Diego State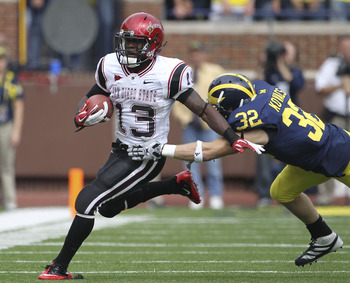 Leon Halip/Getty Images
Wake Forest had a tough ACC schedule and has performed very well this season with a win over Florida State and a close loss to Clemson. Unfortunately, the team will be passed over for bowl bids in favor of more traditional ACC programs.
San Diego State should be proud to participate in this game, as it is awarded to the third-best team in the Mountain West conference. With TCU and Boise State in the conference, third-place is nothing to be ashamed of.
Dec. 27 Little Caesars Bowl: Purdue vs. Ohio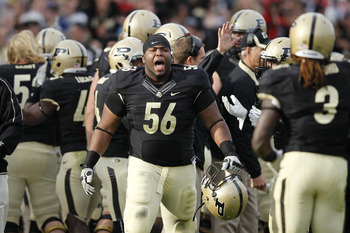 Joe Robbins/Getty Images
Ohio has put itself in position to win the MAC, but either Northern Illinois or Toledo have the offense to light up the Bobcats in the conference championship game.
The eighth-best team in the Big Ten receives this bid, and that will be Purdue if it can defeat Indiana on the road this weekend. The conference is very top-heavy, and the bottom will be jumbled up looking for possible bowl bids.
Dec. 27 Belk Bowl: Cincinnati vs. Virginia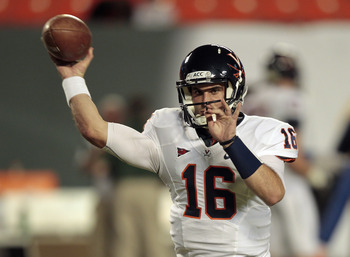 Joel Auerbach/Getty Images
These two teams have a lot in common and the proposed matchup will create a very good game.
Both are coming off 4-8 seasons and have only three losses each this year.
Each of these teams also are still alive to win their respective conferences and earn the automatic-bid to a BCS bowl.
However, Cincinnati still has to win two games and Virginia must defeat rival Virginia Tech. The Belk Bowl is the more likely destination.
Dec. 28 Military Bowl: North Carolina vs. Air Force
Otto Kitsinger III/Getty Images
This game is reserved for Navy, but the academy lost its seventh game this weekend and is ineligible for postseason play. What better team to replace Navy than Air Force?
The Military Bowl should bring the Air Force to our nation's capital and celebrate the military, all while setting up a pretty good football game.
North Carolina has struggled lately, but has enough talent and a good enough following that would help make this game a quality one.
Dec. 28 Holiday Bowl: Missouri vs. Utah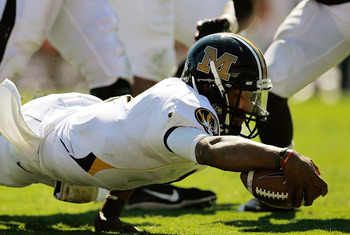 Sarah Glenn/Getty Images
In its first season in the new Pac-12, Utah performed well.
It was fortunate to not have either Stanford or Oregon on the schedule, but a win over Colorado would make eight on the season, and that is good enough for the third bid from the conference.
Missouri did not get the benefit of an easy schedule. Quarterback James Franklin is one of the best dual-threats in the nation, but the Tigers ran into some good teams this season.
Road losses at Baylor, Oklahoma and Kansas State were enough to seal Missouri's fate this season.
Dec. 29 Champs Sports Bowl: Notre Dame vs. Florida State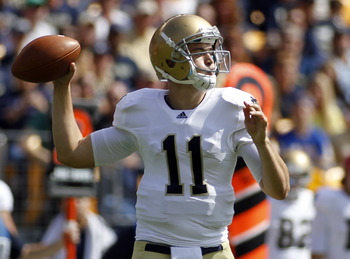 Justin K. Aller/Getty Images
Although the Champs Sports Bowl is normally reserved for a Big East team, Notre Dame would definitely big a bigger draw than any of the other possibilities.
The Irish have played well so far this season against elite competition, and will have its toughest test this weekend against Stanford.
This would be Notre Dame's fourth game against an ACC team this season, and Florida State has dropped a long way since the No. 5 ranking it started the season with.
These teams would not provide the best on-field product, but it would certainly sell-out the stadium.
Dec. 29 Alamo Bowl: Baylor vs. Arizona State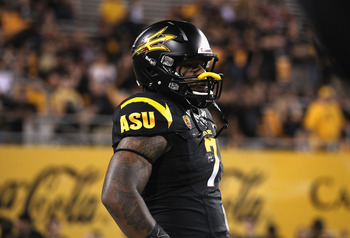 Christian Petersen/Getty Images
The fans in San Antonio would be in for a treat because Baylor quarterback Robert Griffin III is worth the price of admission.
He has the ability to win games almost by himself and would be a thrill to watch, regardless of what the team's record is.
Arizona State gets the honor of the second bid from the Pac-12, but only due to the fact that it will get two teams to the BCS and USC is ineligible for the postseason.
A win over California would help vindicate this status.
Dec. 30 Armed Forces Bowl: BYU vs. Illinois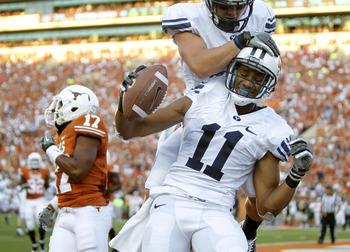 Erich Schlegel/Getty Images
BYU receives an automatic bid to the Armed Forces Bowl so it will definitely travel to Fort Worth at the end of December. The question is who the opponent will be.
Without enough Conference USA teams able to qualify, Illinois gets the chance to play.
The Fighting Illini won six games in a row to start the season, but have not won since. Fans were hoping for better, but it should be much worse.
Dec. 30 Pinstripe Bowl: Iowa State vs. Rutgers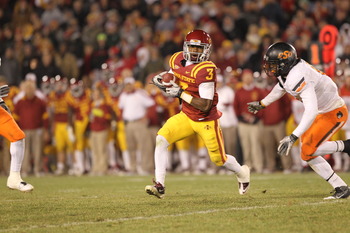 Reese Strickland/Getty Images
The game at Yankee Stadium is towards the bottom of the pecking order for the Big-12, but still gets Iowa State who recently upset Oklahoma State on national television.
The Cyclones needed the win, since the next two games are even tougher on the road at Oklahoma and Kansas State.
Bowl officials will also be happy to grab a local school in Rutgers to sell more tickets.
There is a chance Rutgers can find itself in a BCS Bowl as Big East champions, but it needs help due to head-to-head losses against West Virginia and Louisville.
Dec. 30 Music City Bowl: Tennessee vs. North Carolina State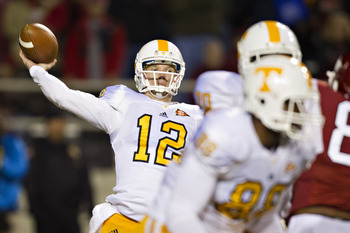 Wesley Hitt/Getty Images
Each of these teams face last-place opponents on the final week of the season, and they both must win in order to become bowl-eligible.
North Carolina State had its biggest win of the season last weekend as it dismantled No. 7 Clemson. Unfortunately the Wolfpack has been too inconsistent to trust on a weekly basis.
It is harder to win on a consistent basis in the SEC, and Tennessee is just not on the level of the rest of the conference, but the team has done just enough to continue playing in the postseason in its home state.
Dec. 30 Insight Bowl: Texas A&M vs. Ohio State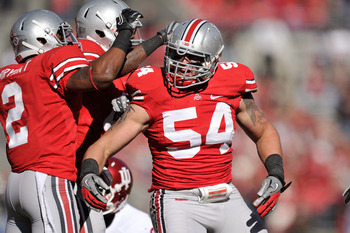 Jamie Sabau/Getty Images
Talk about disappointing seasons.
Texas A&M was as high as No. 8 in the polls before narrowly losing to Oklahoma State at home. It did not get better from there as the Aggies lost a total of five games on the season.
Fans of Ohio State wish their team got that far, as scandals tore the program apart before the season even started.
Each team should be happy to settle for the Insight Bowl.
Dec. 31 Meineke Car Care of Texas Bowl: Texas vs. Penn State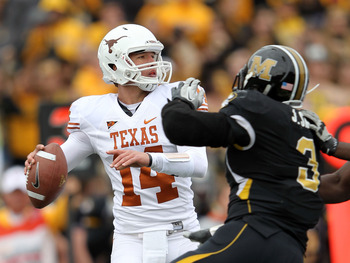 Jamie Squire/Getty Images
There will be a lot of controversy over what bowl will accept Penn State following the recent scandal that drove long-time coach Joe Paterno out of town.
The issue can be taken out of everyone's hands if Penn State wins its next two games, as that will qualify them for the Rose Bowl as Big Ten champions.
Texas has its own issues, but luckily not in the same ballpark to the problems happening in Pennsylvania. The team falls to this bowl placement since it is in the lower echelon of the Big 12.
Dec. 31 Sun Bowl: UCLA vs. Georgia Tech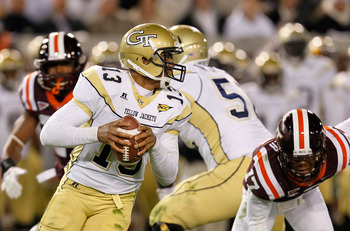 Kevin C. Cox/Getty Images
Despite one of the best rushing attacks in the country, Georgia Tech could not get it done in the second half of the season.
It had the opportunity to play in a much better bowl game, but it will not receive better than the fourth bid from the ACC at this point.
UCLA did not capitalize on its opportunity to be the best team in Los Angeles after USC received its probation, and now it seems that it will be a long time until the Bruins return to prominence.
Dec. 31 Kraft Fight Hunger Bowl: California vs. Syracuse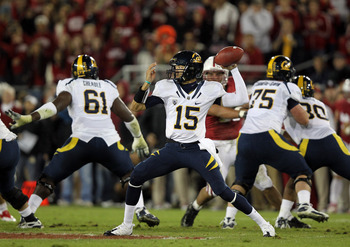 Ezra Shaw/Getty Images
Fans of California will not have to travel too far to see their team play in San Francisco. Bowls love to get local teams to help sell tickets and this New Year's Eve bowl is perfect for the Bears.
It would be a longer road trip for Syracuse, but at this point no one would complain. The Orange still need to win one of their last two games against Pittsburgh and Cincinnati to qualify, but in the Big East, anything is possible.
Dec. 31 Liberty Bowl: Southern Miss vs. Mississippi State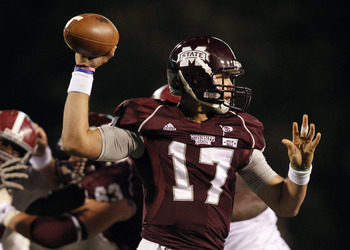 Butch Dill/Getty Images
Mississippi State found out this season what many already knew: the SEC is tough.
The Bulldogs are currently 1-6 in the best conference in football, but the 4-0 non-conference record will help them get to a bowl game. All the team needs is a win over Ole Miss and they will qualify for the postseason.
They will face the best available team from Conference USA. That team would be Houston, but there is a very real possibility that Houston will be playing in a BCS Bowl.
This leaves Southern Miss to face the in-state rival. The Golden Eagles have two losses but enough good wins to make them worthy of this matchup.
Dec. 31 Chick-fil-A Bowl: Clemson vs. Florida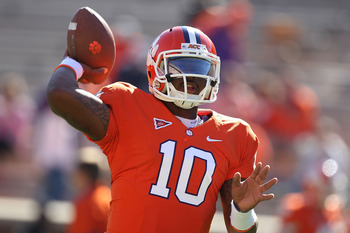 Scott Halleran/Getty Images
The loss to North Carolina State removed Clemson from national championship consideration for good, but it can still reach a BCS bowl if it can win the ACC Championship Game.
However, if the Tigers lose to Virginia Tech they will find themselves here in the second-best ACC bowl.
They would face an SEC team that expected much more to its first season without head coach Urban Meyer, the Florida Gators.
At 6-5, there are more than a few SEC teams that are more appealing to bowl committees this season than the Gators.
Jan. 2 TicketCity Bowl: Iowa vs. SMU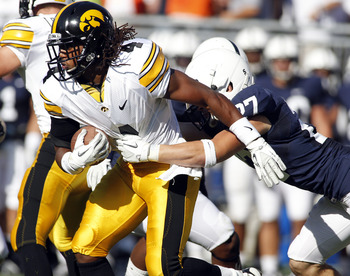 Justin K. Aller/Getty Images
There are plenty of quality Big Ten teams, so Iowa is relegated to the TicketCity Bowl. The seven-win Hawkeyes have too many losses to get one of the better games on this day.
SMU barely qualifies for postseason play win six wins, but there are enough Conference USA games to secure the Mustangs with a bid for this January bowl game.
Jan. 2 Capital One Bowl: Wisconsin vs. Arkansas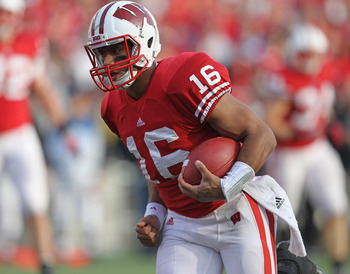 Jonathan Daniel/Getty Images
It always seems like there is one non-BCS game that is one of the top matchups on the schedule. This would be one of those games.
Arkansas is currently the No. 3 team in the BCS standings, but rules state that there cannot be more than two teams from the same conference in BCS games. Arkansas would be the odd team out behind LSU and Alabama.
Wisconsin was also in the title discussion until consecutive road losses to Michigan State and Ohio State.
However, the Badgers still have one of the best quarterbacks in the country in Russell Wilson and the national leader in touchdowns, Montee Ball.
This would be a game you do not want to miss.
Jan. 2 Gator Bowl: Nebraska vs. Auburn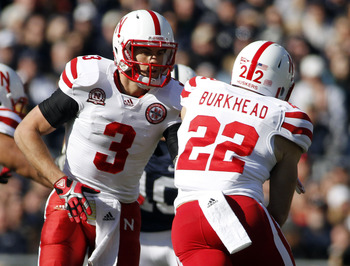 Justin K. Aller/Getty Images
The SEC and Big Ten each have a number of elite teams, so even though the Gator Bowl is low on the pecking order for bids, it will still feature two quality opponents.
Nebraska has a few hiccups, but it is still among the best teams in the country. However, last week's loss to Michigan guaranteed that the Wolverines will get first choice at a bowl game.
The same goes for Auburn, who falls behind a few conference rivals in the placement order. Though a win over Alabama would go a long way to improve the team's status.
Jan. 2 Outback Bowl: Michigan vs. South Carolina
Gregory Shamus/Getty Images
South Carolina has a great defense, but suffered greatly when running back Marcus Lattimore went down for the season with an injury.
It is unknown if the Gamecocks could have reached a BCS Bowl, but they should have reached the SEC Championship Game for a chance.
The Big Ten will send its third-best team to the Outback Bowl, and Michigan is playing as well as anyone right now. Denard Robinson is one of the most dynamic players in college football and will create a highly entertaining game.
Jan. 6 Cotton Bowl: Kansas State vs. Georgia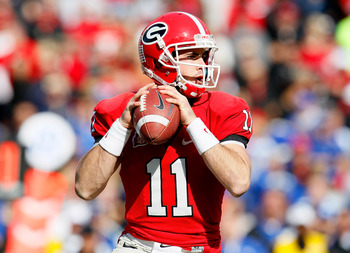 Kevin C. Cox/Getty Images
These two teams each have two losses, but are poised to attack next season.
Georgia quarterback Aaron Murray is only a sophomore but already one of the best in the nation at his position. Assuming the Bulldogs lose to LSU in the SEC Championship Game, the Cotton Bowl would be quite an honor after dropping the first two games of the season.
Kansas State got off to a better start, but the two teams from Oklahoma deflected the season. When Collin Klein returns next season, the entire country should look out.
Jan. 7 BBVA Compass Bowl: Louisville vs. Northwestern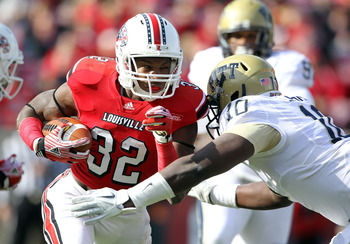 Andy Lyons/Getty Images
Louisville is another team who has the opportunity to win the Big East, but will likely settle for a lesser bowl.
Northwestern will continue its run with its fourth straight bowl appearance. This time it will replace the SEC spot with no other teams from that conference being eligible.
These programs will be proud to play in a January bowl, but it is not among the best available.
Jan. 8 GoDaddy.com Bowl: Northern Illinois vs. Arkansas State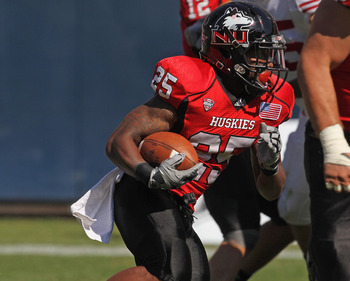 Jonathan Daniel/Getty Images
With a win over Troy, Arkansas State will clinch first place in the Sun Belt. It has already accepted a bid to play in the GoDaddy.com Bowl, which is the last bowl before the national championship.
Northern Illinois still has to earn its way into this game. It has won six straight games, but must win another one to clinch the Western Division of the MAC.
At that point, a win in the MAC Championship Game will place the Huskies in the January 8th bowl game.
Jan. 2 Rose Bowl: Oregon vs. Michigan State
Thearon W. Henderson/Getty Images
Even with the loss to USC, Oregon holds the tie-breaker over Stanford and will clinch the North division with a win over Oregon State.
At that point, a win in the inaugural Pac-12 Championship Game will place the Ducks in the Rose Bowl.
A week ago they were hoping for a chance at the national championship, but the Rose Bowl is a nice consolation.
As always, the Pac-12 winner faces the Big Ten winner, and right now it looks like Michigan State will get that opportunity. The Spartans have played the best of anyone since conference play has started and have the experience needed to continue its winning ways.
Jan. 2 Fiesta Bowl: Oklahoma vs. Stanford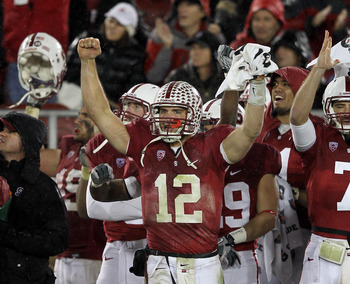 Ezra Shaw/Getty Images
This is the point where we start getting into projections. Oklahoma has the opportunity to win the Big 12 with victories over Iowa State and Oklahoma State.
Defeating the Cowboys on the road will be a tough task, but Iowa State showed the blueprint for slowing the high-powered attack. Now Oklahoma just needs to execute.
The Big 12 winner faces an at-large team, and with the first choice the Fiesta Bowl would easily pick Stanford. The west-coast team with an outstanding quarterback that almost reached the title game would be a no-brainer selection.
Jan. 3 Sugar Bowl: Houston vs. Oklahoma State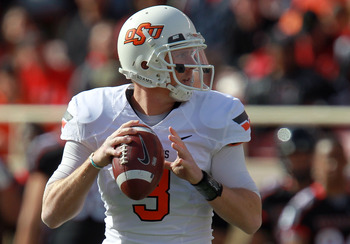 Ronald Martinez/Getty Images
Although the SEC usually hosts this game in New Orleans, the two qualifying teams will still be preparing for another game.
This will leave an opening for two at-large teams, and it will be two programs that have been discussed quite a lot this season.
With a loss to Oklahoma, Oklahoma State would find itself in the Sugar Bowl. Two losses would not be enough to take the team completely out of the BCS picture, and any game would love to have this offense on display.
There will be much more debate about Houston, which remains behind Boise State in the latest BCS standings. However, the human polls remain in favor of Houston and the computer numbers are bound to change.
The Cougars will face Tulsa and most likely Southern Miss, two quality opponents that will help its strength of schedule (although the recent loss by Southern Miss will hurt). Boise State is receiving a boost from Georgia, but the Bulldogs will drop with a loss to LSU.
If Houston finishes the season undefeated, it is deserving of a BCS Bowl.
Jan. 4 Orange Bowl: Virginia Tech vs. West Virginia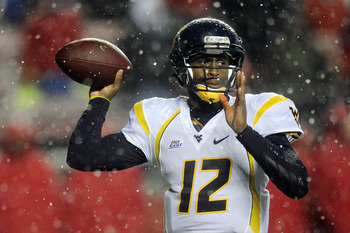 Patrick McDermott/Getty Images
In what will be the least interesting BCS Bowl, possibly of all time, the ACC winner will take on the champion of the Big East.
With Clemson losing to North Carolina State, Virginia Tech becomes the class of the ACC. However, it will still need to avenge its loss to the Tigers from earlier in the season if it wants to return to Orange Bowl for the fourth time in five years.
The Big East is much more jumbled. Without a championship game, tie-breakers must decide between as many as five teams with two losses. West Virginia has the wins over many of its counterparts, so the Mountaineers should come away with the automatic bid.
More importantly, this game will force many discussions over the need for conferences to automatically qualify for BCS Bowls.
Jan. 9 BCS National Championship: LSU vs. Alabama
Streeter Lecka/Getty Images
Say what you want about whether there should or should not be a rematch for the national championship, but it is becoming more obvious that LSU and Alabama are the two best teams in the country.
LSU has very little left to prove. As of last week, the Tigers were No. 1 and had defeated both the No. 2 and No. 3 teams in the country. Unless the Tigers lose two straight games to end the season, they will be playing in this game.
The opponent will be debated, but Alabama is the obvious answer. Aside from the loss to LSU, no team has been within two touchdowns of the Crimson Tide this season. They have the best defense in college football this year, and possibly one of the best of all-time.
If Alabama loses to Auburn, Oklahoma State returns to the discussion, as well as Stanford and (I cannot believe this is possible) Virginia Tech. However, a win on the road and we are looking at an all-SEC title game.
I hope you all love defense.
Keep Reading