SEC Football : The Best and Worst of Each Team from Week 12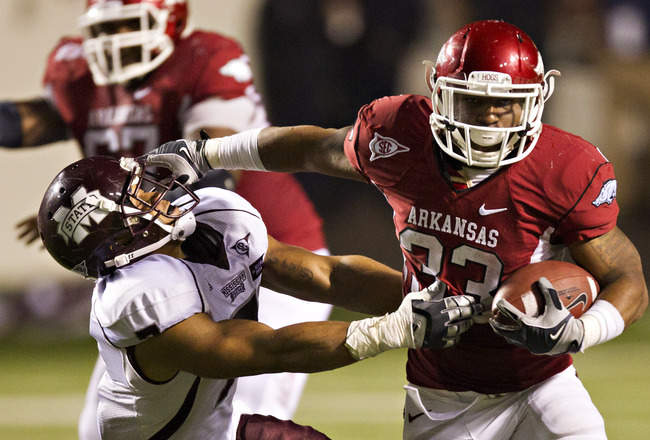 Wesley Hitt/Getty Images
The slate of SEC games this past Saturday was filled with cream puffs and lopsided affairs.
While the games may have paled in comparison to past weekends, when the SEC schedule was filled with big-time matchups, we're still able to learn important information about each squad.
Looking at the best and worst aspects of each conference team's effort in Week 12, could help us forecast what we may see in next weekend's rivalry battles.
In this slideshow, we will take a look at the good and the bad from Saturday and how that could impact next Saturday's games.
The teams are listed in my power ranking of the conference as it stands today, and I have listed an updated bowl projection for each program...
12. Ole Miss Rebels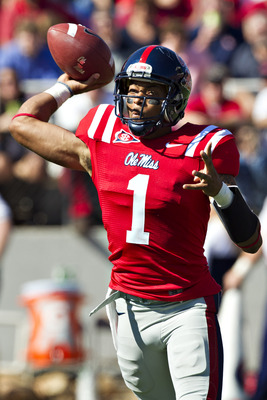 Wesley Hitt/Getty Images
Best of Week 12: Ole Miss ran the ball well on Saturday, behind 74 yards from scrambling quarterback Barry Brunetti, racking up 148 rushing yards in the game. Impressive since LSU had only allowed 83 rushing yards per game going into this game.
Worst of Week 12: The Rebels struggled to stop the run against LSU. The Tigers rolled for over 353 rushing yards against an Ole Miss defense that ranks last in the conference in defending the run.
What it all means: With a season-ending game against rival Mississippi State looming this Saturday, Ole Miss will try and maintain its success running the ball, since Mississippi State is allowing nearly 170 rushing yards per game this season.
The trouble will be on defense, where a porous Rebel defense will try and keep big Bulldog back Vick Ballard in check. Ballard already has 865 yards and seven rushing touchdowns so far in 2011 and could have a field day against the Rebels.
Look for tons of run plays in the egg bowl for both teams.
Bowl Projection: No Bowl
11. Kentucky Wildcats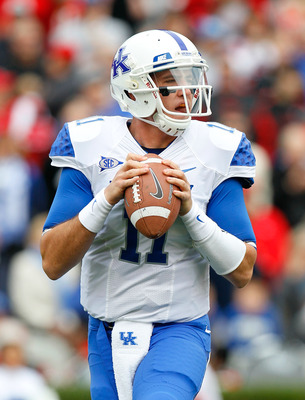 Kevin C. Cox/Getty Images
Best of Week 12: The Wildcat defense held a dangerous Georgia offense to just 317 total yards. That is over 100 yards less than Georgia's season average yards per game.
Kentucky linebacker Danny Trevathan was a big reason, as he racked up 17 tackles in the game, 12 of them solo, and still leads the conference in tackles per game.
Worst of Week 12: Kentucky had just 23 net rushing yards on Saturday. Sanders and the Wildcat backs could never get things going against a tough Georgia defense. You won't win many games with just 23 rushing yards.
Kentucky ranks just 11th in the conference in rushing yards per game with only 117 rush yards per contest.
What it all means: Kentucky will miss out on a bowl game this season, already having seven losses but could end the season on an upswing with a win over Tennessee next weekend.
They could give Tennessee a challenge on defense, slowing the Volunteer offense with star players like Trevathan and safety Winston Guy Jr.
However, the Wildcats offense will have to figure out a way to grind out some yards on the ground to have any shot at victory. Another 23-yard type of effort won't allow Kentucky to keep up on the scoreboard with Tyler Bray and the Tennessee offense.
Bowl Projection: No Bowl
10. Vanderbilt Commodores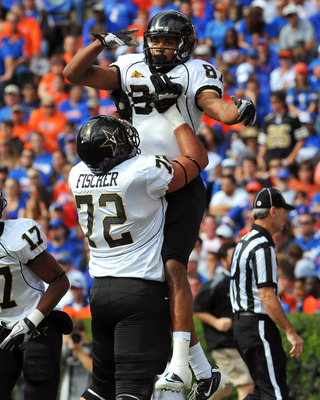 Al Messerschmidt/Getty Images
Best of Week 12: Vanderbilt held Tennessee to under 300 yards of total offense in the painful overtime loss. That's impressive considering that prolific Volunteer quarterback Tyler Bray was back from injury and looking to attack the Commodore secondary.
Worst of Week 12: Four turnovers, including the interception Vanderbilt quarterback Jordan Rodgers threw in overtime, lost this game for Vanderbilt. The Commodores have to avoid costly turnovers to win games like this.
What it all means: Vanderbilt needs to beat Wake Forest on the road this weekend to earn six wins and a bowl invite.
To win, they will have to erase the turnovers and run the ball more effectively.
Bowl Projection: Compass Bowl (Vanderbilt vs. Cincinnati)
9. Tennessee Volunteers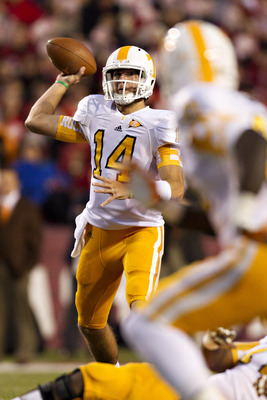 Wesley Hitt/Getty Images
Best of Week 12: Tennessee held a quality Vanderbilt run game, that's averaging 175 rush yards per contest, to under 100 yards in the overtime win.
Worst of Week 12: With Tyler Bray back from injury, Da'Rick Rogers benefited the most. The talented sophomore wideout grabbed 10 catches for 116 yards and two touchdowns against Vanderbilt.
The vertical passing game is back for the Vols.
What it all means: Tennessee needs to beat Kentucky on Saturday to get to six wins and earn a bowl invite.
The return of Bray and the passing attack, and a capable defense, should give the Vols a leg up against the Wildcats and a post season invitation.
Bowl Projection: Music City Bowl (Tennessee Vs Virginia)
8. Mississippi State Bulldogs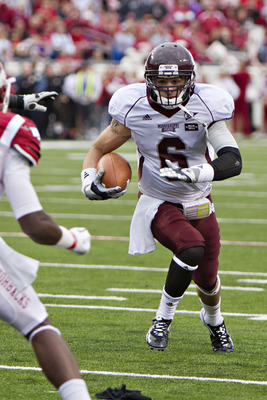 Wesley Hitt/Getty Images
Best of Week 12: Freshman quarterback Dylan Favre came in at the end of the game and performed well, finishing 8-of-16 for 76 yards and a touchdown.
A good ending to the game for State, who hadn't had much good happen most of the game.
Worst of Week 12: The Bulldog defense continued to struggle and gave up over 530 yards of offense on Saturday. Poor tackling and missed assignments led to a long day for the Mississippi State defenders.

What it all means: Mississippi State needs a win against rival Ole Miss this weekend to earn six wins and qualify for a bowl game.
The Bulldogs will look for continued improvement at the quarterback position and hope to have success moving the ball against a struggling Ole Miss defense.
On defense, they will need to tackle better and get into the Rebel backfield to ensure a win.
Bowl Projection: Liberty Bowl (Mississippi State Vs Southern Miss)
7. Florida Gators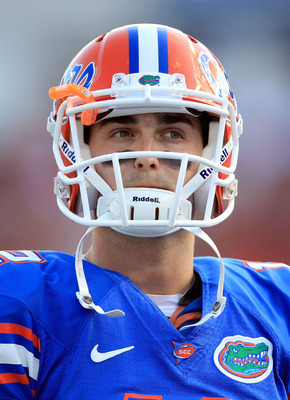 Sam Greenwood/Getty Images
Best of Week 12: Florida quarterback John Brantley passed for 329 yards and four touchdowns in the win over Furman. A healthy Brantley is key for the Gator offense.
Worst of Week 12: The Gator defense gave up 446 yards to Furman—an FCS program. The Paladins went over 200 yards rushing and passing against Florida.
What it all means: This win gave Florida its sixth win and ensures them of a bowl invite. However, they are now focused on Saturday's matchup with rival Florida State.
To beat the Seminoles, the defense will need to be more effective, and Brantley will need another big day.
Bowl Projection: Gator Bowl (Florida Vs Penn State)
6. Auburn Tigers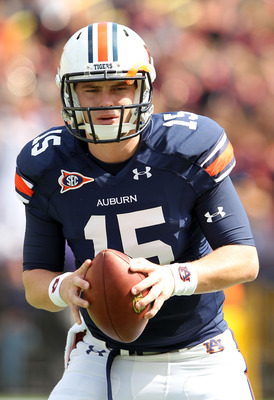 Jamie Squire/Getty Images
Best of Week 12: The Tigers, lead by star back Michael Dyer, had another solid day running the football. Auburn ended the game with almost 250 total rushing yards.
Worst of Week 12: Auburn lost the turnover battle on Saturday—something a young team can't afford to do. Two fumbles cost the offense, and Auburn failed to generate a turnover on defense.
What it all means: Auburn now has seven wins and have already met or exceeded most prognosticators' preseason projections.
However, a game against rival Alabama at home this Saturday looms large.
The Tigers will be a significant underdog and will need to continue running the ball well and win the turnover battle to have any shot at beating Bama.
Bowl Projection: Chic-fil-a Bowl (Auburn vs. Virginia Tech)
5. South Carolina Gamecocks
Streeter Lecka/Getty Images
Best of Week 12: Even without injured star running back Marcus Lattimore, South Carolina was able to run for 256 yards against Citadel.
Freshman back Brandon Wilds lead the effort with a solid 109 rushing yards and two touchdowns.
Worst of Week 12: The Citadel ran for 248 yards against South Carolina. Giving up over 200 yards on the ground to an FCS foe is never a good deal.
What it all means: A rivalry game against Clemson next weekend gives the Gamecocks a shot at a 10-win regular season. Missing out on an SEC title is a disappointment for South Carolina, but a 10-win year is not so shabby.
To beat Clemson, South Carolina will need to continue to run the ball effectively and will have to make adjustments on defense to be able to contain dangerous and mobile Clemson quarterback Tajh Boyd.
Bowl Projection: Outback Bowl (South Carolina vs. Nebraska)
4. Georgia Bulldogs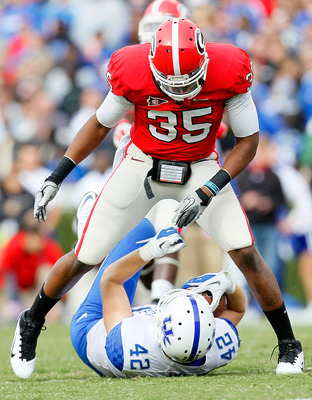 Kevin C. Cox/Getty Images
Best of Week 12: The surging Georgia defense shut down the Kentucky running game and held the Wildcats to just 23 rushing yards in the game.
Worst of Week 12: The Georgia passing game had been clicking in recent weeks. However, against Kentucky, it faltered a bit, as the Bulldogs ended with just 162 passing yards against Kentucky, and quarterback Aaron Murray had just one touchdown to go along with an interception.
What it all means: Georgia has clinched a spot in the SEC championship game. However, they can't overlook a good Georgia Tech team this upcoming weekend.
To beat their rival, Georgia must connect on more vertical passes and maintain the strong play on defense. Look for a close game on Saturday.
Bowl Projection: Cotton Bowl (Georgia vs. Kansas State)
3. Arkansas Razorbacks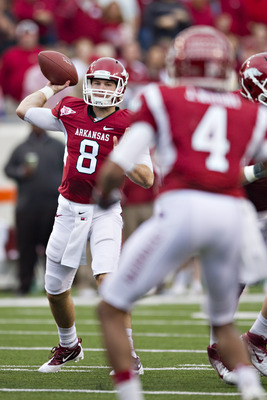 Wesley Hitt/Getty Images
Best of Week 12: Star Arkansas quarterback Tyler Wilson had another huge game with 365 yards and three touchdowns in the win over Mississippi State.
Wilson has now thrown for over 3,000 yards on the season.
Worst of Week 12: Arkansas created just one turnover against Mississippi State and now stands third-to-last in the SEC in turnovers generated, with just 18 on the year.
What it all means: Arkansas is now third in the BCS standings and has a huge game against LSU on Saturday to give themselves a shot at a co-SEC West championship.
To have a chance to beat a very good LSU team, Arkansas must stay crisp and effective in the passing game and create more turnovers on defense. LSU leads the conference in turnover ratio and the Razorbacks must keep pace.
Bowl Projection: Capital One Bowl (Arkansas vs. Michigan)
2. Alabama Crimson Tide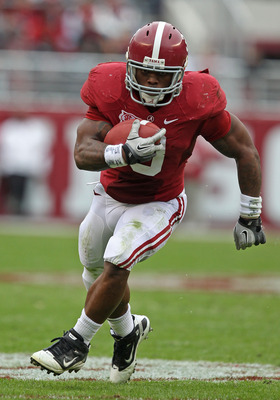 Mike Zarrilli/Getty Images
Best of Week 12: Alabama back Trent Richardson led Alabama with 175 rushing yards, and the Tide rolled for 272 total rushing yards.
Alabama still leads the SEC in rushing offense, averaging 220 yards per game.
Worst of Week 12: It was a shock that one of the best defenses in the nation gave up 302 rushing yards to Georgia Southern—an FCS team.
What it all means: Alabama has moved into second in the latest BCS standings and need a win at rival Auburn to stay in the national title race.
To beat an Auburn team that has struggled to stop the run, the Tide should run, run and run again on Saturday.
Expect lots of running in the Iron Bowl, as the Auburn run game is solid too.
Bowl Projection: BCS national championship game (Alabama vs. LSU)
1. LSU Tigers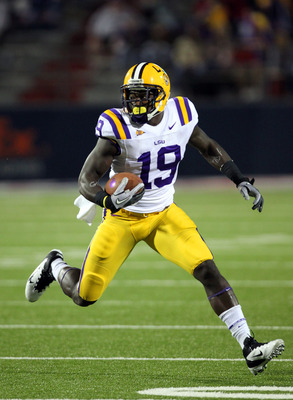 Joe Murphy/Getty Images
Best of Week 12: LSU scored 52 points, even with kneeling the ball on their last four plays. The offense was humming against a defeated Ole Miss defense.
The Tigers racked up 458 total yards in the big win, most of them coming on 50 run plays in the game.
Worst of Week 12: Ole Miss gained 148 rushing yards in the loss. This is surprising because the LSU defense averages allowing less than 90 yards per game on the ground.
What it all means: LSU needs to beat a tough Arkansas team on Saturday and beat a good Georgia team in the SEC championship game to ensure a spot in the BCS national championship game in January.
To win those games, LSU will need to keep running the ball effectively and continue to put points on the board. If they get a lead, it will be hard for the opposition to come back against the ball-hawking Tiger defense.
Bowl Projection: BCS national championship game (LSU vs. Alabama)
Keep Reading