Why Ohio State Should Not Hire Urban Meyer
November 20, 2011
Al Messerschmidt/Getty Images
Ohio State's loss to Penn State all but sealed current head coach Luke Fickell's fate. He will not be retained as the head coach.
But even before the loss, speculation had begun that Urban Meyer was on the verge of accepting the head job in Columbus. The initial reaction is that OSU couldn't ask for a better man to lead their program through what will almost certainly be several years of NCAA probation and scandal.
But in the words of ESPN College Gameday analyst Lee Corso, not so fast.
Urban Meyer is not the right fit for Ohio State. In fact, he's overhyped as a coaching candidate.
When Meyer decided to retire after the 2010 season, he had compiled an impressive 65-15 record at Florida and a 104-23 record overall. 
Yet, that win-loss record belies the fact that Florida was a mediocre 8-5 in his final season as head man in Gainesville.
Meyer learned a hard lesson in 2010: Winning without the greatest player in college football history is difficult.
Without Tebow in 2010, Florida struggled mightily. Meyer couldn't win without his prized possession under center.
He could no longer keep up recruiting-wise with the man that beat him in the SEC Championship game just a year earlier: Nick Saban.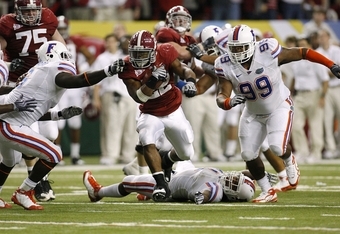 Chris Graythen/Getty Images
Alabama's 2009 SEC Championship and National Championship victories marked a watershed moment in the SEC. The Crimson Tide, not the Gators, became the conference's elite program.
After Tebow's departure, the Gators were no longer capable of competing with the Tide. They were more talented, and Saban had a recruiting edge.
So Meyer decided to leave the game. It was seemingly inexplicable. Or was it?
The truth is, Meyer's reign of dominance in the SEC was over. Why tarnish a 100-23 record?
In order for Florida to return to dominance, It was going to require a major rebuilding effort. He clearly wasn't willing to shoulder the burden.
Meyer needs talent to win, the best talent. Just look what he did without Tebow, Percy Harvin, Aaron Hernandez and others.
This is precisely why he is not the man for Ohio State.
OSU is twice the rebuilding project that Florida was after the 2009 season. Meyer will need to recruit top talent while dealing with what is likely to be severe NCAA sanctions.
Will he be able to bring the Bucks back to national prominence? He knew that he could not do it in Florida, and that was without scholarship restrictions and probation; so he quit. What makes you think the same thing won't happen in Columbus?
Urban Meyer can win with talent. But, when faced with adversity, he gives up. OSU needs a man to build them from the ground up. Meyer is not that man.