Why New England Patriots Have Seized Control of AFC East
November 20, 2011
Donald Miralle/Getty Images
Conjoined NFL royalty Tom Brady and Bill Belichick have the New England Patriots firmly in the driver's seat and hurtling towards yet another AFC East Divisional Crown.
And they've done it with two TEs, revolving RBs, no real deep threat and a defense roundly "dissed" by every football analyst in America.
Let's face it: New England is going to be 7-3 by about midnight Eastern Time on Monday. Their closest competition will still be a game behind, even if the Buffalo Bills knock off the Miami Dolphins and go to 6-4.
Yes, I know that it's only Week 11. But, seriously, do you see the rudderless New York Jets pulling it together to be a threat? Or the schizophrenic Bills? And the only reason to even mention Miami is that they have suddenly risen up enough to kick either New York or Buffalo out of the Wild Card race.
How has New England gone from losing at Buffalo to wrapping up the division? Who are the Patriots heading into the last third of the 2011 season? 
Offense
At 34, Brady is still in his quarterback prime. He's smart as you-know-what and still young enough to accomplish physically what he can process mentally. I don't even like the guy (it has to do with his shark eyes), but he's putting on quite the QB clinic.
Sure, Aaron Rodgers will probably win MVP. But the Green Bay signal-caller has an offensive arsenal worthy of the Cold War.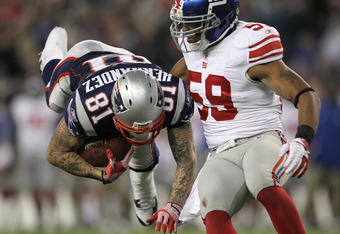 Jim Rogash/Getty Images
Mr. Brady has Rob Gronkowski and Aaron Hernandez. Not that the two enormous, tough and talented TEs aren't great. They've combined for 89 receptions, 1,083 yards and 13 TDs.
But they certainly aren't Randy Moss. Who is running those deep routes? Uh, Deion Branch and Chad Ochocinco.
I know that Deion just adores Brady. Well, I would too, if he'd made me the MVP of a Super Bowl. But let's be real: Branch only catches touchdowns when he's in New England.
I do like Chad Ochocinco, but this has been an embarrassing year for No. 85. He's a harmless kid who obviously has not (thus far) developed the precision that Brady demands. Result? Eleven receptions. In ten weeks. Ouch.
Okay, I have to give Patriot non-believers that No. 12 does have Wes Welker. In fact, Wes has padded Mr. Brady's stats significantly with his tremendous YAC yards. But people act like Welker is the second coming of Jerry Rice this year. This is a slot receiver that Miami traded away as too small and too slow, so let's not wax overly poetic.
In nine weeks, Tom Brady has thrown 23 touchdowns and 10 interceptions. He's passed for over 3,000 yards: with an average of eight-and-a-half yards per attempt, an over 66 completion percentage and a QB rating of 102.
Then there are the four running backs: Green-Ellis (who now has a toe injury), Kevin Faulk (who has been hurt most of the year), Stevan Ridley (who is a rookie) and Danny Woodhead (who is my height).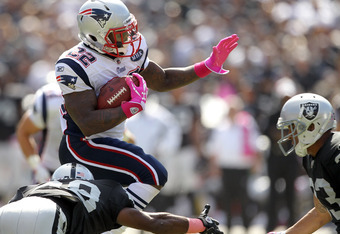 Ezra Shaw/Getty Images
Belichick is steadfastly trying to achieve some kind of offensive balance. He even managed to run the ball 28 times last week. They only gained 60 yards, but hey—they tried.
As an entire squad, this offense is first in the League through the air, 19th on the ground, second in offensive yards (432) and third in points scored. I don't care who your favorite team is, that is an incredible feat with this group of players.
Defense
When you're third in NFL scoring, you don't need the 2000 Ravens or 1985 Bears on the other side of the ball.
The Pats' D might be 17th overall, and almost the worst pass defense, but they are ninth against the run. That is significant going into December and January, particularly in the outdoors-playing AFC East.
New England's defense may be giving up 412 yards per game, but they are only surrendering 22 points. Isn't that the definition of bend-but-don't-break?
When the offense is scoring almost 29, that's good enough. And that D is getting better. Did you see them shut down Mark Sanchez, Santonio Holmes, Plaxico Burress and LaDainian Tomlinson last week?
Whether they can hold up against Pittsburgh and Baltimore in the postseason is a bridge crossed in another article.
Competition
No. 1: The New York Jets started the season as the self-monikered "only team who could beat the Patriots." Then they lost to New England. Twice.
Gang Green has fallen to 5-5 and will be lucky if they snag a Wild Card spot.
If there was ever a cautionary tale, it's this Jets' team. And, no, I'm not talking about braggadocio. I'm talking about lack of what pundits continually call "an identity." I hate the cliché, but the Jets have been the anti-Patriots when it comes to tailoring your system to the personnel on hand.
Rex Ryan wants to be a "ground and pound" team. Well, that would be just dandy if he had a power runner and a clicking offensive line.
Shonn Greene has never been successful in that pounder role. They got away with it the past two seasons due to owning the best O-line in the League. But injuries, age and bad offensive strategy have hobbled this talented group in 2011.
Many New York fans will disagree, but I think Sanchez is missing both Braylon Edwards and Jerricho Cotchery badly. No one has taken Cotchery's place over the middle now that he's scoring TDs for Pittsburgh. And unless Brian Schottenheimer starts using WRs Patrick Turner and Jeremy Kerley deep, Santonio Holmes won't get free.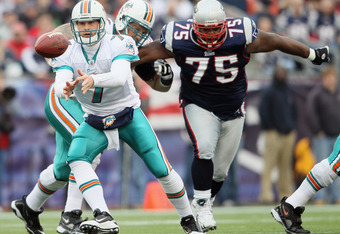 Elsa/Getty Images
I'm glad for Plaxico Burress' success, but he's not a stretch-the-field guy. He's a stretch-the-vertical guy.
Instead of adapting to the personnel, this team has gone deaf, dumb and blind in following Rex through the "ground and pound" breach. And they can't win that way. If it doesn't change, the 2011 Jets are not a threat to the Pats.
I must throw out the caveat that the NY schedule might help them right the ship.
The Jets have a long week to lick their wounds and regroup before facing the Washington Redskins and the Kansas City Chiefs. So far, so good.
Then they'll get the Philadelphia Eagles, who are like a dangerous wounded animal and could do anything at any moment. After that come the New York Giants, who are by far the most legitimate team on Gang Green's remaining schedule.
New York finishes with Miami. This schedule breaks down into three games any self-respecting contender must win, one they should win and one game where Mark Sanchez might want to stay home and hide under the covers.
If New York wins out and the Pats slump, standings could change. And I'd like a Ferrari for Christmas, Santa.
No. 2: The Buffalo Bills are at a crisis point in their development. They will be 6-4 after Sunday if they can beat the Dolphins. They should beat the Dolphins.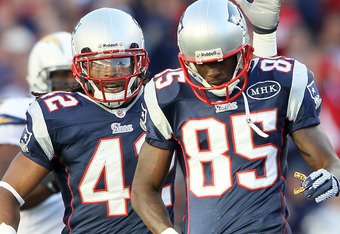 Elsa/Getty Images
However, Miami has improved and has momentum, whereas the Bills are reeling from two embarrassing losses.
Buffalo was absolutely destroyed by the Dallas Cowboys last week. Can they rally? Yes. Will they? I don't know.
The offense is eighth in the League with over 25 points per game.
And they are still sixth as a run defense. Except, apparently, against Cowboy rusher DeMarco Murray.
Ryan Fitzpatrick may be a classic case of both game film catching up with you and the famous "I got my big contract and I will now immediately enter a slump" scenario. He had better snap out of it. Even with Fred Jackson leading the NFL in rushing, someone has to get the ball to their receivers and that emerging TE threat.
The real problem with the Bills is that the lynchpins of both the offensive and defensive lines have been put on I-R. Versatile O-lineman Andy Levitre, who has played all positions, is the new starting Center. Rookie Marcell Dareus, who had been having a bang-up season at DE, is now forced to try and fill in at NT. He struggled in his first outing, but what do people expect?
One game closer in standings to the pending AFC Champs than New York, Buffalo has a slight chance to catch the leaders. But then, they also have to finish their season in Foxboro. Doesn't look promising does it?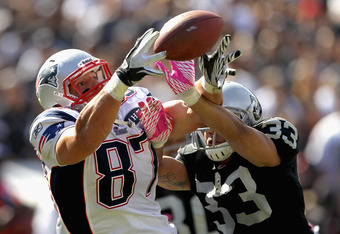 Ezra Shaw/Getty Images
No. 3: The Miami Dolphins have had a magical transformation from doormat to spoiler. Good for them and good for head coach Tony Sparano. Talk about mental toughness. Both the team and the coach were on life support when they pulled themselves off the turf and started winning.
They will not be a good team this year and they'll probably be dismantled in the offseason. But they won't lose their pride.
That pride is going to ruin someone's playoff hopes. I can just feel it.
New QB Matt Moore has completed 105-of-167 pass attempts in five starts. Well, that's pretty good. Oh and he's thrown four touchdown passes. Not bad. But he has had five interceptions and 18 sacks. Oh.
Brandon Marshall is a terrific WR and Reggie Bush has remembered how to run the football the last couple of weeks, so the offense will continue to improve.
The defense has become downright…good. They are allowing less than 20 points and rank eighth overall.
Fred Jackson might wish to take note of the fact that the 'Fins are tenth in the NFL versus the run.
If Miami can defeat the Bills, Buffalo will probably be finished for this season, eliminating any divisional competition for the Patriots.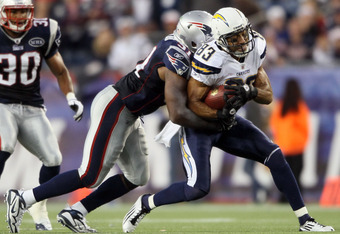 Elsa/Getty Images
Schedule
So many folks on ESPN and the NFL Network are talking about the "easy" schedule that the Pats are facing from here until Week 17. I wouldn't go that far.
Week 11: Yes, I will grant that the Chiefs shouldn't present much difficulty.
Week 12: In theory, playing the Eagles should result in a Patriot win. However, they may be coming off a divisional loss to the Giants and be as ornery as a hornet's nest.
Week 13: The Indianapolis Colts come to town. Not exactly what the schedulers were envisioning, I'm sure. New England win.
Week 14: At the Washington Redskins. Next.
Week 15: The New England defense against the Denver Broncos' Tim Tebow may be a bizarre matchup that I would not miss for the world. Tebow may be a total conundrum as a QB, but he's also a loose cannon and I can't wait to see how Belichick game-plans him.
Week 16: Miami Dolphins at New England. Brrrr. Advantage Pats.
Week 17: Buffalo at New England. This could either be a cakewalk or a spoiler alert. The next few weeks will tell us exactly where the Bills stand as a team.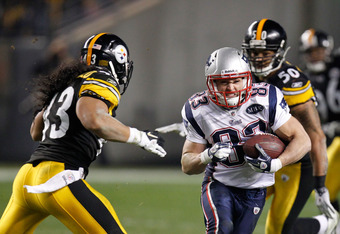 Gregory Shamus/Getty Images
So, that is five out of seven games that could rise up to bite them. Except that this team is run by Brady and Belichick.
I know, I know—it's not the New England "Tom & Bill Show," it's the New England Patriots. But, aside from their QB, All-Pro DT Vince Wilfork and Branch, there aren't many players left from the birth of this dynasty.
Even the kicker is different.
Tony Dungy said in the first year after he retired that his primary and most surprising realization was the absolutely vital importance of franchise stability. He concluded that it was even more important than talent. I think we can all agree that Tony Dungy knows a bit about the value of talent.
If there were ever a showcase for both of those observations, it would be the New England Patriots of the past few years. Robert Kraft and Nick Caserio keep re-stocking the cupboard with B+ players and Belichick and his coaches keep prodding and pushing and molding them into something that wins.
This team has not had a star WR since Moss left and they've only had one A-level RB in the entire decade (Corey Dillon). The offensive line has been a stellar group of men, but they've suffered through injury, holdouts and retirement. And the defense hasn't been the same since they lost the Super Bowl in 2007.
But here they are. Leading the AFC East. Again.
The New England Patriots are poised for another playoff run. And it's not even Thanksgiving.