Dallas Cowboys vs. Washington Redskins: Live Score, Video and Analysis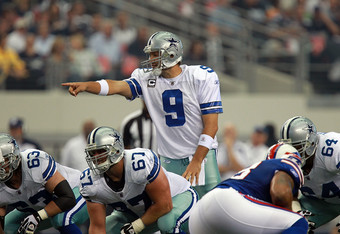 Ronald Martinez/Getty Images
Updated Score: 27-24 Dallas Cowboys Win!
In a back-and-forth contest, the Dallas Cowboys were able to best the Washington Redskins. However, it wasn't nearly as easy as head coach, Jason Garrett, probably would've liked.
Unable to move the ball for much of the first half, the Cowboys found their division rivals sticking closer than their respective records would indicated possible. Redskins quarterback Rex Grossman was particularly impressive on the day, finding Jabar Gaffney over and over as if the Cowboys couldn't find him on the field.
DeAngelo Hall was the goat on the day however, as the overpaid cornerback let numerous second half passes be completed to his assignment. Dan Bailey iced this one in overtime and the Cowboys improve to 6-4, while the Redskins fall to 3-7.
Enjoy this game recap, courtesy of NFL.com
Field Goal Dallas Cowboys! The Cowboys win as Dan Bailey connects in overtime. 27-24 Dallas Cowboys.
DeAngelo Hall gets picked on yet again and the Cowboys have crept into field goal range.
Graham Gano misses wide right and this one continues.
TOUCHDOWN REDSKINS! Donte Stallworth gets in the endzone and we should see some overtime in this one. 24-24
At the two minute warning, the Redskins are driving. Still can't run the ball, but they haven't needed to. This Cowboys secondary might be one of the worst units in the league.
Wow, couldn't have been any more wrong. No running lanes for DeMarco Murray and an incomplete pass brings almost no time off the clock. Poor offensive effort from the Cowboys.
Rex Grossman picks the worst possible time to throw an interception. There's a lot of time left, but hard to see Cowboys giving the ball back with anything left on the clock. Romo's been cruising. Still, in a divisional game, with Romo at the helm, anything can happen.
TOUCHDOWN DALLAS COWBOYS! A long pass to Jason Witten and the extra point makes it 24-17 Dallas Cowboys.
Tony Romo doesn't get enough credit for his ability to extend the play. He's not an elite athlete, but one gets the feeling that he could do a little more of that if it were asked of him.
TOUCHDOWN COWBOYS! Tony Romo ties it up with a strike to Laurent Robinson. Just over 14 minutes left in this one. 17-17
First and goal for the Dallas Cowboys as we head to the 4th quarter. Credit the Cowboys for being able to work the intermediate area of the field and get yards after the catch. The Redskins D has shut down the deep routes well today.
Missed field goal by the Redskins keeps them from going up two scores. We're not in the 4th quarter yet, but we have to start asking if we're going to see "good" or "bad" Tony Romo in the end of this game.
Redskins with the ball again after a phenomenal punt return. In Cowboys territory, how do you go to anyone else but Gaffney?
Missed it because of some computer issues, but the REDSKINS got a Fieldgoal! Their lead increased to seven. 17-10 over the Cowboys.
Back to action and there still isn't much running room for the Redskins. Roy Helu has been able to rumble when given a chance, but the best play is still the deep pass to Gaffney.
Tying it up would've been good enough, but the Redskins get 7 and take the lead! Touchdown! Grossman to Gaffney. 14-10 Redskins!
Great play by the rookie Ryan Kerrigan who was part of the impressive defensive showing in the early part of the year. That sack should knock the Cowboys into halftime without any more points.
TOUCHDOWN Redskins! The flip in field position pays off for Shanahan's boys as does McBriar's miscue. Grossman runs it in himself to make it 10-7 Cowboys
Wow...a tale of two punters! The Cowboys are forced to punt and McBriar can only manage 23 yards. Redskins with outstanding field position with plenty of time to score.
Amazing punt by Rocca to shift field position. A Dallas penalty will back them up even further. Washington's defense needs to capitalize.
Shanahan challenging the fumble. It looked like the knee was down to me. That would be the Redskins second turnover inside their own 30.
That pass to Gaffney was Rex Grossman's first completion to a wide receiver.
FIELD GOAL COWBOYS Dan Bailey connects from 37 yards out to make this 10-0 Dallas Cowboys
Working with a short field this drive, Tony Romo has to respond. You can't let a divisional rival hang around and expect to win games. For the Redskins defense, the biggest need it keeping those receivers off-balance. If you let the Cowboys find their rhythm, it'll be a long afternoon.
This article is
What is the duplicate article?
Why is this article offensive?
Where is this article plagiarized from?
Why is this article poorly edited?

Dallas Cowboys: Like this team?