College Football: Week 12 Shows that the Big 12 Conference is Weak
November 20, 2011
Reese Strickland/Getty Images
The loss by No. 2 Oklahoma State and No. 5 Oklahoma this weekend sends an overdue wake-up call to the rest of the nation that the Big 12 is a weak conference this year.
All OSU had to do is win one game against an unranked team. The unranked team it had to beat owned a record of 2-4 in conference and 5-4 overall entering the game. This was an unranked team that lost four straight games to Texas, Baylor, Missouri and Texas A&M earlier in the year.
No. 2 Oklahoma State lost to an Iowa State team that held on for a 13-10 home win over 2-9 University of Kansas the week before.
Not surprising, this is not the first team in the Big 12 with a Top 10 ranking to fall to an unranked team this season. This loss was actually worse than Oklahoma State's. No. 3 Oklahoma lost at home to Texas Tech 45-40 on October 22.
Texas Tech was 4-2 entering the game with back-to-back losses in conference to Texas A&M and Kansas State at home. Since beating Oklahoma, the 5-6 Red Raiders have lost four in a row.
Wait, Oklahoma did it again. Ranked in the Top 10, OU fell to a team that had not been ranked in the Top 25 in over five weeks? No. 5 Oklahoma's upset loss to No. 25 Baylor Saturday night to help further prove that the 2011 Big 12 conference is overrated and weak.
There are no dominant teams in conference.
What's the problem in Big 12 country? Is parity in a tough conference the reason why the teams are cannibalizing each other within the Big 12?
Based off preseason rankings…no, the Big 12 is not that tough of a conference.
Preseason rankings included four teams from the Big 12 in the AP Top 25 and five in the USA Today Coaches' Poll. Oklahoma was ranked No. 1 in both polls.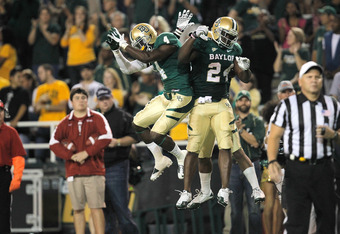 Sarah Glenn/Getty Images
Of the four teams ranked in the AP preseason, only two of those teams are currently ranked Oklahoma and Oklahoma State. Texas A&M and Missouri are no longer ranked. Texas was the fifth team ranked in the preseason USA Today Coaches' Poll. Texas is also no longer ranked in either poll as of end of week 12.
What about K State?
Kansas State has been one of the bigger surprise teams in the nation. The Wildcats won their first seven games of the season and were ranked as high as No. 10 in the nation. During their seven-game winning streak, the only ranked team they beat was then No. 15 Baylor. The other two ranked teams KSU has played this year ended in defeats to OU and OSU. Not really an impressive record.
In times like these, Big 12 conference apologists will turn to the non-conference schedule to settle the debate. What marquee victory can show that the Big 12 is truly a power conference and parity is the reason for the upset losses?
Here's the list of Big 12 teams versus other power conference teams: Iowa State beat 7-4 Iowa and 4-6 Connecticut, Kansas State beat 6-5 Miami, Oklahoma State beat 2-8 Arizona, Texas beat 6-5 UCLA. The biggest win would have to be Oklahoma's win over 7-4 Florida State.
What about Big 12 losses in non-conference games?
Texas A&M lost to 10-1 Arkansas, Kansas lost to 8-3 Georgia Tech and Missouri lost to 6-5 Arizona State.
We could add Mountain West or Conference USA wins to pad the victories, but this is about being a power conference with quality wins.
Strength of schedule rankings that exists for college football fans should have no part of this clear-cut point of view. The difficulty of the Big 12 schedule is not that difficult. Florida State was the only ranked power conference team that was defeated by a Big 12 school and now FSU is 7-4.
Hopefully voters, the media and college football fans will come to understand that no matter how one looks at it, the Big 12 is not an elite conference this year.
This year's Bedlam Series will be hyped by the media, but will prove nothing that we do not already know about the Big 12. It's a weak conference.