2011 Heisman Trophy: 5 Reasons Why Montee Ball Should Win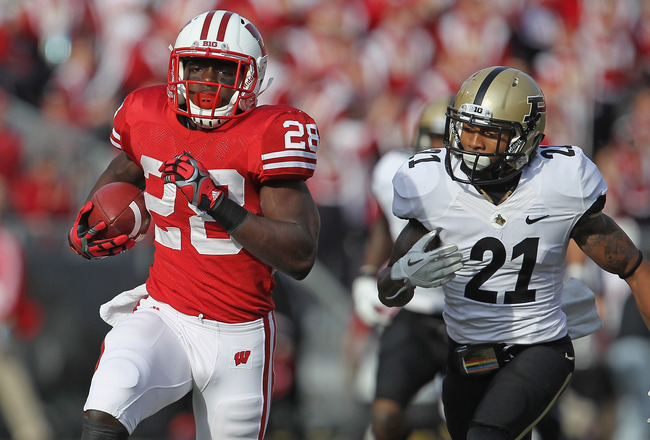 Jonathan Daniel/Getty Images
The Wisconsin football program, in recent years, hasn't gotten the respect it's deserved. This season, Bucky has the best running back to come through Madison since Ron Dayne.
Now, I understand Big Red has two blemishes on its record, with losses at East Lansing and Columbus, respectively, but that does not mean Ball should be out of this race.
I have five reasons why Montee Ball deserves to be immortalized with his name on the Heisman Trophy.
No. 5: The Records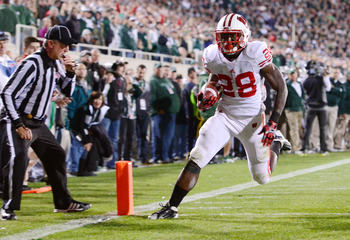 Mark Cunningham/Getty Images
Against the University of Illinois, Montee became the fifth player in FBS history to rush for 30 touchdowns in a season. Names on that list include Brock Forsey, Kevin Smith and Barry Sanders.
On November 5 against Purdue, Ball broke Brian Calhoun's record for most points in a season, which was previously set at 144. Ball currently stands at 164, 20 points ahead of Collin Klein of Kansas State. Ball is averaging 16.4 points per game by himself! Trent Richardson currently has 114 points.
Let me put this into perspective. Let me remind you that the Badgers are one of the most potent offenses in the entire nation. They have Russell Wilson, who has had an outstanding season, Nick Toon, Jared Abbrederis and, oh yeah, James White, who was a standout last season and is having quite a season himself in 2011.
Ball already has the school record in touchdowns, with 25, and that number will only continue to climb.
Troy King currently has the record for highest average yards per carry in a season, with 6.75, and Ball right now stands 6.7 which, at the pace he has been heading, is only going to increase.
Ball currently has the Big Ten and Wisconsin record for total touchdowns in a season, with 30.
No. 4: James White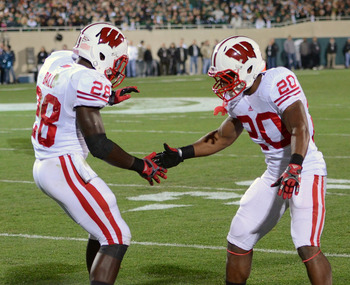 Mark Cunningham/Getty Images
The nation may have forgotten about last season's freshman standout back, James White. I haven't.
James White is having himself quite a year; and very much under the radar. Currently, White has over 600 yards with six touchdowns.
Now, you may be wondering what my point is by mentioning White.
He splits time. That's my point. It isn't like White is a non-factor in the Badger offense. He is a big factor.
Trent Richardson and LaMichael James both are the lone backs and get 99 percent of the work in each team's running game. Ball does not. White is a talented back who is a solid number two option for Coach Bielema.
No. 3: Big Ten Conference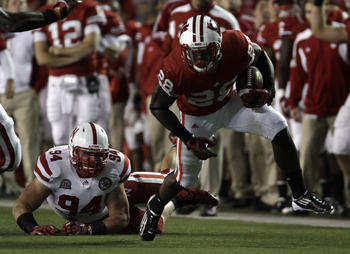 John Gress/Getty Images
One of the few knocks people have had against Montee Ball is he plays in the Big Ten Conference and not the SEC, so the defenses aren't as good. I tend to disagree.
Trent Richardson this season has rushed against five defenses in the top 20, according to Rivals.com when looking at points per game (LSU, Penn State, Georgia, Mississippi State and Florida). Against those teams, Richardson rushed for 500 yards and three touchdowns.
This season, Montee Ball will rush against four teams in the top 20 (Michigan State, Ohio State, Illinois and soon Penn State). Through three games, Ball has 424 yards and four touchdowns against those teams, with two games being losses.
No contest. End of story. He will surpass Richardson after next week's game against Penn State.
No. 2: Statistics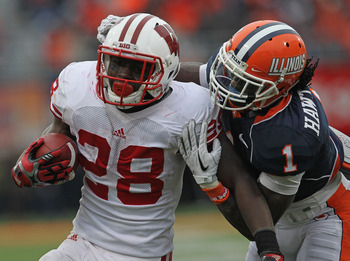 Jonathan Daniel/Getty Images
You can't overlook the stats Ball has put up so far this season.
In 223 attempts, Ball has 1,466 yards and 25 rushing touchdowns. That is an average of 133 yards per game.
I don't really know what else can be said.
Ball also has five receiving touchdowns this season, which puts him only behind Nick Toon and Jacob Pedersen.
No. 1: Body of Work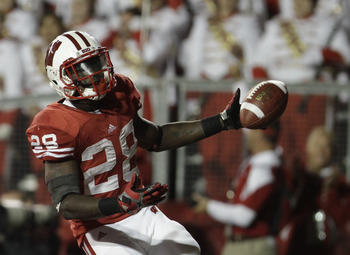 John Gress/Getty Images
Look at where he ranks compared to other Heisman hopefuls.
Currently, Montee ranks in the top three in yards, tied for first in touchdowns and in the top 20 in yards per attempt.
Montee Ball ranks ahead of Trent Richardson and LaMichael James in all but yards per attempt, where he is behind only James.
Ball time and time again has proved his worth, and why he should be considered in the Heisman talks right alongside James, Richardson and even Andrew Luck. He doesn't get the respect he deserves.
Here's my message to all the voters: Vote for Ball. He deserves it.
On, Wisconsin!
Keep Reading

Wisconsin Badgers Football: Like this team?