Nebraska vs. Michigan: Grading the Wolverines' Blowout of the Cornhuskers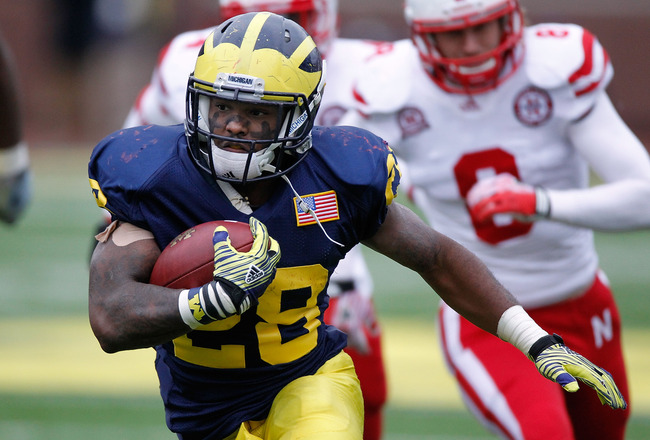 Gregory Shamus/Getty Images
In beating Nebraska 45-17 at the Big House today, Michigan looked like, well, Michigan. No, not those teams that Rich Rodriguez fielded the past three seasons, but the teams Michigan fans were used to seeing take the field under Lloyd Carr.
The Wolverines flexed their muscle on offense and defense, and they completely dominated Nebraska from the opening whistle. Michigan out-gained Nebraska by more than 150 yards, and the defense forced four fumbles.
There is no doubt that this is the most complete performance by a Wolverine team against a top-tier opponent in years. I think it's also safe to say that Denard Robinson hasn't looked this strong against a good opponent this entire season.
How would you grade the Wolverines in the areas of offense, defense, special teams, and coaching? I've graded them, and I'll tell you ahead of time that they're not getting all A's from me.
Offense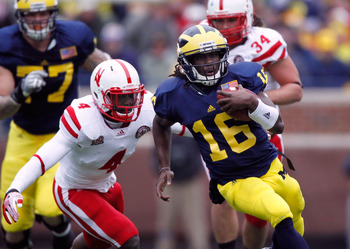 Gregory Shamus/Getty Images
Michigan put up 45 points against Nebraska today, and all of the Wolverines' six touchdowns came on offense.
Denard Robinson threw for two scores and ran for two more en route to the 45-17 clubbing of Nebraska. He completed 11 of 18 passes for 179 yards, two touchdowns and an interception. The interception was on a tipped ball, but it was his 14th of the season. Shoelace also ran the ball 23 times for 84 yards and two touchdowns.
Fitz Toussaint chipped in for 134 yards and two touchdowns on 29 carries. Jeremy Gallon and Martavious Odoms each caught a touchdown pass, and no Wolverine had more than Gallon's three catches or Odoms' 47 yards.
Michigan out-gained Nebraska 414 to 256 and ran 80 plays compared to Nebraska's 53. The Wolverines also went 8-18 on third down and Robinson was sacked just once.
It was an impressive performance against what was thought to be a good Nebraska defense.
Grade: A-
Defense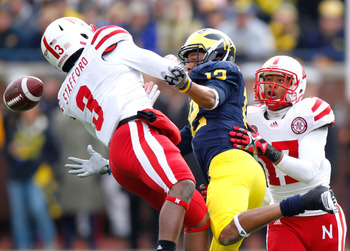 Gregory Shamus/Getty Images
As good as the offense looked, the defense matched them step for step—with the single exception of Brandon Kinnie's touchdown catch.
Michigan's defense looked like what you'd expect from Nebraska, and Nebraska's looked like Michigan's has for the past three seasons. The defense held Nebraska to 256 total yards of offense and forced four fumbles, recovering three of them.
Taylor Martinez had been improving as a passer recently, but Michigan's defense held him to just 9-of-23 passing for 122 yards and one touchdown. The defense also contained him on the ground; Martinez had just 51 yards on 16 carries.
The defense sealed the game with key stops and fumble recoveries in the second half as Nebraska absolutely fell apart under the pressure.
Grade: A-
Special Teams
Gregory Shamus/Getty Images
Special teams remains the chink in Michigan's armor. The Wolverines had to punt the ball four times and averaged just 38 yards per punt. Meanwhile, Nebraska's punts averaged 50.5 yards. None of the Wolverines' punts were downed inside the 20-yard line.
Michigan also averaged just 18.2 yards per kick return and 4.5 yards per punt return. Brendan Gibbons also missed a field goal, but that score really didn't matter.
Still, of all three phases, special teams is clearly the weakest area for Michigan.
I'd give the kicking and return game a D, but the two fumble recoveries and fake field goal boosts the special teams grade up significantly.
Grade: C+
Coaching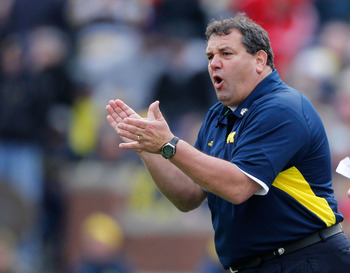 Gregory Shamus/Getty Images
I don't think Greg Mattison gets nearly enough credit for the job he's done with this defense. Remember, he's using essentially the same players as last year, and there has been a dramatic improvement in almost all phases of the defense.
Likewise, I have to commend Al Borges for taking a page out of John Fox's book and going back to the spread offense for a large portion of this game. He realizes that he has to play into Denard Robinson's strengths for Michigan to be successful. Shoelace is clearly more effective running from the option than he is on designed run plays.
If Michigan stays with this game plan, they can beat Ohio State next week and win a bowl game to finish the season at 11-2.
Brady Hoke gets my vote for Coach of the Year.
Grade: A
Overall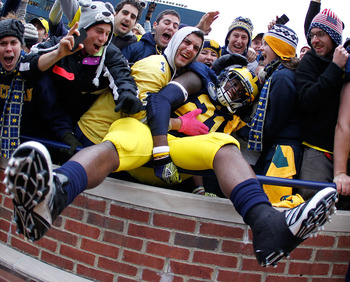 Gregory Shamus/Getty Images
This was the most complete game I've seen Michigan play in all phases of the game since Lloyd Carr was the head coach. It had to make Carr proud watching the Wolverines play such a great game against a good opponent.
The offense was rolling, the defense was flying, the coaches were calling all the right plays, and special teams didn't cost Michigan any meaningful points. I'm not sure if even the most die-hard Maize and Blue fan could have hoped for this good of a performance.
However, the poor kicking game is enough to keep the Wolverines from earning an A today.
Grade: B+

Let's go beat the Buckeyes! Go Blue!
Keep Reading

Michigan Wolverines Football: Like this team?