Why Miami Dolphins Fans Should Stop Obsessing over the Packers' 16-0 Watch
November 21, 2011
Jim McIsaac/Getty Images
After defeating the Tampa Bay Buccaneers 35-26 on Sunday, the Green Bay Packers are 10-0 and the only undefeated team left going into Thursday's game against the Detroit Lions. 
Odds are, most of you Dolphins fans are going to be Lions fans on Thanksgiving Day. 
There's no rhyme or reason under any other circumstances why Dolphins fans should care so much about Thursday afternoon's game, unless you own Aaron Rodgers in your fantasy league (and if you do, congratulations are in order, you've won your league), yet already I can see the venom spewing from Miami to Green Bay. 
Why? Because the Packers are this season's threat to match the Miami Dolphins' 1972 mark. 
It is one of the most hallowed marks in all of sports. The 1972 Miami Dolphins are the only professional sports team to go a full regular season and the playoffs undefeated. If you grew up a Miami Dolphins fan this is beaten into your head. Football fans are reminded of it every year.
This leads to Mercury Morris showing up on SportsCenter for his opinions on whether or not a team can go undefeated.
Why even bother inviting him—he's going to say the same thing: the current undefeated team won't finish undefeated, for the population of Perfectville stands at one, and shall forever stay at one. 
But why is there always such hostility over the possibility that a team might match the 1972 team's perfect streak?
In theory, it's not like it's a record that can be broken. If another team goes undefeated, the 1972 Dolphins don't get a loss added to their record retroactively. Their winning percentage will remain at 1.000, and no one can take that away.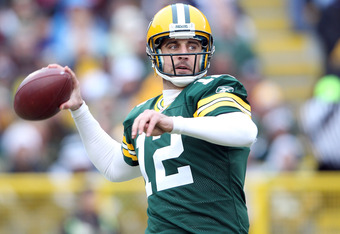 Elsa/Getty Images
You also have to consider that in reality not too many people outside of Miami consider the 1972 Dolphins as the greatest team in NFL history. I'm as big a Dolphins fan as anyone, and yet in an slideshow I wrote in June of 2010, I ranked the 1972 team third—in Dolphins history.
I understand the argument that it's "all we have," but that says more about the current organization than anything. Even if Green Bay runs the table, we will still have it. 
Except that instead of being the first and only, we'll just be the first. That's still a much better legacy than most other NFL teams have, still something to be proud of.
But please, let's stop acting like it's so important for them to be the only undefeated team in history. It's not, they did it already and nothing can change that.
Focus on the Dolphins in 2011 and only cheer for teams on the verge of going undefeated to lose to the Dolphins (unless a loss by that team helps the Dolphins or that team is in the AFC East).
Unless the NFL goes out of business next season, it is inevitable that it will happen again. Maybe not this year, maybe not for another five years, maybe not for another 10 years. 
But it will wind up happening, and as 'Phins fans, we're going to accept it when it does happen—not be bitter—and congratulate the team that does it. 
Hopefully it will be the 2012 Miami Dolphins. 
For more of his writings, visit www.thomasgalicia.com. Also be sure to Like Thomas Galicia on Facebook.