Buffalo Bills vs. Miami Dolphins: Live Score, Video and Analysis
Mike Ehrmann/Getty Images
Final score: Dolphins 35, Bills 8
Four weeks ago Bills fans looked at this afternoon's game against the Miami Dolphins as a laugher.
They were right, the only think they were wrong about was who would be laughing at who.
Miami extended their winning streak to three by defeating the Bills 35-8.
For the Dolphins it moves their record up to 3-7, while the Bills drop to 5-5 and tied for second in the AFC East with the New York Jets.
Miami came alive early. After Buffalo took a 3-0 lead, the Dolphins scored on three consecutive drives to go up 28-6 by halftime with Buffalo's only other points coming from a last second field goal at the end of the second quarter.
Miami would score one more time in the third quarter thanks to a blocked punt by Chris Clemons that would be recovered in the end zone by Lex Hilliard.
Buffalo's only other score in the game was a safety in the fourth quarter, which made the final score 35-8.
Turnovers helped Miami, as Fitzpatrick threw two interceptions, one to Nolan Carroll and the other to Yeremiah Bell.
Matt Moore went 14 of 20 for 160 yards and three touchdowns on the day. Davone Bess, Charles Clay and Anthony Fasano caught the touchdown passes.
Reggie Bush also scored a touchdown to go along with his 15 carries and 32 yards. Daniel Thomas also had 15 carries gaining 50 yards.
For Buffalo, Ryan Fitzpatrick went 20 of 39 for 209 yards, no touchdowns and two interceptions. Fred Jackson was kept quiet today running the ball seven times for 17 yards.
Miami is now 3-7 and hasn't allowed a touchdown in 12 quarters and has outscored their opponents 86-20 during their three game winning streak.
It seems crazy but, the Dolphins might actually have a very slim shot at still making the playoffs.
So will the miracle season continue on Thanksgiving?
Did you see Bills WR Steve Johnson get nailed by Dolphins S Tyrone Culver?
If not, watch it here.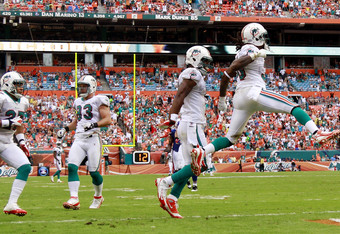 Miami has won the game.
This calls for a celebration for Dolphins fans.
Thanks for reading, and enjoy.
Miami is now running out the clock and putting a punctuation mark on the best overall game of the Tony Sparano era.
I can't believe I'm writing that in 2011 and not 2008.
At this point in the game, why don't the Dolphins bring in Losman or even Pat Devlin into the game?
Their next game is on Thursday, no need to risk injury to anyone right now, this game is so well in hand that I'm already working on a Dolphins-Cowboys preview.
Tyler Thigpen is now on for the Buffalo Bills as they decide to sit down Ryan Fitzpatrick and Fred Jackson (who has his right leg wrapped up) sitting down.
Thigpen passes on all three plays for the Bills as they again go three and out.
So is it safe to say that the Bills are out of it now?
And with both Buffalo and New York struggling while Miami is surging, could the 'Phins actually play themselves back into playoff contention?
Buffalo is unable to capitalize on the safety as errors continue to plague the Bills.
Meanwhile Miami is turning in their best overall game of the Sparano era.
Could, nah.
I mean maybe, nah.
I mean anything can happen right?
Dolphins attempt to run at their own one yard line, why I don't know.
This leads to the Bills finally scoring some points in the end zone: a safety.
Miami now leads 35-8.
First play of the fourth quarter, I really thought Spiller was going to score, but Kevin Burnett is there and stops him.
It's not that he stopped him, it's how he did it. Not even a wrap up tackle, he just hit him and Spiller bounced away.
Next play is an attempted QB draw that turns into an EPIC FAIL thanks to a botched snap.
On fourth down Fitzpatrick attempts a pass that falls incomplete, Miami will take over and their streak of 11 straight quarters without allowing a touchdown continues.
Nice punt return by CJ Spiller, putting the Bills in their best field position all game, the Miami 49 yard line.
Fitzpatrick then hits Roosevelt for 16 yards two plays later.
A pass to Scott Chandler leads the Bills into the red zone.
CJ Spiller starts it, and he gets a chance to finish it but finishes a yard short.
We've reached the end of the third quarter, Miami still up 35-6.
A Burnett hit leads to Chandler losing his helmet.
For Buffalo this is their best drive all afternoon.
Fitzpatrick throws deep for Johnson who can't reach it.
But there's a reason for that, Davis held onto Stevie, so the Bills move up 10 yards.
Buffalo now at the Miami 14 yard line. But Fitzpatrick is sacked at the 24 by Odrick, who follows that with his Pee-Wee Herman dance.
This is then followed by Fitzpatrick "flumbling" the ball in the words of the head official, then a pass to Fred Jackson who gets it up to the 19.
Buffalo goes for it, but he's stripped of the ball by Jason Taylor.
That ends the Bills best drive of the afternoon. Miami still leads 35-6 with 4:53 left in the third quarter.
The ruling on the field is it isn't a catch.
Either way good defense by the Dolphins once again on that drive, Buffalo is forced to punt.
But the punt is blocked by the Dolphins and they wind up scoring the touchdown!
Chris Clemons with the block, Lex Hilliard recovers it in the end zone for the touchdown.
Miami leads 35-7 with 10:08 left in the third quarter.
On their first drive of the second half, Miami goes three and out. However Brandon Fields as usual punts it deep into Bills territory.
Fitzpatrick finds Scott Chandler for 22 yards to give Buffalo some breathing room.
Two plays later Fitzpatrick finds Nelson, who drops the ball. It's picked up by Yeremiah Bell and is ruled a catch and a fumble. I disagree, the ball was incomplete, let's see what the review says.
Dave Rayner drills a 56-yard field goal to end the half. He has been the team's MVP today.
Dolphins 28, Bills 6.
Terrance McGee was injured on the pass to Marshall in the end zone earlier and his return is questionable.
Miami has been very intuitive this half, mixing it up.
They even tried a shovel pass on that last drive. Even when things got bad, like when Moore tripped in the red zone, Miami has find ways to score points.
Third-and-goal for the Phins and Moore finds Davone Bess for the TOUCHDOWN.
Phins 28, Bills 3
Moore found Marshall for what looked to be a 3-yard touchdown, but no dice.
Incomplete pass, but holding on the play, first-and-goal for Miami from the 2-yard line.
We enter the 2-minute warning with the Dolphins up up 21-3, Miami is threatening again at the Bills 3-yard line.
That had to be one of the funniest plays I've seen in a while!
On 3rd-and-long, Fitzpatrick completed a pass to David Nelson.
Or so he thought.
Nelson would drop the ball, and Yeremiah Bell picked up an interception that he returned to the Bills 4 yard line.
Donald Jones has been carted off for the Bills, another costly injury for the Bills who have been riddled with injury problems the last few weeks.
Bills start from 9-yard line and attempt to finally mount a drive. But the Dolphins defense continues to stand tough.
Buffalo runs Fred Jackson for four yards and on 3rd-and-3 Miami forces an incomplete pass to WR Steve Johnson.
Bills will punt again.
On the other side of the ball, Fitzpatrick is completely out of a rhythm.
He has completed only five-of-eleven passes for 66 yards (one interception).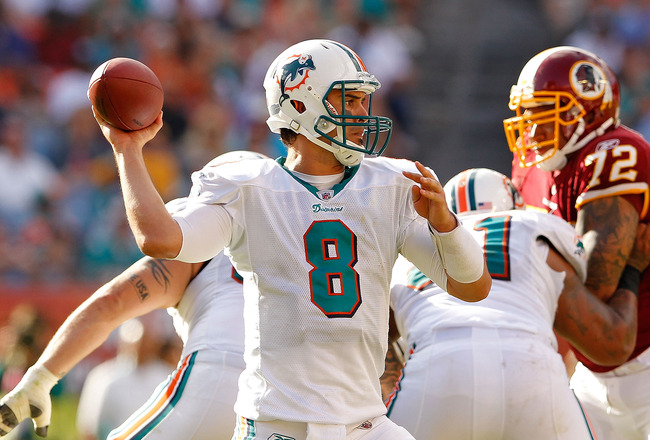 Matt Moore continues his hot start, as he has completed eight-of-ten passes for 136 yards (two touchdowns).
He is having his best game of the season thus far.
Game is now more of the defensive battle we expected. Both teams looking to be physical.
Matt Moore completes a 12 yard pass to Charles Clay for a touchdown which puts the Dolphins up 21-3 with 12:45 left in the second quarter. The touchdown was set up by a Bills turnover. now here's my question: where was THIS Dolphins team The first 7 weeks of the season?
Dolphins 21, Bills 3
This article is
What is the duplicate article?
Why is this article offensive?
Where is this article plagiarized from?
Why is this article poorly edited?

Miami Dolphins: Like this team?