Ravens vs. 49ers and 5 Great NFL Family Feuds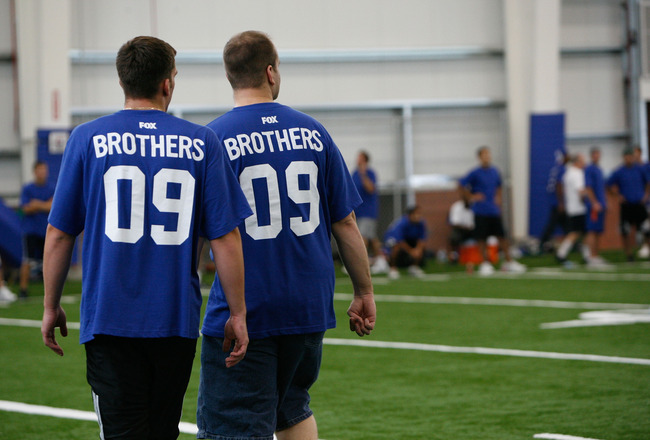 Amy Sussman/Getty Images
On Thursday, Thanksgiving night, the Ravens and 49ers will play one of the most historic Thanksgiving games in recent memory. Not only is it the Ravens' first Thanksgiving game in franchise history, it's also the first ever NFL game where the two opposing head coaches are brothers, as John Harbaugh will face his brother Jim for the first time.
While this type of matchup is unprecedented, there have been some awesome battles between family members throughout NFL history. Here are five involving some of the game's all-time greats.
Sterling and Shannon Sharpe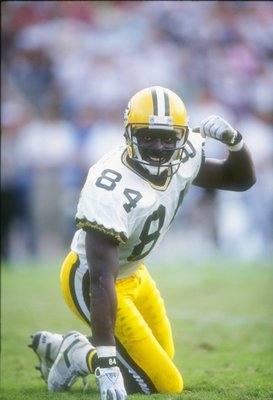 Otto Greule Jr/Getty Images
On December 30, 1990, in single-digit weather at Mile High Stadium in Denver, rookie Broncos tight end Shannon Sharpe played against his older brother Sterling, a Packers wide receiver, for the first of two meetings.
Shannon was a non-factor, failing to record a catch, while Sterling racked up five receptions for 75 yards and a touchdown in a 22-13 Broncos win. Shannon performed better in a 1993 rematch at Lambeau Field, gaining 55 yards on seven catches, but Sterling and the Packers prevailed 30-27.
Two years later, Sterling was out of the league, while his younger brother went on to have a Hall of Fame career in Denver and Baltimore.
Eddie and Walter Payton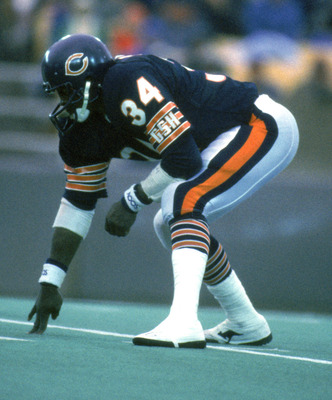 Mike Powell/Getty Images
Widely considered the greatest running back of all time and a Chicago icon, few remember Walter Payton's early-career battles against his brother Eddie Payton, a journeyman NFL kick returner from 1977-82.
Eddie played six career games against his younger brother, once with the Detroit Lions and five times with the Minnesota Vikings...and he somehow walked away with a winning 4-2 record against the future Hall of Famer.
Walter always had the better individual performances, though. In '77, against Detroit, Sweetness racked up 137 rushing yards, 107 receiving yards and two touchdowns in a win over his brother's Lions.
Clay and Bruce Matthews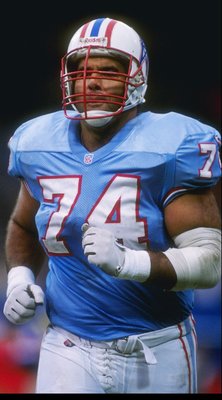 Rick Stewart/Getty Images
Before he became known as the current Packers linebacker's father, Clay Matthews Jr. was a punishing, four-time Pro Bowl linebacker for the Cleveland Browns and Atlanta Falcons. His brother Bruce, meanwhile, enjoyed a legendary Hall of Fame career spanning 19 seasons as an offensive lineman, all with the Oilers/Titans franchise.
The two met numerous times during their 14 years in the league together, with Clay collecting two sacks against his brother in their first meeting.
Tiki and Ronde Barber
Jim McIsaac/Getty Images
Tiki and Ronde, identical twins, were teammates at the University of Virginia before the 1997 NFL draft separated them, sending Tiki to New York and Ronde to Tampa Bay.
Ronde's first career interception came during a big 20-3 win against his brother's Giants in 1998, while Tiki was largely held in check in four career meetings with the Bucs.
Each brother won two meetings before Tiki's retirement after the 2006 season. Each also won a Super Bowl ring during their joint time in the league.
Eli and Peyton Manning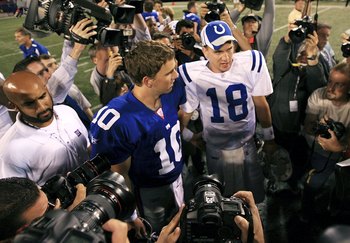 Travis Lindquist/Getty Images
The most well-known modern matchup of brothers in the NFL has occurred twice, when the Manning brothers faced off in 2006 and 2010. These are the only two times when two opposing NFL starting quarterbacks have been brothers.
Peyton won the 2006 meeting in the Meadowlands 26-21, en route to his first and only Super Bowl title. He then followed it up with a 38-14 win in Indy in 2010. The two also won Super Bowls in consecutive years (Super Bowls XLI and XLII).
Keep Reading

Baltimore Ravens: Like this team?