NFL Power Rankings Week 11: Cheerleader Edition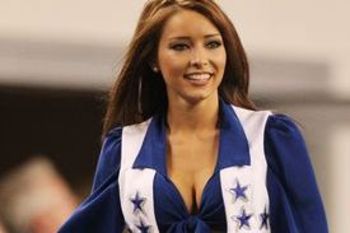 There have been no marriage proposals to any of these girls this season (yet), but David Nelson was stricken enough to give his touchdown ball to the enemy.
While Nelson's girlfriend Kelsi Reich doesn't make the list, it's full of other greats.
After long and hard hours of extensive research, the list is complete.
Your team might be out of it, but you shouldn't be. Enjoy the NFL's finest in what I'll call "The Fine Forty."
40. Dresdynn and Schuyler, Houston Texans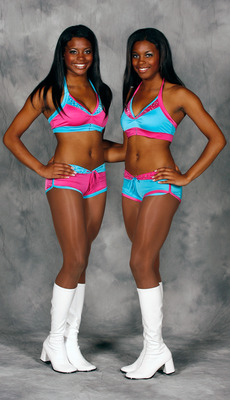 Who isn't in favor of twins?
Dresdynn and Schuyler's legs go on for days, and they appreciate good legs on a guy in addition to an easy-going personality.
Take whoever you want out of the two because second-choice might as well be first.
39. Britney T., Cincinnati Bengals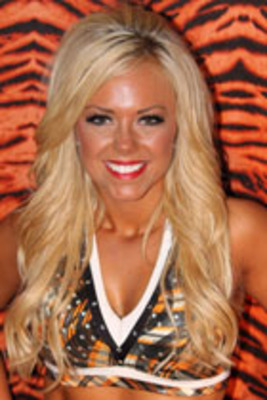 The beautiful blonde hair to go with the blue eyes cannot be looked over, but many of the Ben-Gals share the similar qualities—although not to the same high extent.
It's worth going in the jungle to fight with this cat.
38. Ashley, Kansas City Chiefs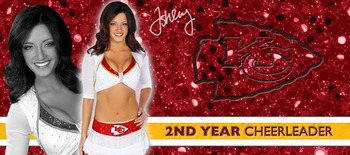 Ashley is a Kansas State graduate who describes herself as driven, passionate and vibrant. The words aren't shocking considering Ashley obtained a degree in Business Marketing while at KSU.
Good pick for the Chiefs when Kansas City put Ashley on the team last season. Now if Scott Pioli can emulate the same success with his personnel...
37. Alyssa H., Baltimore Ravens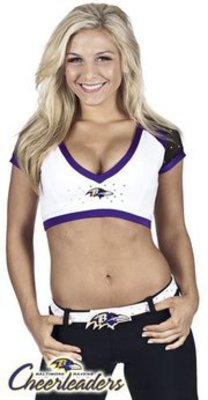 Alyssa is one hardcore girl. Her favorite Raven is offensive lineman Michael Oher, her favorite movie is Gladiator while her favorite TV show is True Blood.
Spending time on the water brings great pleasure to Alyssa.
36. Hannah, San Diego Chargers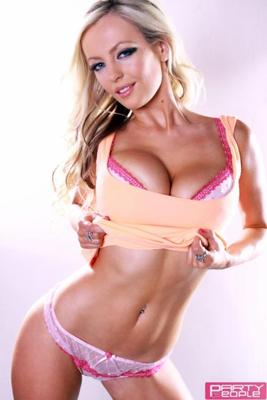 Hannah likes traveling the world to learn about different cultural aspects.
While she's stateside, Hannah is a fitness enthusiast who's working on a "Bachelor of Science in Business Administration with aspirations to pursue a career in sales and marketing."
Enough said.
35. Monica, Miami Dolphins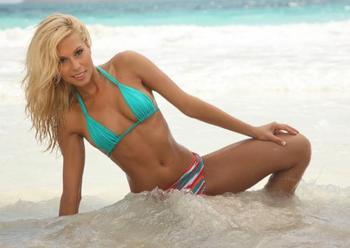 Another smart Dolphins cheeleader, Monica is majoring in speech pathology. She'd love to have lunch with Mariah Carey, the person she idolized growing up.
Someone needs to make it happen—and it won't be Nick Cannon.
34. Valerie, Buffalo Bills
Valerie is in her fifth season with the Buffalo Jills, and she's lived in the town her entire life.
She says the people in Buffalo are one of a kind for all the right reasons. I'm sure the locals have taken kindly to Valerie as well.
33. Heather K., Atlanta Falcons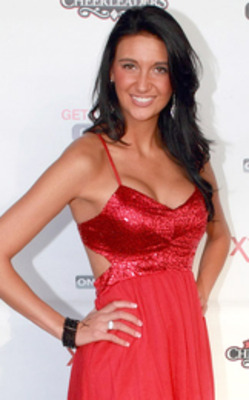 The first Falcon to make the list, Heather is in her second year with Atlanta.
32. Chanel, Oakland Raiders
One day Chanel wants to be a stylist for Vogue magazine.
She can certainly adjust on the fly: In high school, her can-can skirt fell off during her dancing routine, but she just kept on going.
The Raiders have no excuse for not performing without Jason Campbell or Darren McFadden then.
31. Amber Rehman, Tampa Bay Buccaneers

Traveling the world interests this Tampa Bay cheerleader, as she's visited multiple countries in Central America and Europe.
She left Maryland to attend college in Tampa and has enjoyed the area so much that she's decided to stay.
South Florida is fortunate for her decision.
30. Melissa, San Francisco 49ers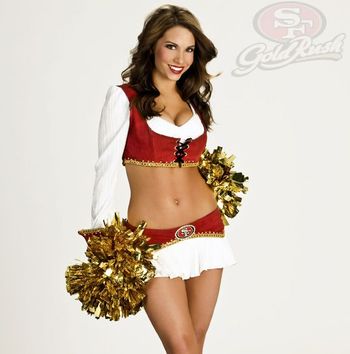 Melissa owns two boutiques and she eventually wants to own her own clothing line. Her favorite workout is something called zumba.
Whatever it is, it's working.
29. Erin, Jacksonville Jaguars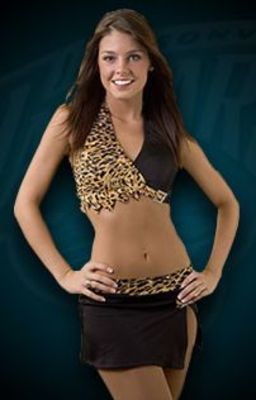 Erin is in her second year with the Jaguars, and she has a Doctorate in Pharmacy.
There's no better face to see behind the counter getting your pills than Erin's.
28. Ali, San Francisco 49ers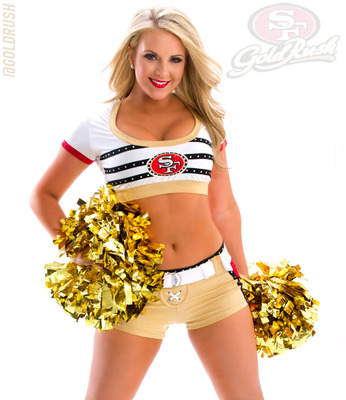 Ali is a full time student of special education. Her brother, who's Ali's biggest fan, was born with Cerebral Palsy, and he's walking even though doctors couldn't believe it could happen.
Ali's favorite meal happens to be at Thanksgiving. Enjoy yours even though you won't spend it with her.
27. Lillianna, Detroit Lions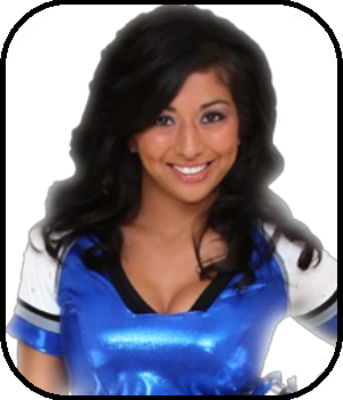 Lillianna's enjoys Harry Potter books, and she uses the word "inquisitive" to describe herself.
Her favorite Lion is Jahvid Best, while her favorite movie is Ferris Bueller's Day Off.
It's safe to say that Lillianna is putting in more work than Best and Bueller combined as a cheerleader and an assistant manager at Sherman Williams.
26. Mila, Washington Redskins
Washington's Mila was actually born in Japan as her father was in the military.
She loves dancing and started off to hip hop until she found jazz in high school. While in high school, Mila participated in the "Air Force JROTC, Unarmed drill team, JV Men's football, softball, and dance teams."
The Redskins could sure use a quarterback right about now...
25. Jenna, Kansas City Chiefs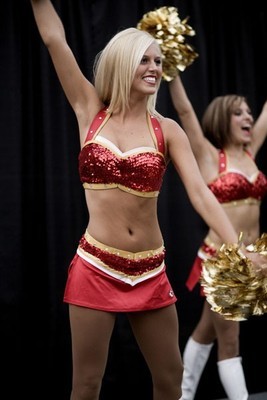 Already in her fifth year as a cheerleader, Jenna deems herself spontaneous, something we can appreciate.
"Loyalty" is another self-tagged word Jenna pegs herself with.
She's already man's best friend.
24. Toni, Denver Broncos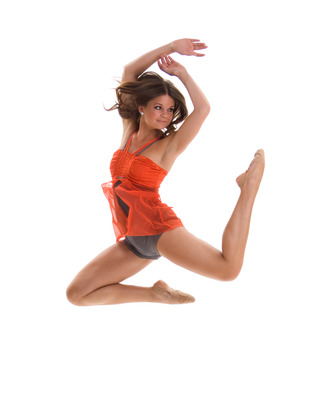 This first-year cheerleader just graduated the University of Minnesota.
Toni enjoys traveling in her free time and she wants to own a business.
Consider it done.
23. Morgan W., St. Louis Rams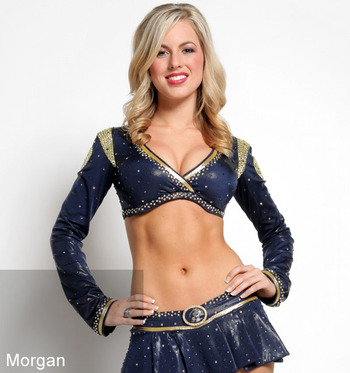 This St. Louis Rams' rookie cheerleader is aiming for a degree in early childhood intervention in special education. Morgan also provides food to families in need.
In addition to being in her first year with the Rams, Morgan didn't start dancing until age 16. She can do whatever she wants.
22. Maria, San Francisco 49ers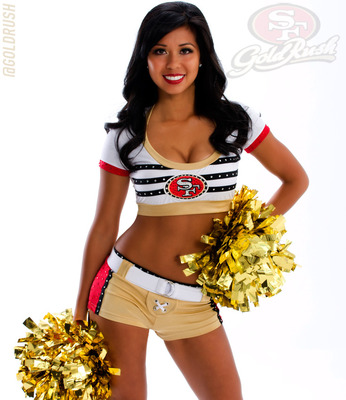 Maria has changed her career path to medicine after originally wanting to be an interior designer. She's got style, to say the least.
"Well-rounded" is how Maria describes herself, so why couldn't she pursue both professional fields?
21. Ariana, Miami Dolphins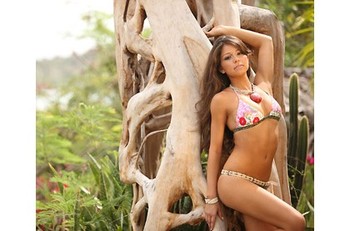 Ariana is in her fifth year with the Dolphins and she's a full-time student, although undecided on what exact degree she wants to pursue.
Nice hair Ariana.
20. Taryn, Arizona Cardinals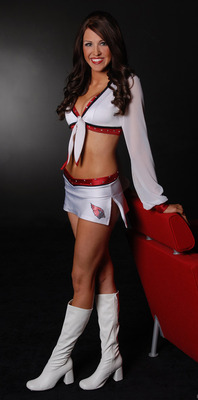 Taryn goes to Arizona State. Would you expect anything less?
She currently works at a law firm while she's working on her Bachelor's Degree. On top of that, Taryn is married.
What a life for someone in their early 20s.
19. Alexa Flutie, New England Patriots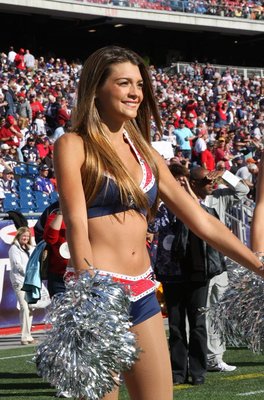 Alexa is just a rookie, and fortunately she doesn't have to deal with Bill Belichick.
She wants to be on Dancing with the Stars, and I see no reason why it shouldn't happen, even if Alexa doesn't consider herself a star (yet).
And I didn't even know Alexa is Doug Flutie's daughter when I picked her out.
18. Hannah Y., Indianapolis Colts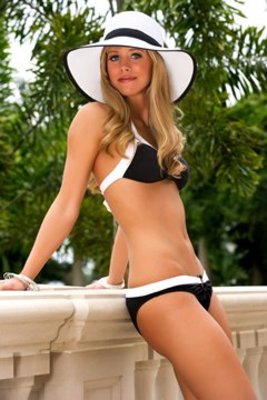 Hannah self-describes herself as ambitious and energetic, two qualities the Colts certainly haven't signified in 2011.
If this Colts' cheer girl could have three items on a deserted island, she'd choose her phone, iPod and mini Butterfingers.
If you were lucky enough to be with her on the island, I'd toss the phone in the water and live together with Hannah on the mini candies.
17. Elisa Eichbauer, Tampa Bay Buccaneers

Elisa loves being outdoors, on the lake primarily, as she grew up in Cape Coral, Florida. Her favorite Buccaneer of all time is Josh Freeman.
Let's allow Freeman to string together multiple good seasons before coming to that conclusion, Elisa.
With that said, she could probably persuade me that the sky is green.
16. Jessi, Tennessee Titans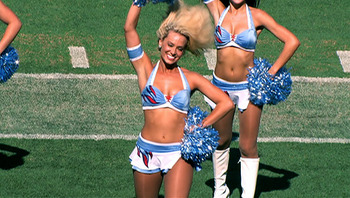 This is Jessi's third year with the Titans, so she's used to the ups and downs of life with Chris Johnson.
Don't get confused, though. She's single and well rounded, as her favorite movies are The Hangover and 300.
15. Sara, New England Patriots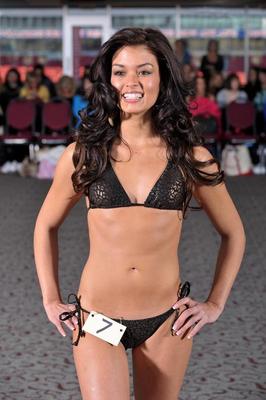 This Patriots' girl is named after Starship's 1978 song "Sara."
If Sara had any super power, she'd want the ability to fly and escape the poor weather in Foxborough.
If you had that ability, you'd fly to Sara. Or at least I (or any smart man) would.
14. Roselinda, New York Jets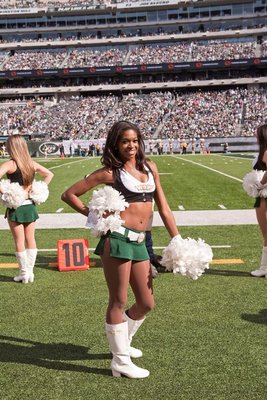 Roselinda wants to be coaching a professional dance team in 10 years and wants to be married with children. As for me, I wanted to leave that second part out.
She describes herself as sweet, fun and hardworking. Rex Ryan and company are still trying to find that blend.
13. Christine, San Francisco 49ers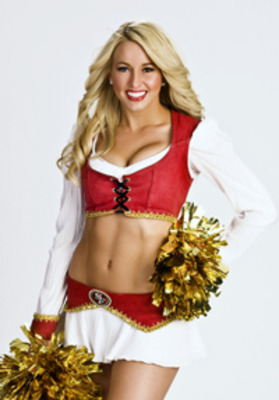 Christine enjoys blasting country music in her mustang while on the interstate.
She's no slouch. She's aiming for a PhD in Bioengineering so she can "focus the two of the great challenges in cancer treatment, early diagnosis and early assessment of response to therapy."
I'd paraphrase but, unlike Christine, I'm not smart enough.
12. Jaime K., Atlanta Falcons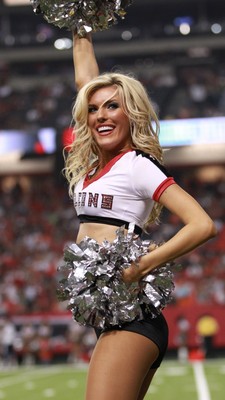 11. Alicia, Philadelphia Eagles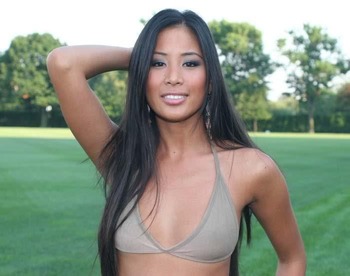 In Alicia's first year with the Eagles, she was invited to play at a celebrity poker game hosted by Alex Rodriguez and Jay-Z.
If she's good enough for them, she's good enough for me.
Alicia's first job was a modeling gig that involved jumping on a trampoline "for hours" so the photographer could get the right shot.
10. Brittany E., Seattle Seahawks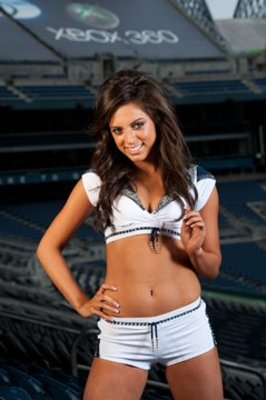 Brittany is a sales associate in her first year with the Seahawks.
Workout out is a huge passion of Brittany's, as she takes up different activities to stay fit like tumbling, stunting, and taking zumba classes.
I'll have to look those up later. For now, enjoy Brittany like I am.
9. Aleena, San Francisco 49ers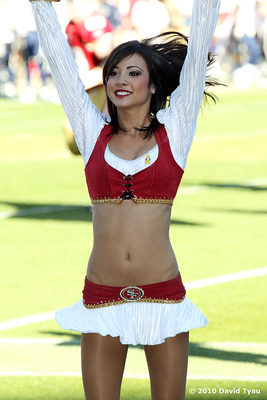 This self-described fun-loving individual once jumped off a 50-foot rock, into water of course.
I'm jumping on Aleena's bandwagon. She's got the look of an old film-noir actress.
8. Emma Mary, Dallas Cowboys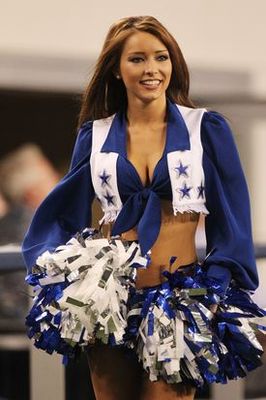 Emma Mary's Sunday habits consist of watching football and eating delicious food, something men can certainly appreciate.
This Cowboys rookie loves her coffee in the morning, and she'll need it if she really wants to find Waldo, as her profile indicates.
7. Alexa, Seattle Seahawks
Alexa is a sophomore at the University of Washington, and something she's proud of is having learned how to balance all of her activities effectively in her schedule.
It's too bad for Huskies fans that Alexa isn't cheering for Washington on the sidelines.
6. Stephanie, New Orleans Saints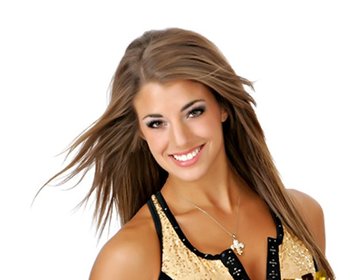 Stephanie wants to persuade others to be physically fit. It makes sense seeing how she's pursuing a degree in Fitness Studies.
Stephanie has a tight body, to say the least.
5. Johnna P., Baltimore Ravens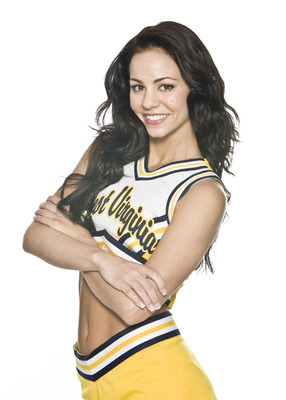 While at West Virginia, Johnna won two national cheerleading championships.
It's just Johnna's second season, but she's already a seasoned pro.
4. Jenna Allison, Dallas Cowboys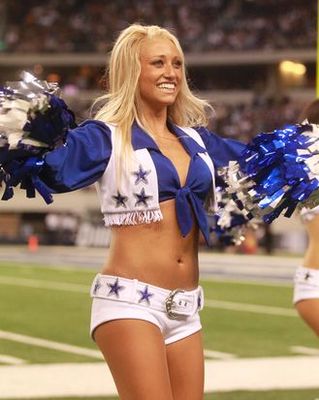 Ms. Allison hopes to be a personal trainer one day with her own gym, specializing in weight loss.
Her favorite genre of music is rap, and Jenna's favorite song is "Crossroads." Fall is her favorite season and her birthday is in December.
If Jenna wants to contact yours truly, I'll arrange a nice birthday dinner for her.
3. Lauren J., Miami Dolphins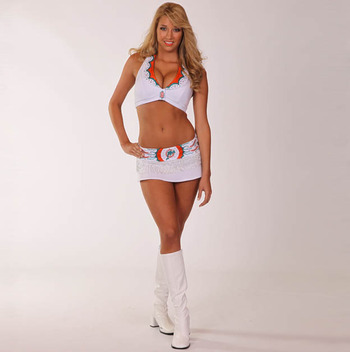 Lauren J. is a 4.0 student studying pre-physical therapy in college. Whatever body part I need to injure to see her, it's done.
She's just in her first year with Miami, but she shouldn't have any issues sticking around.
2. Elizabeth, Miami Dolphins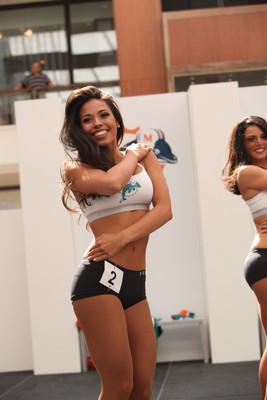 Born and raised in Miami, Elizabeth is studying radio and television broadcasting. Her face is sure to land on some lucky network as soon as she finishes her schooling.
1. Ashley, San Francisco 49ers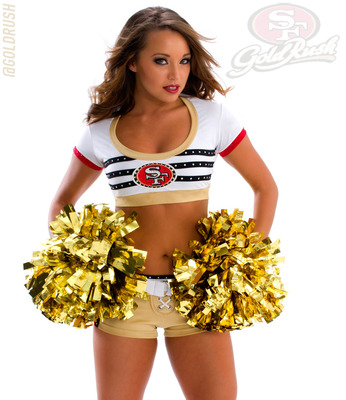 Ashley's eyes are even more glaring than the gold pom-poms in her hands.
She's a professional dancer in only her first year with the 49ers. For some reason, I've got a feeling that she's not going anywhere.
Keep Reading