Fantasy Football Week 11 Running Back: Upgrades, Downgrades and Sleepers
November 18, 2011
Nick Laham/Getty Images
In this article we assume that you are starting your RB1s regardless of the matchup. Each week we will analyze the defenses and provide our take on which RBs you should start and which should be benched based on matchups with stout run defenses, stubbed toes, potential weather problems, conduct code violations, etc.
Week 11 marks the final week of the dreaded byes as New Orleans, Houston, Indianapolis and Pittsburgh will be resting this week. Arian Foster, Rashard Mendenhall, Darren Sproles / Pierre Thomas owners might be forced to the waiver wire in order to fill out their rosters. If you are in a bind this week be sure to check out our Week 11 RB Waiver Wire Recommendations.
The most stout run defenses (allowing less than 16 fantasy PPG to opposing ground games) can be found in San Francisco,  Baltimore, Houston, Miami, Atlanta, Seattle, Detroit and Green Bay.
Conversely the following defenses have been carved up by opposing RBs and rank at the bottom of the league (21+ fantasy PPG): Tampa Bay, Carolina, Indianapolis, Oakland, Buffalo, St Louis, Philadelphia and Kansas City.
Many backfields have been decimated by injuries over the past few weeks. Oakland's Darren McFadden (foot) has yet to resume practicing although he is out of his protective boot. Michael Bush is a high-end RB2 despite the difficult matchup in Minnesota.
Ahmad Bradshaw (foot) missed Thursday's practice and appears likely to miss the divisional matchup with Philly on Sunday night.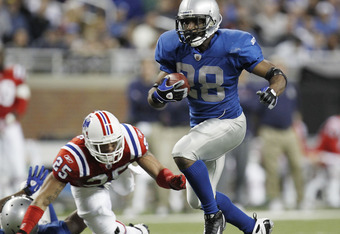 Gregory Shamus/Getty Images
Cleveland's Peyton Hillis (hamstring) and Montario Hardesty will be out again in week 11—Chris Ogbannaya is not fantasy relevant and is a low-end flex play despite the favorable matchup with St Louis.
Felix Jones (ankle) could return this week in a 3rd down role for the Cowboys against Washington—impressive rookie DeMarco Murray will keep the lead role.
Don't miss the upgrades, downgrades, as well as the sleepers at quarterback and wide receiver after you get smart on the running backs.
Also be sure to check out the FFspin Sunday Morning Chat from 11 a.m. to 12 p.m., where we will tackle your last-minute fantasy football questions, including starts/sits, injury updates, keeper questions, etc. Set a reminder and reserve your spot.
UPGRADE: Brandon Jacobs (vs Philadelphia)
Ahmad Bradshaw (foot) is improving but will likely be held out one more week. In Bradshaw's absence (past two games), Jacobs is averaging 21 touches and 86 yards per game—very impressive considering both games were against top 10 run defenses in New England and San Francisco. In week 11 the going gets easier as the Giants welcome the Eagles 17th ranked run defense (120 YPG). The Birds allow the 6th most points to opposing RBs and are yielding a less than impressive 4.8 YPC. The 6'4, 264 pound Jacobs should be no match for a struggling group of Eagles LBs and makes for a high-end RB2 this week.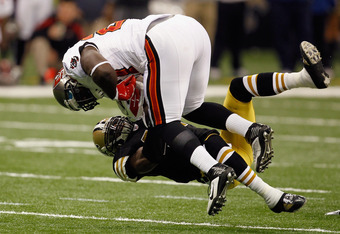 Streeter Lecka/Getty Images
Plus Matchups: James Starks (vs Tampa): Bucs run defense allowing most fantasy points to opposing RBs (26.5 fantasy PPG). Marshawn Lynch (@ St Louis): Rams' rush D is the worst in the league (151 YPG) but have only allowed 6 rushing TDs. Lynch has topped 100 total yards in 3 of last 4 games but will be missing entire right side of his O-line.  Reggie Bush (vs Buffalo): Bills run defense ranks 23rd (125 YPG) and have allowed 11 rushing TDs. Jonathan Stewart (@Detroit): Lions 27th ranked run defense allowing 134 YPG but only 4 rushing TDs.
DOWNGRADE: LeGarrette Blount (vs Green Bay)
Blount seems to be a weekly selection for the Downgrade of the Week as Tampa has faced solid run defenses over the past month. Add in Blount's nonexistant pass-catching ability (seven catches for 66 yards) and he is not a good start, except when the matchup is favorable, which is not the case this week against Green Bay. The Packers run defense ranks 8th in yardage allowed (100 YPG) and they have only given up 5 TDs on the ground all season. Through seven games, the bruising back from Oregon is averaging a mediocre 62 YPC with three total TDs and he's topped 100 yards just once (against a pitiful Colts defense in week 4). Considering your alternatives this week before smoking the Blount as Tampa will likely be forced to pass early and often in the 2nd half against A-Rod and the Pack.
Bench Worthy: Cedric Benson (vs Baltimore): Ravens 3rd ranked run defense (allowing 90 YPG)—loss of Ray Lewis does soften the matchup. Beanie Wells (@ San Fran): 49ers No. 1 ranked run defense has yet to allow a rushing TD through 9 games.
SLEEPER: Maurice Morris (vs Carolina)
As Javhid Best's concussion symptoms continue to linger, his hopes of returning this season are dwindling. Best will miss his fourth straight game this week and Mo Morris should benefit from facing a struggling Carolina run defense. The Panthers rank 28th in yardage allowed (138 YPG) and have yielded a league high 12 TDs on the ground. Chris Johnson bounced back to fantasy relevance in week 10 against Carolina and Mo Morris could be primed to produce borderline RB2 numbers this week. Over the past two weeks, Morris is averaging 12 touches for 58 yards and with Matt Stafford's thumb ailing Detroit might decide to lean a little more on the ground game this week in a very favorable matchup.
Sleeper Potential: Kendall Hunter (vs Arizona): San Fran could limit injured Gore's carries and Arizona's 21st ranked run defense has allowed 12 rushing TDs. Roy Helu (vs Dallas): No telling who will start with the weekly "Shanahanigans" but the 'Skins figure to be trailing in the second half which should necessitate Helu's pass-catching skills.