Matt Cassel: Kansas City Chiefs Quarterback for the Present and Future
November 18, 2011
Peter Aiken/Getty Images
Yes, I am a well known supporter of Matt Cassel.  Maybe the only one left outside of his immediate family.
Let me preface this with a couple of very relevant points.
First, I don't care who the quarterback for the Chiefs is.  That includes Matt Cassel, Tyler Palko, Rick Stanzi, you, me or some we've never heard of yet.
I want the Chiefs to be competitive, win their division, win playoff games, win the AFC Championship and then win the Super Bowl.  That's all I want.
By all accounts, Tyler Palko is a classy, hard-working young man.  I hope he turns out to be the next Kurt Warner and I'm wrong about everything I've written about him. 
Next, I don't believe Matt Cassel to be anywhere close to an elite NFL quarterback.  I've never stated I did believe that, and don't think he will ever achieve that status.
Now, I'd like to address so many things I've read here, and on many other websites over the last week.  I've said many of these things in comments, so I thought I'd just throw them into an article.
Bill Robbins, one of Bleacher Reports Featured Columnists wrote a very good article today.  It is called "5 Ways the Kansas City Chiefs Have Failed to Imitate the New England Patriots".  It is currently on the front page of the Chief page.
I reference his article for a reason.  He mentions the lack of consistency with the Chiefs as a whole, and the lack of building a NFL caliber offensive and defensive line.  I believe he is dead on accurate in both of those observations.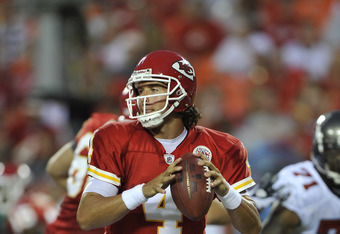 Peter Aiken/Getty Images
He also believes one of their failures is to have a solid quarterback of the future.  This is where we disagree.  I say that mainly because of the two points I referenced in the paragraph above.
Matt Cassel needs to have a supporting cast around him in order to be an effective quarterback.  That is not a weakness necessarily, that makes him a much more normal quarterback than a Tom Brady or Arron Rogers.
The Chiefs are currently last in the NFL with nine sacks.  Nine games, nine sacks.  Conversely, Cassel has been sacked 22 times, which is 2.5 times a game.  More importantly than the sacks is the pressure.
Matt Cassel spends his Sunday afternoons looking up at the sky, that is, after he turns off his stomach so he can look up.  He is hit more often than a bad boxer.  As Branden Albert said, "If he can't set his feet, he can't make his throws".
I wonder what life would be like for Cassel, and Jamal Charles, Thomas Jones, Jackie Battle and Dexter McCluster if they had the offensive line that Trent Green did.
Additionally, I wonder what life for the Chiefs would be like if they had the defensive line of the Chiefs of the mid-to-late 90s.
As Bill Robbins points out, the Chiefs have lacked consistency.  Therefore, in my opinion, one of the worst things they could do would be to replace Todd Haley, Scott Pioli and Matt Cassel, or any of the three.  They really need to get the play calling, offensive coordinator nonsense in order.
Cassel has had different offensive coordinators, play callers and quarterback coaches every year he has been with the Chiefs.
In 2008 Matt Cassel led the Patriots to a 11-5 record.  If not by a fluke in the tie-breaker system, they would have been in the playoffs.  They were only the second team in NFL history with 11 wins that did not go to the playoffs.
In 2010, Matt Cassel led the Chiefs, who in the previous three years won 10 games, to the AFC West division title.  The Chiefs finished 10-6, the same amount of wins they had in the previous three years.
Cassel threw for over 3,000 yards, 27 touchdowns and seven interceptions.  He was selected for the Pro-Bowl.
Was the invitation somewhat weak?  Yes.  Did the Chiefs play a weak schedule?  Yes.  Did they also play weak schedules in the previous three years?  Yes. 
I often hear how Matt Cassel can't make deep throws, can't hit crossing routes and isn't accurate.
Last year, Tom Brady, who had one of the best years a quarterback can have, and was named the NFL MVP, threw 53 passes over 20 yards and nine over 40 yards.
Last year, Matt Cassel threw 40 passes over 20 yards and four over 40 yards.
Now, remember who I'm comparing.
Jamie Squire/Getty Images
I have read, in many articles and comments, how the Chiefs are going to be in "good hands", "better shape", "have hope", "going in the right direction", etc., now that Tyler Palko is the starting quarterback.
As I said, I hope I'm wrong, but are these people delusional?  I've also seen numerous references to the fact that he came in toward the end of the Denver game and "moved the ball".  Are you serious?
He threw for 47 yards and led them to a field goal in a game that was over.  By the way, that 47 yards is 47 of is 82 yards he's thrown in his entire NFL career, which began in 2007, not October.
Tyler Palko is going to have to deal with the same deficiencies that Matt Cassel had to.  Horrific pass protection, a running game that is getting less and less effective as each week goes by and a defense that, based on the Denver game, you could yank someone out the stands and they'd run for 80-90 yards.
If that isn't enough, Mr. Palko gets to start his NFL career as a starting quarterback in Foxboro where Tom Brady and Co. have won 31 of 32 regular season games.  Additionally, during that time, Brady has thrown something like a 130 touchdowns and 35 interceptions.
At one point, Tyler Palko was cut by the Canadian Bullfrogs or something.  Then again, Kurt Warner was bagging groceries and Tim Tebow, oh never mind on that one, it hurts my brain.
I believe in Scott Pioli, Todd Haley and Matt Cassel, at least for now.  This team needs, as Bill Robbins said, consistency.  The Chiefs have a tremendous amount of talent and to judge any of them based on this very bizarre year, from the lockout to the incredible injuries would be an injustice to all of them.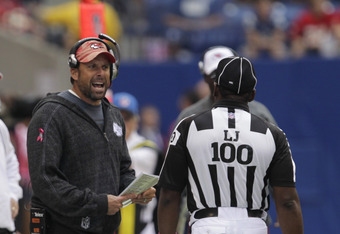 John Sommers II/Getty Images
Lastly, as I said, no matter what, I want the Chiefs to win.  I hope Tyler Palko and Chiefs shock me, and quite frankly, the world by winning.  Then, they just have to beat the Steelers, Bears, Jets, Packers, Raiders and Denver.