Tim Tebow: The 5 Most Annoying Things About Tim Terrific's NFL Tenure
Garrett Ellwood/Getty Images

My life has suddenly become consumed by Tim Tebow.
His name has overtaken my Twitter timeline. He's become a hot topic for my friends who don't really follow sports but use me, their sportswriter friend, to keep them updated in case the topic comes up socially. I swear to you, as I'm typing this Tebow is being talked about on the television.
ENOUGH!
I am annoyed by all of this. And it's not even Tebow I'm annoyed with—he's just doing his thing.
No, it's everything else that surrounds him that is annoying me. Let me explain...
Begin Slideshow

»
Doug Pensinger/Getty Images

Dude, my Tebro totally has a Teboner for Tebow.
And I'm all like, "Dude, he's gonna Teblow this game, I guarantee it!"
And he's all like, "No way, dude, he's a Tegrown man!"
And then when Tebow wins it, I'm all like, "Dude, if he had a Shebow and he wasn't into that whole abstinence thing, he would totally be getting laid tonight."
And he's all like, "Yeah."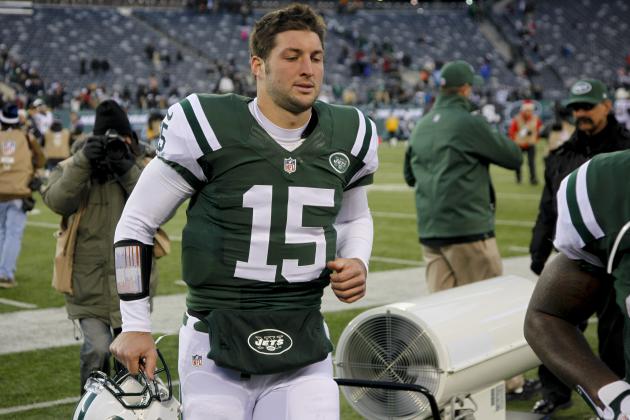 Jeff Zelevansky/Getty Images

(For some awesome, incredible and startlingly hilarious Tebow memes, go here.)
There was a time when I loved Tebowing. That was when it wasn't completely mainstream and I felt kind of cool for knowing about it and telling my friends to check it out.
But now, they're talking about it during Broncos broadcasts and old people know about it and it's just not that much fun anymore.
Everything sucks.
I feel so hipster about this right now. Let's just pretend like April Ludgate wrote this slide, okay?
Garrett Ellwood/Getty Images

No, "he" doesn't just win. His entire team just wins. Except for when they lose, like to the Lions.
He's not doing this by himself. Yes, their funky running game is one aspect of their success. But they've also lessened their turnovers, played solid defense and faced a fairly weak schedule in games Tebow has started.
And let's keep it real: Last night, Mark Sanchez just lost.
Ugh.
(For an incredibly compelling article on why the Broncos' running game isn't the key to their success—written by one of the brightest minds of our generation—go here.)
Doug Pensinger/Getty Images

There was a time when Tebow's story was a truly fascinating one. Here you had a quarterback who was polarizing—not only because of his very public religious beliefs, but because people doubted whether his unorthodox throwing motion would translate into success at the NFL level.
Tebow once was intriguing because he constantly defied the roles we felt he should fill. He must be too good to be true; it's odd to see an NFL player who is so wholesome. So often our athletes fall short of the lofty expectations we place upon them.
Just ask Tiger Woods.
But it's also strange to see a starting quarterback whose strength isn't his arm, but rather his legs. Hell, his arm might actually be his weakness.
There was a time when the polarizing aspects of his life perfectly paralleled the unorthodox aspects of his game. He didn't fit the template we had come to expect. You could have made an interesting movie centered on that very conflict.
But now, that storyline has been told and retold so many damn times, it's lost all meaning to me. It went from being compelling to completely cliché in a matter of five games.
Sigh.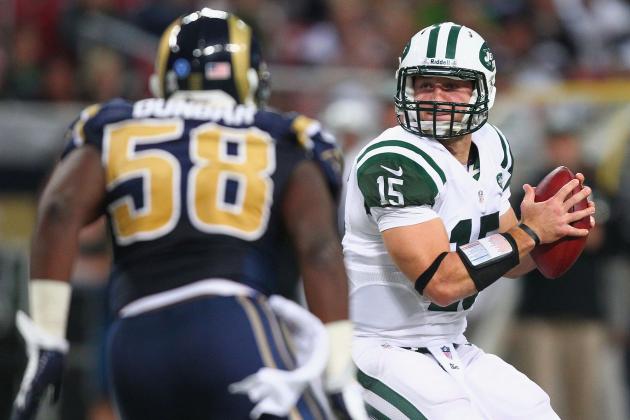 Dilip Vishwanat/Getty Images

For heaven's sake, knock it off already!
I mean that literally—heaven is supposed to have exclusive copyright and merchandising rights on Jesus' name. If you buy this shirt, you are committing divine copyright infringement.
While we're at it, don't go customizing any Denver jerseys using the name of Jesus either. (Thanks to LarryBrownSports for that find. Bleacher Report loves you back, LBS!)
Tebow isn't Jesus. Tebow just throws an oddly shaped ball to other grown men—let's keep that in mind.
The above photo comes from Matt Fairchild (go give him some Twitter love, folks) via Darren Rovell.
My name is Timothy Rapp, and I put the "grrrr" in Swagger.