Penn State vs. Ohio State: Live Score, Highlights and Analysis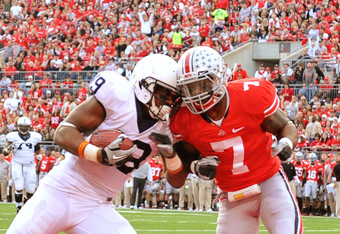 Penn State and Ohio State collide in Columbus in a Big Ten Leaders showdown.
Jamie Sabau/Getty Images
Fourth Quarter: Penn State 20, Ohio State 14
Penn State will need some help in order to clinch the Big Ten's Leaders division on Saturday, while Ohio State is in a must-win situation in order to remain in the equation.
The two storied football programs will enter Saturday's game under a dark cloud with seasons that have been marred by separate scandals of varying nature off the field. Both programs have replaced their legendary coaches, each with national championship rings and a healthy dose of career victories, and each hopes to finish the season on a high note despite all of the negativity.
Penn State has had a difficult time winning in Columbus since joining the Big Ten, earning just one win since 1993 (2008). Points should be hard to come by for both teams with Penn State's defense among the best in the nation and Ohio State's defense improving as the season has progressed.
Both schools are looking to bounce back after suffering a loss last week. Penn State lost at home against Nebraska, 17-14, while the Buckeyes came up short in overtime at Purdue in stunning fashion.
We will be here all game long to provide updates and analysis as the two Big Ten rivals, who have played annually since 1993, square off.
Penn State hangs on for a 20-14 win in the Horseshoe. It is only the second time Penn State has won in Columbus since joining the Big Ten and now Penn State prepares for a big game next week at Wisconsin.
While this game meant nothing in the division race following Wisconsin's win earlier today, Penn State does help boost their bowl stock, whatever that may be.
Penn State will have to punt the football away, but Ohio State has no timeouts remaining. If he can get a good deep punt off the defense will have an easier job as we are down to 43 seconds remaining in the game.
1:34 to play, Ohio State with one more timeout to use after the break.
Penn State takes over on downs. Great effort by Braxton Miller, did everything he possibly could, including getting by Devon Still.
We are now under ten minutes to play. Penn State looking to chew up some clock and come away with some points to make it a two-possession game. Even a field goal would be huge for Penn State right now.
Penn State gets a break on a wide open, dropped pass by Ohio State. Buckeyes punt it away and Justin Brown calls for the fair catch.
What Penn State needs now is a solid, time-consuming drive ending with some points, even if just a field goal.
One quarter to go. Penn State leading 20-14. Again, result means nothing in Leaders race, but this could be a very good win if they finish.
Quite a crazy sequence of events just now. Penn State can't punch it in from the doorstep of the end zone, Ohio State looks to find some momentum on offense and fumbles it away. Penn State can't do anything with it and pins the Buckeyes inside their own five-yard line on an Anthony Fera corner coffin punt.
Penn State goes for it on fourth and goal from the one yard line and Silas Redd is stopped short of the end zone. Ohio State takes over and after a couple of plays the Buckeyes are out to their own 20-yard line.
I still say going for the touchdown was a fine decision, just not sure about the decision to plunge up the middle all four plays.
Ohio State fumbles the football deep inside their own territory. Hall with the fumble on the handoff out of the wildcat. Jordan Hill with the recovery and Penn State with a terrific opportunity to blow this one a little more wide open and create some breathing room.
Penn State defense has made adjustments all season long. Let's see if they can contain Braxton Miller better this half.a
Penn State's defense holds firm to open the second half, forcing Ohio State to punt the ball away. Adrian Amos gets called for a block in the back on the punt return by Justin Brown, but Penn State's offense still prepares for their first shot of the second half.
Anthony Fera's 46-yard field goal attempt at the end of the first half gives Penn State a 20-14 lead at halftime.
Halftime thoughts?
Jake Stoneburner gets wide open in the back of the end zone and Braxton Miller makes sure to find him to cut the Penn State lead to three points after the extra point.
Penn State 17, Ohio State 14 as the Buckeyes take advantage of the interception.
Ohio State inside the red zone and thinking about their second touchdown of the day following a Matt McGloin interception on a bad decision. Ohio State uses a timeout following a strange play but is sniffing the end zone.
Stephfon Green scores his second touchdown of the day to give Penn State a 17-7 lead. The score was set up by a 42-yard run by Silas Redd and a nice play-action pass form McGloin to Derek Moye and followed a third play out of the wildcat, where Bill Belton picked up some good yardage to creep closer to the goal line.
With 17 points Penn State has now scored their highest point total in Columbus since joining the Big Ten in 1993.
10-7 now, Penn State leading.
Braxton Miller scampered to the right side of the field on an option for 24 yards and a touchdown to get the Buckeyes on the scoreboard.
Penn State had 76 rushing yards in the first quarter (40 yards on one play). Ohio State had 19 rushing yards.
Penn State's second offensive possession ends with a 43-yard field goal by Anthony Fera. Matt McGloin has thrown a couple passes that have been tough to hang on to and his receivers have struggled holding on to a couple passes, but the offense is showing some good signs of being able to move the football against this Ohio State defense.
In our first instant replay of the day, Justin Brown's "catch" is going to be overturned after the video replay shows that Brown dropped the football.
Ohio State showed an ability to move the football but stalled as they threatened to enter the red zone. A bad snap to Braxton Miller out of the shotgun on third down forced Ohio State to punt the football away, and it went in the end zone. Penn State takes over at the 20-yard line.
Penn State's first drive of the game gets started with a pass interference penalty against the Buckeyes and concludes with senior Stephfon Geeen running right down the middle o the field for 40yards out of the wildcat hand-off from Curtis Drake.
Penn State starting senior Brandon Beachum instead of Silas Redd today.
Wisconsin has defeated Illinois, 28-17. The win means that regardless of the outcome of today's Penn State-Ohio State game, the winner of next week's Penn State-Wisconsin game will determine the Leaders Division champion who will play in the Big Ten championship game.
So, does that mean today would be a good time to lighten the work load for a couple key players for Penn State, namely running back Silas Redd?
This article is
What is the duplicate article?
Why is this article offensive?
Where is this article plagiarized from?
Why is this article poorly edited?

Penn State Football: Like this team?