Ohio State Football: 5 Reasons Why Urban Meyer Is the Perfect Fit at Ohio State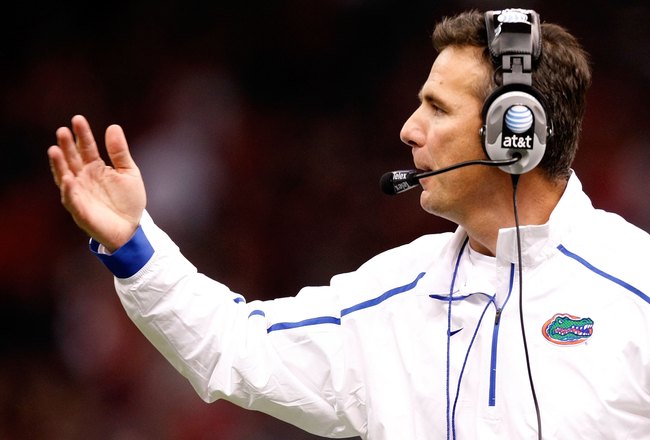 Kevin C. Cox/Getty Images
This has been the toughest season Buckeye fans have been forced to endure in 10 years. With countless suspensions, NCAA allegations, injuries and the loss of Jim Tressel, Buckeye Nation has been anxiously looking for a light at the end of tunnel.
For some this may be the promising basketball season at Ohio State; for others it's the prospect of luring in former OSU grad assistant Urban Meyer as the new head coach in Columbus.
Here are five reasons why the fans are right and Meyer would be a perfect fit.
5. His Offensive Coaching Staff and Philosophy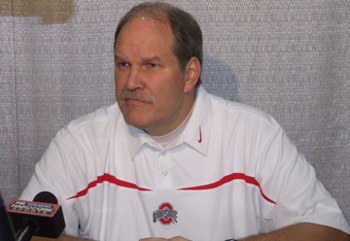 Although I'm not entirely sure who Meyer would bring in for his offensive coaching staff, I know for a fact he would not keep the man pictured to the left. Many Buckeye fans suffer perpetual headaches due to the play-calling of Jim Bollman, and no one is going to beg him to stick around. In fact, with the exception of wide receivers coach Stan Drayton, don't expect that Meyer would retain anyone else on this staff.
Since 2001, the offense in Columbus has underachieved for the most part, and this staff has failed to take advantage of the great talent they've had on the offensive side of the ball. Meyer has always had an effective offense and would certainly bring in a far more capable offensive coaching staff. This could not happen sooner for Buckeye fans.
Also Meyer's offense would steer away from the vanilla style we've seen in recent years. This is not to say that the new offense wouldn't run the ball a good amount, but not so obviously. Most fans are used to countless lead plays up the middle, but if you're of the one percent of Buckeye Nation that enjoys this approach, you would be sadly disappointed. Meyer's offensive coaching staff would open up the playbook more and put players in a better position to succeed.
4. His Roots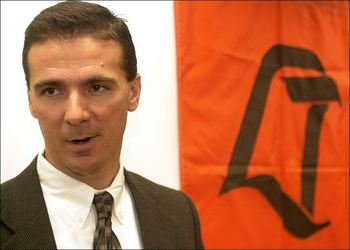 Ohio State loves hiring Ohio guys, and Urban Meyer is as Ohio as they come. He was born and raised in the Buckeye State and played his college ball at the University of Cincinnati.
His first assistant coaching job was a two-year grad assistant position he held at Ohio State, where he coached the tight ends and wide receivers. After a few other assistant jobs, Meyer landed a head coaching position at Bowling Green, another Ohio school. He then moved on to Utah and Florida, but stated in his 2008 book, Urban's Way, that his wife could not veto moves to Ohio State, Notre Dame or Michigan.
What a story it would be if Meyer returned to his native state and salvaged the most popular team in Ohio. I'm sure the university would love for him to come home.
3. His Success Against the SEC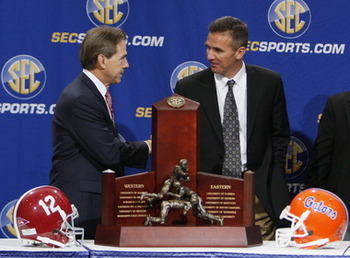 Despite all of the success this program has experienced in the past 10 years, there was one thing that always held them back: They struggled mightily against the SEC. This Achilles heel kept the Buckeyes from capturing two more national championships and becoming the most dominant program of the decade.
One thing we know about Meyer is that he can handle the SEC. During his tenure at Florida, Meyer's teams were 65-15 overall and an impressive 36-13 in the Southeastern Conference. He won two conference championships and his teams were a force to be reckoned with year in and year out in arguably the toughest conference in the nation.
It's no secret that historically the Buckeyes have struggled against the SEC, especially in bowl games. Meyer would instill a new confidence in this team and would be better prepared for the type of teams they will face out of the Southeastern Conference. If he could experience the same amount of success against his former conference in Columbus, Ohio State could become the most dominant team of the next decade.
2. Recruiting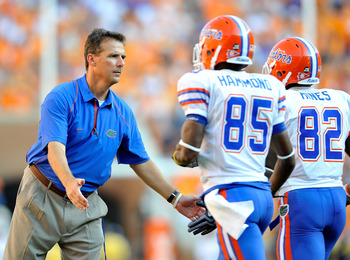 Grant Halverson/Getty Images
Year in and year out, Meyer's teams at Florida were packed with talent. Tim Tebow, Joe Haden, Carlos Dunlap, Percy Harvin, Chris Rainey, Aaron Hernandez and Brandon Spikes are just the first few great players he recruited that come to mind. The point is, this guy can recruit and his connections are limitless.
As I said before, Meyer is an Ohio native and knows the state extremely well, so he should be able to put a recruiting fence around the home state the way Tressel did. Ohio is one of the best states in the nation when it comes to high school football and producing stud recruits. Another state in the same class as Ohio in terms of high school talent is Florida, and Meyer knows this state just as well.
During Tressel's tenure, he was able to pick up a few recruits from the Sunshine State, but can you imagine how amazing a recruiting class Meyer could compile as the head coach of Ohio State? He could easily use his connections in the state of Florida to attract a ton of recruits to play in Columbus. The combination of the top talent from the states of Ohio and Florida in one recruiting class is a scary thought. Unless you're an Ohio State fan, of course.
1. His Success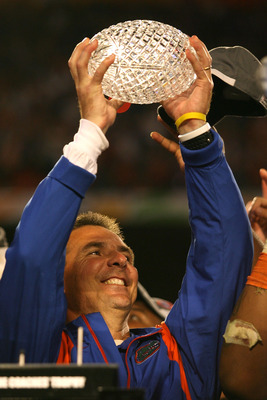 Marc Serota/Getty Images
Urban Meyer has succeeded everywhere he's coached. He turned around a dismal Bowling Green program and was 17-6 in two seasons there. While at Utah, Meyer went 22-2 in two seasons and won a BCS bowl game over Pittsburgh before his departure.
Meyer then moved on to the University of Florida where he won two national championships in three years and probably led the most successful program of the decade. His overall record as a head coach is 104-23. Flat out, the guy is a winner and doesn't need my lofty adjectives or droning words. The numbers speak for themselves.
Buckeye fans expect to field one of the best teams in the nation each year. Unless history completely goes off course, Meyer would do what he's done everywhere else and overwhelmingly succeed, and any Buckeye fan would love that.
Come on home, Urban Meyer.
Keep Reading

Ohio State Football: Like this team?