College Football: Mississippi State Trying to Catch No. 6 Arkansas Looking Ahead
November 18, 2011
Wesley Hitt/Getty Images
The tale of two teams thought to be on a similar rise in the SEC West just a season ago could not be any more different, as the Mississippi State Bulldogs travel to Little Rock, Arkansas this weekend in an attempt to knock off No. 6 Arkansas.
Last season, Mississippi State, at 9-4, appeared to be on the brink of taking a major step towards contending with the SEC West elite teams. The Bulldogs had wins over SEC powerhouses Georgia and Florida, and crushed their in-state rival Ole Miss in the Egg Bowl.
MSU finished the season with a 52-14 win over University of Michigan in the Gator Bowl.
The return of 15 starters and a preseason ranking of No. 20 brought high expectations for Mississippi State's head coach Dan Mullen. High hopes have turned to a disappointing season for the 5-5 Bulldogs. Instead of challenging the SEC upper crust teams, Mullen has two games left to become bowl eligible.
The Razorbacks finished 2010 with their first appearance in a BCS Bowl when they accepted a bid to play Ohio State in the Sugar Bowl. Even with the departure of quarterback Ryan Mallett and Mackey Award winning tight end D.J. Williams to the NFL, along with only returning 11 starters, the Hogs have surpassed their preseason No. 15 ranking.
The 9-1 Arkansas Razorbacks have been focused and sharp entering the stretch run of their season, after two lackluster road performances against lower-tiered SEC teams Vanderbilt and Ole Miss. Arkansas easily defeated then No. 10 South Carolina 44-28, and University of Tennessee 49-7 in back-to-back home games.
They now narrow in on the biggest game of their season against No. 1 LSU.
The Bulldogs have struggled off and on all season, as indicated by their 5-5 record. There has been inconsistent quarterback play between the shuffling in and out of senior Chris Relf, sophomore Tyler Russell and freshman Dylan Favre. Combined, the quarterbacks are averaging 204 passing yards per game with 10 total interceptions thrown on the season.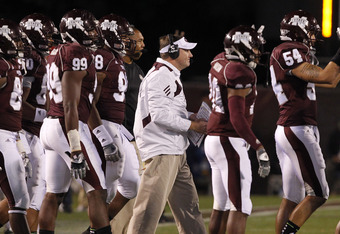 Butch Dill/Getty Images
MSU senior running back Vick Ballard has suffered through poor offensive line play and a lack of a passing attack to put up solid numbers on the season. Ballard is ranked sixth in the SEC with 811 total rushing yards, though the majority of his rushing yards have come in non-conference games (437).
MSU's defense has played well without the support of the offense. The Bulldog defense is ranked 40th in the nation in total defense holding teams to 353 yards per game.
The Razorbacks underperformed on defense in tough games on the road early in the season, but have made significant strides over the past four contests. The addition of injured players Tank Wright, Isaac Madison, Darius Winston and Jake Bequette back into the defensive rotation has allowed defensive coordinator Willy Robinson more flexibility in calling stunts and blitzes.
Throughout the season, Arkansas has relied on the arm of quarterback Tyler Wilson. Wilson's 2,850 total passing yards leads the SEC, and he is second in touchdown passes thrown with 18.
His favorite target, Jarius Wright, leads the SEC in total receiving yards with 906 and 11 receiving touchdowns, even though he has missed one game this season.
Razorback fans are fearful that the Hogs will get caught looking ahead to LSU by a hungry Bulldog team. Arkansas head coach Bobby Petrino is well aware of the talent Mississippi State has despite their 5-5 record. In 2010 MSU took Arkansas into double overtime before the Hogs pulled out a 38-31 victory on a seven yard touchdown pass by Ryan Mallett to Knile Davis.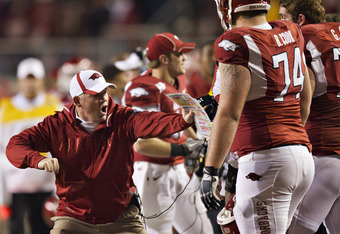 Wesley Hitt/Getty Images
What's at Stake for Both Teams?
An upset victory over Arkansas would knock the Hogs out of contention for a possible shared SEC West Division Title and take away a potential BCS Bowl berth. The Razorbacks are well aware of what is riding on the line against MSU.
A Bulldogs win would mean they are bowl eligible for a second year in a row, something the Bulldogs have only done two other times in school history, 1980-81 and 1999-2000.
Inside the Mississippi State versus Arkansas Game
Vick Ballard and Chris Relf both rushed for over 100 yards with four combined touchdowns against the Razorbacks last year. Jarius Wright had two catches for 105 yards and one touchdown last year against MSU. Arkansas averages 455 yards of total offense per game ranking 26th in FBS.
Arkansas' defense allows an average of 375 yards per game, 56th in FBS. Mississippi State gains an average of 373 total yards of offense per game.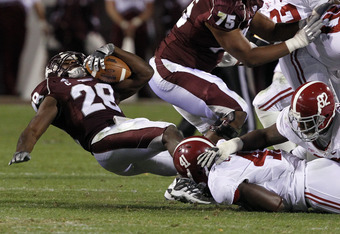 Butch Dill/Getty Images
Arkansas averages 38.80 points per game. Mississippi State averages 25.80 points per game.
Mississippi State holds teams to 19.20 points per game. Arkansas holds teams to 21.50 points per game.
Arkansas averages 311 passing yards per game. Mississippi State averages 203.80 passing yards per game.
Mississippi State's pass defense is limiting teams to 186 yards per game.
MSU's lone conference win came against 4-6 Kentucky. Arkansas has won nine straight games in Little Rock.
The Razorbacks have won 11 of the last 12 games versus Mississippi State. 
Prediction
Mississippi State could salvage their season by beating the Hogs in Little Rock. Arkansas could throw away a possible shared SEC West Divisional Conference Title, a potential SEC Championship Game berth and a possible BCS Bowl bid by losing to the Bulldogs.
Both teams have a lot to play for, but only Arkansas has a lot to lose.
Playing at home, Arkansas has more talent, one of the best passing attacks in college football and more riding on the line.
Petrino delivers Arkansas' first undefeated season at home since 1999. 
Final Score: Arkansas 28, Mississippi State 13