UFC 139 Shogun vs. Henderson: Weigh-in Results and Live Reaction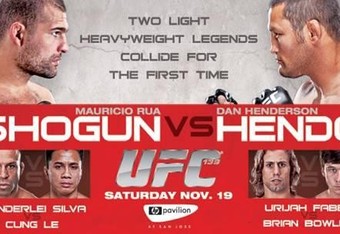 UFC 139 is set to be one of the best events of 2011. On Saturday night, we'll see some of our favorite fighters of all time return to the octagon for what will surely be some very exciting matchups.
One fight that is sure to have an exhilarating pace will be Urijah Faber vs. Brian Bowles.
Bowles is currently 10-1, with his only loss coming to Dominick Cruz. Faber also has one loss to Cruz in the past. The winner of this fight will get another shot at Cruz's title.
Another great matchup is between Wanderlei Silva and Cung Le. This will be Le's UFC debut. He is an accomplished kickboxer, who has also been an impressive specimen in Strikeforce.
However, the most exciting fight of the night is surely the fight between Mauricio Rua and Dan Henderson. These are two former Pride legends who have done well after the organization's demise. This fight will have some awesome displays of striking, for sure!
Be sure to stay tuned to Bleacher Report tonight for minute-by-minute updates of the weigh-ins!
Preliminary Card
Shamar Bailey (158) vs. Danny Castillo (155)
Matt Brown (171) vs. Seth Baczynski (171)
Miguel Torres (137) vs. Nick Pace (141)
Gleison Tibau (155) vs. Rafael dos Anjos (155)
Tom Lawlor (185) vs. Chris Weidman (185.5)
Michael McDonald (136) vs. Alex Soto (135)
Ryan Bader (205) vs. Jason Brilz (204)
Main Card
Stephan Bonnar (205) vs. Kyle Kingsbury (205.5)
Martin Kampmann (170.5) vs. Rick Story (170.5)
Urijah Faber (136) vs. Brian Bowles (136)
Wanderlei Silva (185) vs. Cung Le (185)
Mauricio Rua (205) vs. Dan Henderson (203)
The weigh-ins will take place at 7 p.m. ET/4 p.m. PT.
Coming out first is the highly decorated and much loved Dan Henderson. Hendo waves to the crowed and jumps right on the scale. He weighs in at 203!
Shogun Rua comes out next to lots of applause. Rua weighs in at 205. The two men shake hands and face off. Henderson looks like he's having a blast, all smiles.
Rogan welcomes Henderson back to the UFC and asks Henderson for a comment, "I feel great. Very nice to be back in the UFC. This is my first time fighting in my home state of California."
Now Rogan asks Rua for a comment, "I'm very happy. I fight for the best, and I'm very happy for this fight."
There you have it everyone! This could very well be the best event of 2011. It is stacked up to be full of some highly combustable and exciting fights! Do not miss this event!
Alright! Here we go! Cung Le comes out first for the co-main event of UFC 139 and gets some boos. Le weighs in at 185.
Wanderlei Silva, always a fan favorite, comes out to tons of applause. He smiles at the crowed as he gets ready to jump on the scale. Silva weighs in at 185 as well and looks like he's in great shape and ready to fight.
Brian Bowles is coming out next. There's a little confusion at the scales again, but Bowles weighs in at 136. Urijah Faber comes out to lots of applause with a big smile on his face.
Faber weighs in at 136 as well and gets more applause. Faber stops to take a drink straight out of a coconut! He and Bowles smile as they face off and hug.
Next up is Rick Story. He comes out doing his best to throw some shirts into the crowed, but they aren't going as far as he'd like. Story weighs in at 170 and a half.
He's followed out by Martin Kampmann. Kampmann sporting a lot of Muscle Pharm gear. He weighs in at 170 and a half as well. Story gets right in Kampmann's face and Kampmann give him a little shove. That is going to be an absolute war!!
Now we're on to the main card. First up is Kyle Kingsbury who comes out wearing some killer shades as well. San Jose must have a lot of great sun glasses shops. Kingsbury comes in at 205 and shows off for the crowed.
His opponent, always a fan favorite, Stephan Bonnar comes out to some great applause. Bonner gets on to the scale in a hurry, he looks ready to fight! He comes in at 205. Both men smile as they face off and shake hands.
Next up is a fight that's sure to be a lot of fun to watch! First out is Jason Brilz who comes in at 204.
Following him out is Ryan Bader who comes out to some pretty loud cheers from the crowed. Bader looks like he's ready to go, getting on the scale quick. He weighs in at 205.
That one is gonna be a good fight.
Now up to the scale is Alex Soto who comes in at 135. His opponent, Michael McDonald comes out to some mild applause. McDonald weighs in at 136. McDonald smiling during the face off.
Coming out next is Chris Weidman. Not sure if the scale has been fixed yet. Looks like there's still an issue maybe, but Weidman comes in at 185 and a half.
Tom Lawlor comes out doing with some crazy shades and a leather jacket. What a goofball. He weighs in at 185. Lawlor does some sort of weird tigers claw hand gesture as he faces off.
Next up to the scale is Rafael dos Anjos. Still having issues with the scale apparently, but dos Anjos comes in at 155 and a half.
Gleison Tibau comes out to some mild applause, wearing some cool shades. He comes in at 155 as well. The two face off and then hug.
Now up to the scale is Nick Pace who's in great shape. Wow! Nick Pace weighs in at 141 and has agreed to give up a portion of his purse because of that fact.
His opponent, Miguel Torres comes out to some mild applause. Torres weighs in at 137. Joe Rogan is saying there is a difference in weight between the backstage scale and the scale on stage. They've been taking a long time to weigh people in.
Next up to the scales is Seth Baczynski. It looked like maybe there was some trouble with the scale a moment ago, we'll see if it happens again here. Baczynski weighs in at 171.
Matt Brown comes out next to weigh in. Looks like the scale is working fine. He weighs in at 171 as well.
Alright folks here we go! The UFC 139 weigh-ins have officially started. The house is packed! Joe Rogan doing his usually introductions.
First up to the scales we have Danny Castillo. He's comes out wearing a tuxedo and a headband that says "last call." He weighs in at 155. His opponent Shamar Bailey comes out in just his underwear, ready for business! He weighs in at 158 and will have an hour to cut the extra weight.
This article is
What is the duplicate article?
Why is this article offensive?
Where is this article plagiarized from?
Why is this article poorly edited?