Boston Red Sox: CEO Undermining New GM
November 18, 2011
Jim Rogash/Getty Images
It took only a few weeks for Boston Red Sox CEO Larry Lucchino and team owners to subvert Boston's new general manager, Ben Cherington.
Things have been crazy enough for the Red Sox since their record-breaking collapse in September, when they failed to make the playoffs. 
Manager Terry Francona resigned under pressure and GM Theo Epstein left to become the GM of the Chicago Cubs.  
Reports kept surfacing in the media about many problems in the clubhouse in 2011, including, apparently, players being out-of-shape and pitchers sometimes drinking during games instead of rooting on their teammates from the bench.
Now, we just learned that after Cherington completed a seemingly well-organized, thoughtful search for the new Red Sox manager and selected Dale Sveum as his first choice, Lucchino, along with owners John Henry and Tom Werner, suddenly, surprisingly, rejected the new GM's recommendation. 
Further, multiple media outlets today are reporting that the Red Sox owners, including Lucchino, now want to seriously consider former Mets manager Bobby Valentine for the managerial vacancy.
What the hell is going on here?
Why would Lucchino and company appoint Cherington GM and task him with finding a new manager, and then turn around and second-guess the hell out of Cherington over this important first assignment?
No matter what the facts are behind the scenes, they are not good.  If Lucchino and the others simply disagreed with Cherington about Sveum and the kind of leader they want, that's a BAD sign that suggests a gap in philosophies and approach.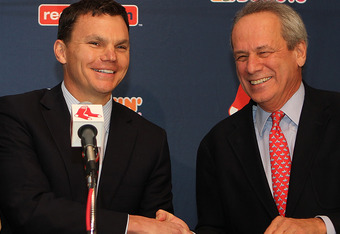 Jim Rogash/Getty Images
If circumstances just led Lucchino and company to have a change of heart at the end of Cherington's process, why did they let things unfold that way?
Lastly, why has Lucchino discussed his views about the managerial search so publicly and allowed the widespread speculation about Valentine? 
Doesn't he realize that doing so creates a strong impression that he, not Cherington, is calling the shots for the Red Sox now?  Cherington recommended Sveum and is now on a trip to the Dominican Republic!
It certainly appears that in Cherington's first weeks as GM, Lucchino—at least for now—is wielding far more influence in baseball decision-making than he did when Epstein was GM.  That possibility alone may bother some, but, it is not outrageous or unacceptable. 
Rather, what's unacceptable is for Lucchino to assume this enhanced power at the expense of Cherington, and with a lack of honesty and candor about his role. 
Imagine if Lucchino just said:  "Yeah, I'll be more involved on the baseball side, helping Ben in his first year, and, gradually, I'll lessen my involvement...."
At the moment, Lucchino and Cherington are both downplaying any speculation that the Sox owners' interference in the managerial selection process amounts to any undermining of Cherington's role; yet, their comments lack credibility.
Right now, the honest public presentation of roles at the Red Sox would acknowledge that Lucchino has become much more involved in the baseball operation and the buck stops with him rather than Cherington. 
Think about it.  If Theo were GM now, would he accept how circumstances have evolved?  No.  In fact, I think Theo would have been so disturbed by this kind of meddling that it might have precipitated a crisis of sorts. 
Maybe he might have had to put on the old gorilla suit.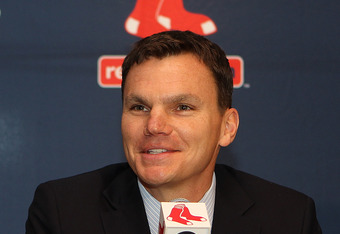 Jim Rogash/Getty Images
If Cherington is smart, he'll stand up to Lucchino early on so that he will not be undermined in the future.  Otherwise, he'll be viewed more and more as Lucchino's puppet.
From all I've read about Cherington, he deserves much better treatment from Lucchino.  He deserves better from owners Henry and Werner too. 
Cherington is a smart, talented, versatile young leader who should be allowed to do his job—especially in his first year—without Lucchino and company trying to get in his way.
If the interference from  above continues, Cherington should think hard and long about whether he wants to tolerate it, or perhaps leave and become the GM of a team that will let him spread his wings.