Why Tim Tebow Won't Lead Denver Broncos to Playoffs This Season
November 18, 2011
Garrett Ellwood/Getty Images
The Denver Broncos beat the New York Jets 17-13 last night in Week 11 to move to 5-5, but hearing about it the next day makes you feel like he won the Super Bowl.
John Buccigross of ESPN tweeted about the game-winning, 20-yard touchdown run by Tim Tebow in the game's final minute.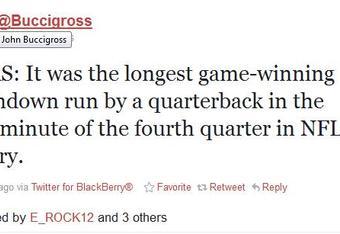 Yes, the win deserves our attention, but Tebow only proved what we already know.
He will win close football games in the fourth quarter. He needs pressure to succeed.
However, if the other team pulls ahead early and keeps its foot on the pedal—as the Detroit Lions did in a 45-10 win over the Broncos—Tebow's late-game heroics will be taken out of the mix.
The impressive play of the Broncos defense is not talked about enough and the Broncos have the most variety on offense of any team in the league. In the first play of last night's game, Tebow chucked a first-down completion to Demaryius Thomas.
That's more completions than he had in the entire first half of Denver's previous game against the Kansas City Chiefs. The Broncos continued to keep the Jets off-balance for the entirety of the first drive with their variety.
However, the Broncos didn't score on the first drive.
They also only scored 10 points in the first 59 minutes of the game. Tebow swept in and saved the Broncos in the game's final minute, proving once again that he's a proven winner.
How will the Broncos fare against a powerful offense going forward?
We'll find out next week, as the Denver Broncos will face the San Diego Chargers, who will be coming off a disheartening loss to the Chicago Bears.
If the Chargers don't take the wind from under the wings of Denver, the Chicago Bears and New England Patriots will in Weeks 14 and 15.
What the Broncos are doing right now is impressive, but this will all come to an end before the playoffs start.