College Football Year in Review: Quarterbacks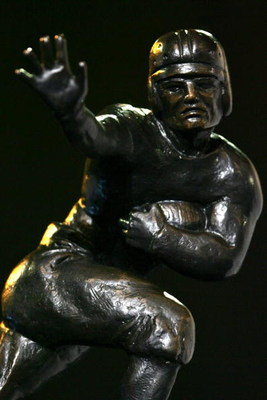 Quarterbacks are the Field Commanders of the forces who battle for BCS glory. They throw, they hand the ball off, they run themselves: A good quarterback will do whatever it takes to push his team to the top. With eight of the last nine Heisman Trophies going to quarterbacks, it's no surprise that this year's crop saw a new class of Generals rise up and lead their Troops.
Sam Bradford, Oklahoma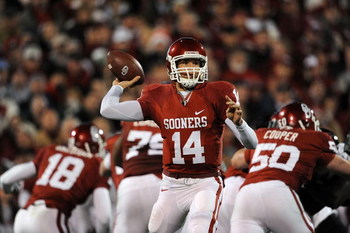 Sam Bradford delivered a Big 12 Championship and a trip to the BCS Title Game for his Oklahoma Sooners, and a Heisman Trophy for Himself, leading his team to five straight games with 60 points or more.
Tim Tebow, Florida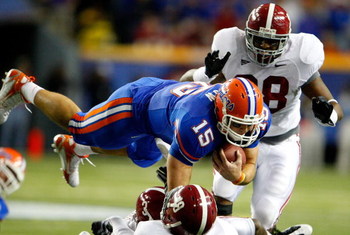 Tim Tebow led the Florida Gators to an SEC Title and another BCS National Championship Game, throwing for over 2,500 yards and 28 touchdowns, rushing for more than 600 yards and another 12 touchdowns, and leading his team from the front the whole way.
Colt McCoy, Texas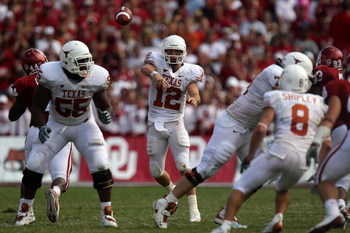 Is there anyone who doesn't know that Heisman Finalist Colt McCoy and his Texas Longhorns beat the Oklahoma Sooners 45-35 in the Red River Rivalry? Now the Longhorns will duke it out with perennial powerhouse Ohio State in the BCS Fiesta Bowl.
John Parker Wilson, Alabama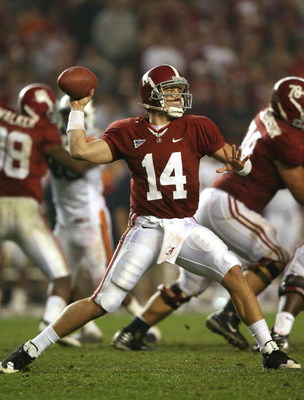 John Parker Wilson and his Alabama Crimson Tide rolled back into the national picture and a BCS bid to the Sugar Bowl. Shining on the national stage, they blew Clemson, Georgia, and rival Auburn out of the water.
Mark Sanchez, USC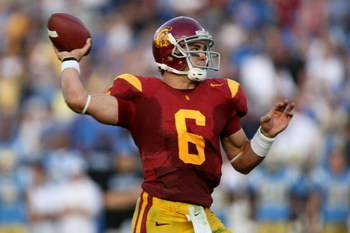 Mark Sanchez led his USC Trojans to yet another BCS appearance in the Rose Bowl, outscoring their opponents by nearly 30 points.
Brian Johnson, Utah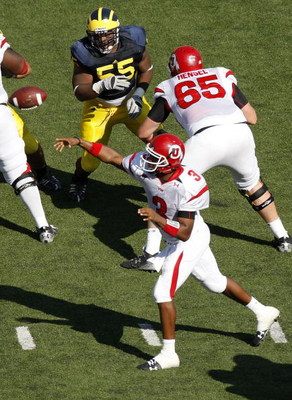 Brian Johnson took the Utah Utes into the Big House and took out the Michigan Wolverines, and then they pounded their way to an undefeated regular season and a BCS reward in the Sugar Bowl.
Graham Harrell, Texas Tech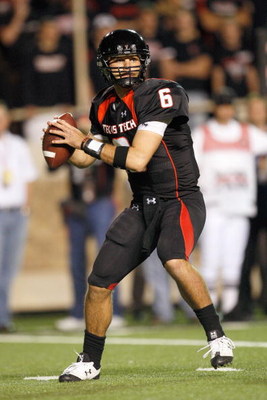 Graham Harrell and Texas Tech made a lot of noise this year and convinced a nation that they were real contenders, beating Texas in a good old-fashioned shootout and landing themselves in the Cotton Bowl against the Rebels from Ole Miss.
Kellen Moore - Boise State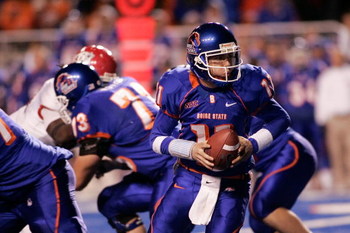 Kellen Moore, throwing for over 3,200 yards, has taken the Boise State Broncos to another undefeated regular season and a bowl game against one of the nation's best defenses: TCU. Makes you wonder what Moore will do next year as a Sophomore.
Daryll Clark, Penn State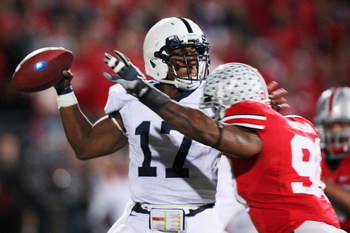 Daryll Clark and his Penn State Nittany Lions marched through Ohio State and into the Rose Bowl. They averaged over 40 points per game as a team, while Clark had nearly 200 passing yards per game.
Terrelle Pryor, Ohio State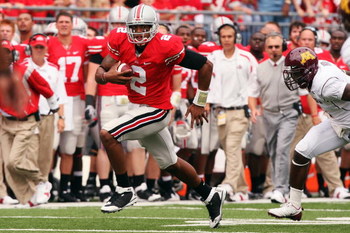 Freshman phenomenon Terrelle Pryor ran, passed, and scraped his Ohio State Buckeyes into another BCS Bowl, throwing 12 touchdown passes and rushing for another six. It's easy to see why the Buckeyes are excited about the future and ready for the Fiesta Bowl matchup with Texas.
Andy Dalton, TCU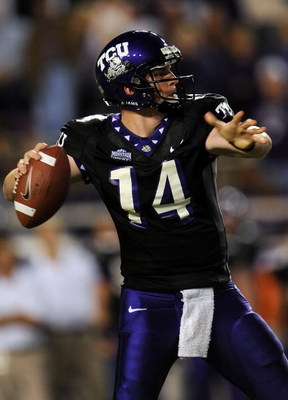 Andy Dalton and the TCU Horned Frogs' only losses are to two BCS Bowl teams (one will play for a national championship). In the Poinsettia Bowl, they will attempt to take down the undefeated Boise State Broncos.
Tony Pike, Cincinnati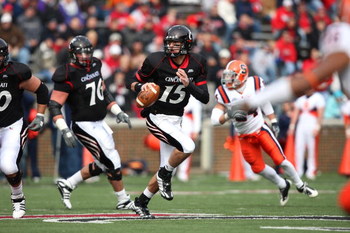 Seems like Tony Pike and the Cincinnati Bearcats snuck up on everyone this year, taking the Big East Title and landing in a BCS Bowl against ACC Champion Virginia Tech.
Zac Robinson, Oklahoma State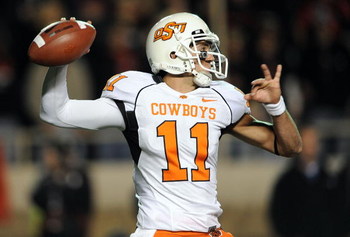 With two Heisman Finalists from the Big 12, it would have been easy to overlook Zac Robinson, but he made sure that didn't happen, leading his Oklahoma State Cowboys to a 9-3 record and a bowl game against Oregon.
Josh Nesbitt, Georgia Tech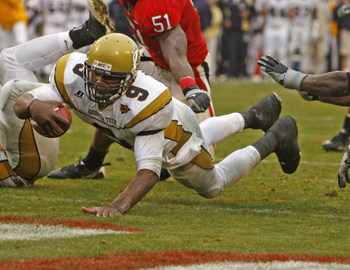 Josh Nesbitt ran Georgia Tech's triple option straight through the in-state rival Georgia Bulldogs and into the Chick-fil-A Bowl, scoring other key wins against Florida State and Miami.
Matthew Stafford, Georgia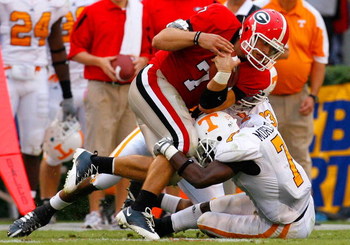 Whether you put much stock into the preseason hype or not, Matthew Stafford still put his Georgia Bulldogs into the Capital One Bowl with a 9-3 record, facing the Michigan State Spartans.
Max Hall, BYU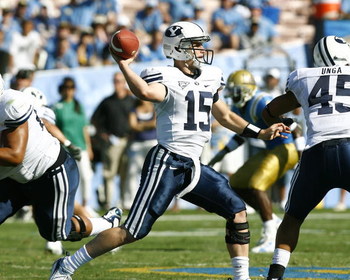 Max Hall and the Cougars of BYU obliterated the UCLA Bruins, 59-0, on their way to their third 10-2 regular season in a row and the nation's seventh-ranked passing offense. They'll finish against Arizona in the Las Vegas Bowl.
Jeremiah Masoli, Oregon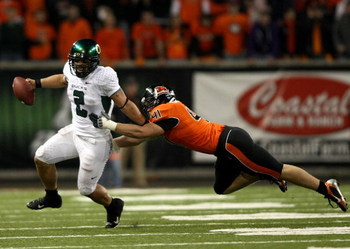 Jeremiah Masoli and his Oregon Ducks ended rival Oregon State's Rose Bowl dreams and finished the regular season 9-3, ranked 17th, and facing Oklahoma State in the Holiday Bowl.
Brian Hoyer, Michigan State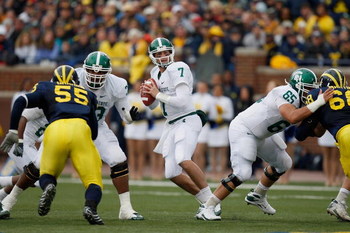 Brian Hoyer has navigated his Michigan State Spartans through the bumps and scrapes of the regular season and into the Capital One Bowl with a No. 18 ranking.
Tyrod Taylor, Virginia Tech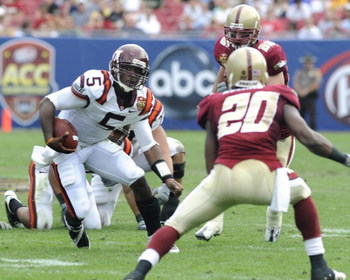 Tyrod Taylor gave the Virginia Tech Hokies nearly 900 yards in the air and nearly 700 yards on the ground, taking them to another ACC Conference Title and the BCS Orange Bowl.
Bill Stull, Pittsburgh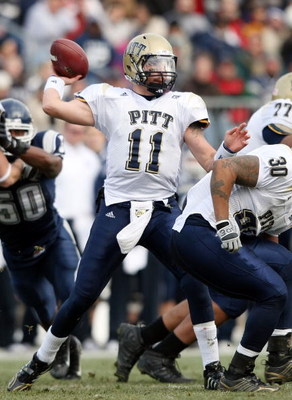 Who is Bill Stull? He's the man who put Pitt into the Sun Bowl against Oregon State, throwing for 2,304 yards.
Chase Daniel, Missouri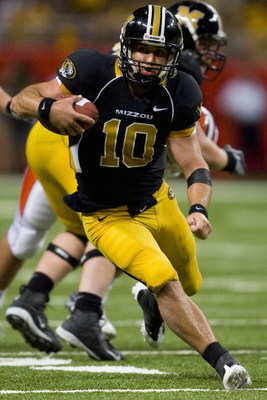 It wasn't easy to stand out as a Big 12 quarterback this year, but lest we forget him, Chase Daniel threw over 4,000 yards and 37 touchdowns for his Missouri Tigers. Now they'll face Northwestern in the Alamo Bowl.
Nate Davis, Ball State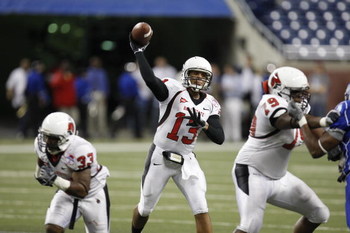 It might take a while to forget the nightmare of a loss in the last game of the season to Buffalo, but nearly 3,500 yards through the air for 26 touchdowns and victories over Indiana and Navy should help Nate Davis sleep better before meeting Tulsa in the GMAC Bowl.
C.J. Bacher, Northwestern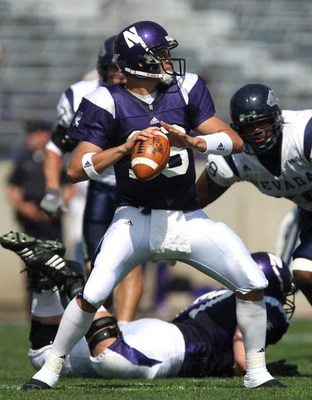 C.J. Bacher and the Northwestern Wildcats asserted themselves once again as an irregular force in the Big Ten, finishing 9-3 overall, losing only to the three Big Ten teams ranked above them, and landing in the Alamo Bowl against Big 12 runner-up Missouri.
Chris Crane, Boston College
Chris Crane and Boston College rode out the ACC storm only to lose the title game, but they still found harbor in the Music City Bowl, where they'll face Vanderbilt from the SEC.
Jevan Snead, Ole Miss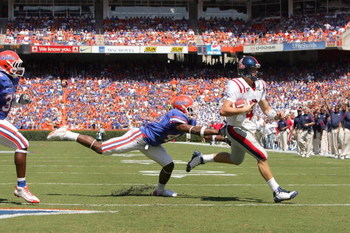 Call 'em giant-killers, call 'em game-busters, call 'em Rebels, 'cause that's what Jevan Snead and Ole Miss were this season in the SEC.
They knocked off the No. 4 Florida Gators by one point and the No. 18 LSU Tigers by 18, and now they'll try to take out the No. 7 Texas Tech Red Raiders in the Cotton Bowl.
Keep Reading