Colt McCoy: Cleveland Browns in Danger of Turning QB into the Next Tim Couch
November 18, 2011
Matt Sullivan/Getty Images
The most important position in all of sports is the quarterback in football. If you don't have a good quarterback, then you don't have a good team.
Just ask the New York Jets, who should be contending for a Super Bowl every year, but are stuck with the seemingly worthless Mark Sanchez.
The Cleveland Browns, who have had a multitude of issues since re-joining the NFL in 1999, have not been able to establish a quality quarterback to lead them to the playoffs and, eventually, a Super Bowl.
When the Browns drafted Colt McCoy, last year we all thought that maybe this could be the guy. He has the talent, leadership, moxie, and history of winning that you want in a quarterback.
But this isn't the first time that a player has been drafted to our beloved team and looked upon as the savior.
When Tim Couch was drafted by Cleveland with the first overall pick in 1999, he had everything that a team could want. He was the consensus top pick. It was a no-brainer.
I believe even today that Couch was the right pick for the Browns—not Donovan McNabb.
Couch never ended up bringing the Browns the glory that we still desire today.
(It should be noted of course that he was the QB for the Browns in 2002 when they made the playoff for the only time since their re-birth. He started 14 games that year and had an 8-6 record but it was Kelly Holcomb who ended up getting the start in the playoff loss to the Steelers.)
I don't blame Tim Couch, though. I blame the Browns.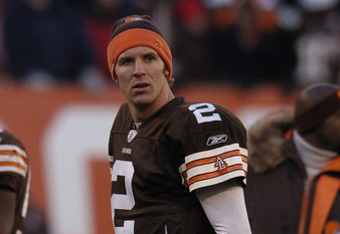 They effectively killed Couch and ruined his career. In five years, in the league, with 59 starts, he was sacked a whopping total of 166 times. Added to that he was never allowed the time to sit and mature as a quarterback. Nor was he furnished with the weapons needed to win.
Tim Couch was set up to fail by not being set up to win. And I fear that the same thing is being done to Colt McCoy.
McCoy has already been sacked 45 times in 17 games, and that doesn't count all of the hits he takes while he's running for his life.
Right now he has about 1.5 legitimate receivers, 2 linemen, and no running backs. Not exactly a recipe for success. In a five week span, he has to go up against the Steelers and Ravens four times to finish out the season.
I just hope that he survives at that point, let alone finds a way to get wins.
It's been written and discussed ad-nauseum about how we don't have sufficient evidence to know whether Colt McCoy can be a winning quarterback in the NFL. He just doesn't have the team around him right now to support him.
And I'm getting worried that he never will. The Browns front office and coaching staff need to find a way to insure that Colt can be as successful as possible to evaluate him and decide if he can be the guy.
That's what the Jets have done with Sanchez. He has a great team around him. But he's just not that good. He isn't the guy.
I'm worried that Colt McCoy will never have a chance to show himself worthy just like Tim Couch never had a chance. You can only take so much of a beating and losing before it kills you as a player.
Make no doubt about it, Colt is tough as nails. But even warriors have limits. As much as we like to talk about how grand Leonidas and the 300 were in the battle of Thermopylae it can't be ignored that they all got killed in the end.
Hopefully that isn't Colt McCoy's fate as well.
You can follow Benjamin Flack on Twitter @ ClevelandFlack