North Carolina Unable to Cash in on Virginia Tech Mistakes, Loses 24-21
November 18, 2011
The University of North Carolina football team rallied from a 24-7 fourth-quarter deficit, but was unable to get over the hump and fell to Virginia Tech 24-21 as the rally fell short.
Coming off what some call the biggest loss in years, a 13-0 shutout to N.C. State, the Tar Heels (6-5, 2-5) came into Blacksburg major underdogs to a Virginia Tech (10-1, 6-1) team that is battling for the conference championship and a possible berth in the BCS championship.
Things looked bright for Carolina early as the Heels forced a fumble on Tech's first offensive series, then capitalized with a four-yard touchdown run by freshman tailback Giovani Bernard. The Hokies were then stopped on fourth down on the Carolina 26 and the Heels were in business.
That's when momentum took a turn in Tech's favor. Tailback Ryan Houston appeared to be going in for a touchdown to put Carolina up 14-0 but fumbled the ball on the Hokies' 5-yard line.
Virginia Tech then engineered a beautiful 95-yard drive to force a 7-7 tie. The drive of 18 plays consumed 7:59 on the game clock.
With the Heels down by three, North Carolina kicker Thomas Moore's 43-yard field-goal attempt hooked wide left 45 seconds before halftime.
On the first Virginia Tech series in the second half, Tech quarterback Logan Thomas drove the Hokies into North Carolina territory with his arm, but then showed off his powerful running. On 3rd-and-2, Thomas took an innocent-looking quarterback sneak 23 yards, bouncing off Tar Heel tacklers before waltzing into the end zone to extend the lead to 17-7.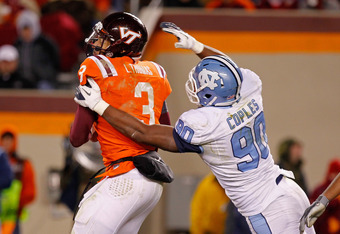 Geoff Burke/Getty Images
Thomas then took over the game in the third, and on a 3rd-and-9, Thomas completed a 39-yard pass to receiver Jarrett Boykin down the sidelines. Thomas finished the drive with a touchdown pass to D.J. Coles to put the Hokies up 24-7.
In the fourth quarter, the Tar Heels finally found an offense. Tar Heels quarterback Bryn Renner found receiver Erik Highsmith for a five-yard touchdown pass midway through the fourth quarter to cut the lead 24-14.
Renner then hit Highsmith with a 64-yard pass later in the fourth. Houston finished the drive with a two-yard touchdown to bring the score to 24-21.
Carolina's last gasp was leaked as Carolina was unable to recover the onside kick, and the Hokies ran the clock out. The win marked Frank Beamer's 250th career win.