Los Angeles Angels: Decoding Jerry DiPoto
November 18, 2011
Perhaps one trait new Angels GM Jerry DiPoto has that makes fans so excited for his arrival is his willingness to speak with the media.  This is something that his predecessors rarely ever did. 
Tony Reagins seemed to carry the exuberance of a scolded child during his interviews and Bill Stoneman appeared as though he was either too tired or had better things to do when it came time to discuss his strategies in front of the media.  
As a blogger, what I appreciate most about Mr. DiPoto is that he is up front about his philosophy as a General Manager.  He has clearly stated priorities and preferences that are as available to every reporter as they are to every blogger.
Let's Start With Preferences
1. Jerry DiPoto prefers to make trades rather than spend on free agency.  
This makes total sense.  In a trade, you don't have to give up a draft pick in compensation as you would in Free Agency and in general, player who reach free agency get paid significantly more than what they are actually worth. 
2. Jerry DiPoto believes character in the most important trait in a player.
Reportedly, DiPoto credits current Arizona General Manager Kevin Towers for teaching him this.  Luckily for Jerry, it appears the Angels have a great deal of character, as veterans Bobby Abreu, Torii Hunter and Vernon Wells are among the most respected players in the game.  This has rubbed off on younger players such as Peter Bourjos, Mike Trout and Mark Trumbo.  
In essence, it appears that Jerry DiPoto is interested in upgrading the Angels roster by trading for players who are good to have in the clubhouse.  Now let's get to his priorities.
Harry How/Getty Images
Priority 1
"First we need better depth in the bullpen, especially with right-handed impact power arms. I like [Jordan] Walden and [Scott] Downs but would like to get them some help for closing out the last three outs of a game." – Jerry DiPoto in interview with former National GM Jim Bowden, ESPN, Nov 11, 2011

Well there you have it, DiPoto believes this team needs to shore up the bullpen with right-handed power arms.  This makes sense as DiPoto himself was a reliever and the Angels blew more saves (10) and more leads (25) than any team in baseball.  
There's a couple of directions DiPoto could go on this one.  He could either sign a closer and address the saves and holds by moving current closer Jordan Walden into the 7th inning, or he could simply sign a setup specialist.
Priority 2
"We need to improve our on-base percentage and have better balance with the other offensive needs of the club." - Jerry DiPoto in interview with former National GM Jim Bowden, ESPN, Nov 11, 2011

DiPoto acknowledges that this will be more of a "grassroots" sort of change within the system that will begin with draft strategy.  Under Scouting Director Eddie Bane's reign, the Angels were known for drafting 5-tool high school prospects that lacked discipline but had tremendous athletic ability.  
Sometimes this worked out (Mike Trout, Peter Bourjos, Jeremy Moore) and sometimes it didn't (Chevez Clarke, Ryan Bolden, Travis Witherspoon so far).  
Ric Wilson seemed to believe in drafting more experienced and disciplined hitters as evidenced by the selection of CJ Cron in last year's draft.  Dipoto wants to keep Ric Wilson at his current role, so it appears those two have similar philosophies.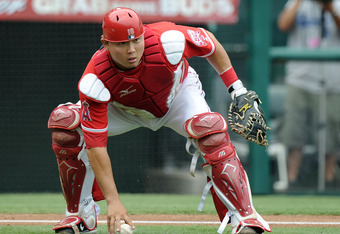 Harry How/Getty Images
Priority 3
"We need to improve our catching, as we talked about, hopefully with a catcher that can provide both offense and defense." - Jerry DiPoto in interview with former National GM Jim Bowden, ESPN, Nov 11, 2011

Perhaps this is music to Angels fans' ears as they've dealt with Jeff Mathis' inability to hit or throw out runners. DiPoto seems to understand in a way which Mike Scioscia and Tony Reagins couldn't, the Angels need more than defense in order to compete.  Mike Napoli's monster season in Texas was not a fluke.  
Texas Manager Ron Washington simply trusts Napoli's defense and—without being hounded in the manner that he was in Los Angeles—Mike Napoli was able to relax and do what he does best, which is hit the baseball.  Meanwhile, Jeff Mathis was superb at blocking baseballs and calling a quality game.  His bat and arm, however, still leave much to be desired.
Priority 4
"Our next priority is a starting pitcher and inning stabilizer to go after [Jered] Weaver, Haren and [Ervin] Santana in the rotation." - Jerry DiPoto in interview with former National GM Jim Bowden, ESPN, Nov 11, 2011

DiPoto built a solid pitching staff in Arizona and he's inheriting another in Los Angeles.  He's made it no secret the Angels are interested in LHP CJ Wilson and Wilson's agent has made it no secret that his client is very interested in joining the Angels.  
This report, however, does dispel rumors that DiPoto would trade Ervin Santana if the Angels landed CJ Wilson; he's looking for someone to go in the rotation AFTER Santana, alluding to the fact that Santana will remain in an Angel uniform in 2013.
Overall Philosophy
"I think pitching is paramount to success. My personal philosophy is that to structure a championship roster you have to have a different balance of the player's five stages of his career. The five stages for me are: breaking-in stage, money-making stage, prime-years stage, wind-down stage and the teaching stage. The core of championships clubs usually comes from ages 27 to 31 during the player's prime years. However the supporting cast needs to come from the proper balance of all of the other stages for a club to win. Too much or too little from a particular stage can make it tough for a team to have the right balance to win." - Jerry DiPoto in interview with former National GM Jim Bowden, ESPN, Nov 11, 2011

Brad White/Getty Images
As the Angels are currently built, it appears Abreu is in the teaching stage while Wells and Hunter are in the wind-down stage. The entire infield with the exception of Trumbo are in the money-making stage, as their performance now will make them money during their prime years. Trumbo, Trout and Bourjos are all in the breaking-in stage.  
The Angels don't have any 27-31 year-old position players that have earned larger contracts yet.  Their pitching staff (Santana, Weaver and Haren) are all in the prime-years stage and the majority of the bullpen outside of Downs and Takahashi are in their breaking-in stage.  There is a balance, but the bullpen and offense are certainly in need of players in their prime stage and I expect this is where DiPoto will upgrade.
Environment to Consider
It appears that in the new collective bargaining agreement, Type B Free Agents classification will be done away with, so the compensation for signing 2nd tier players will be gone, though Type A appears to remain intact.  If this is true, the Angels may shy away from signing Type A free agents because they'd prefer to keep their first round draft pick.  
This new deal may hurt the Angels in the long run as Erick Aybar, Maicer Izturis and Alberto Callaspo all appear as though they will be Type B free agents within the next year or two.  In the old agreement, the Angels would have been entitled to many early round draft picks as compensation, but not anymore, so this is bad timing.  
Still, Howie Kendrick is projected to be a Type A free agent, so that appears secure for now.  Another element to consider is Arte Moreno's pocketbook.  Under Tony Reagins, the Angels were big spenders but not necessarily big winners.  DiPoto is stuck with the remnants of such a philosophy (Wells and Abreu).  It appears that DiPoto will have somewhere between 12-22 million dollars to spend in upgrading the roster.  
Just venturing a guess on where DiPoto has his sights and what the Angels will bring in for the offseason: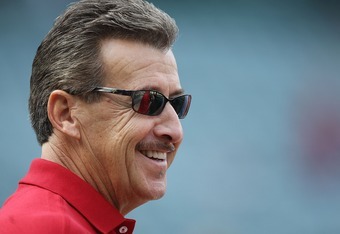 Lisa Blumenfeld/Getty Images
1. Angels trade RHP Garrett Richards and RHP Steven Geltz to the Cubs for catcher Geovanny Soto.  Expected payroll increase: 4 million.
2. Angels non-tender catcher Jeff Mathis.  Expected payroll decrease: 2 million.
3. Angels sign LHP CJ Wilson 5 years 85 million.  Expected payroll increase: 17 million.  
4. Angels trade Maicer Izturis and Orangel Arenas to Colorado for Huston Street.  Expected payroll increase: 3 million.
Expected payroll: 142 million.
Scott Allen is a correspondent for Bleacher Report and senior columnist for LA Angels Insider.com. Follow him on Twitter @ScottyAllenLAAI