Kurt Warner, Ryan Leaf and Why the NFL Doesn't Need the Draft
November 18, 2011
Every April, 224 college football prospects are selected in the NFL draft. The nation watches many of these young athletes to see if they will pull their weight with their multi-million dollar contracts. Some do impressively, and many fail to meet their high expectations and flop miserably to the disappointment of many angry fans and bankrupt owners.
When an NFL team looks to draft a young quarterback to build their franchise around, they think they know exactly what they want. They want their signal-caller to be at least six-foot-four, 230 pounds, and be able to throw a perfect spiral "on a rope" at least 50 yards.
In other words, they want a big boy with a laser rocket arm. Another mark these young guns need is to have played in a pro-style offense at a competitive big conference school.
Just not playing in a big school doomed draft chances of two successful quarterbacks that instantly come to mind. It's hard to find someone outside the state of Iowa who knows what the University of Northern Iowa is.
Kurt Warner was named the Gateway Conference offensive player of the year when he was a senior at "UNI", yet couldn't make a stand to be drafted to save his life. He was completely over-looked and as far as the league was concerned, forgotten.
Warner bounced from try-out to try-out, from league to league, before he won a Super Bowl with the St. Louis Rams in 1999, his second year in the NFL, his first as a starter. A Sports Illustrated cover pictured Warner, the caption read: "Who Is This Guy?"
Exactly. As far as the NFL's draft system was concerned, the league's two-time MVP didn't exist.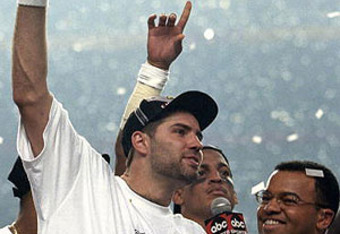 Our other main subject who got snubbed by the system is Ryan Fitzpatrick, quarterback of the Buffalo Bills. Fitzpatrick majored in economics at Harvard, known as a law school, not a quarterback factory. Unlike Warner, Fitzpatrick was actually drafted, but in the last round. What sets Fitzpatrick apart from his peers is his brain.
Sporting News heralds Fitzpatrick as the fifth smartest athlete in sports today. Fitzpatrick scored a 48 out of 50 on the league's basic entrance assessment, the Wonderlic, the highest score in recent history. NFL teams would like their quarterbacks to score at least 21 on the test.
The test is used in other professions as well, the average chemist scores a 31 on the test. Fitzpatrick struggled early on to secure an NFL job, but as of this season, is one of the most successful starting quarterbacks in the league. 
But what is to be said of the highly touted quarterbacks? There have been many successful quarterbacks who were drafted very early in their respective draft classes.
Peyton Manning went first overall in 1998 and is regarded as being one of the best football players of all-time. Donovan McNabb was drafted second overall in 1999, and has changed the way quarterbacks play the game. Matt Ryan, Mathew Stafford, Mark Sanchez, and Sam Bradford are some of the NFL's young guns, having good careers in the league. They were all drafted in the first round.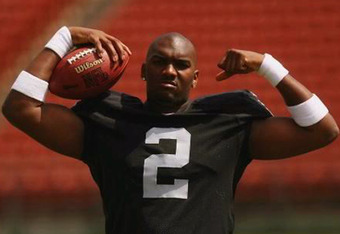 However, there are enough alarming cases of high hopes gone rogue. Enter Ryan Leaf. Along with Manning, Leaf was highly touted college quarterback in the 1998 draft. Coming out of Great Falls, Montana, Leaf lead the Washington State Cougars to within two seconds of a Rose Bowl victory in 1998. When he announced intent to go professional, many expected him to be the next face of the NFL.
In 1998, the Peyton Manning and Ryan Leaf went into the NFL draft, deemed the "savior" to the teams that were lucky enough to pick them. Manning went first overall, and as I said before, he has re-written history. Leaf went second overall, and putting it nicely, he never had a career to lose. Ryan Leaf failed badly.
When averaged out, the San Diego Chargers were paying him $8 million per win in his stint with the team. Leaf was overpaid to under perform, At the time, Leaf signed the largest rookie NFL contract, weighing in at over $30 million over four years. The problem was, Ryan only won five games. This ended up setting the team back three years. Sidetracking a bit, I had the chance to meet Ryan Leaf a few weeks ago. I would like to be the one to tell you he is a completely different man. That's a different story at a different time.    
With such incidents as this, should NFL teams change the way they fill their rosters? Ryan Leaf, Tim Couch, Akili Smith, Rick Mirer, Dan McGuire, David Carr, Matt Leinart. These are the names of NFL quarterbacks deemed "draft busts".
Highly drafted with even higher expectations, these men were written big checks and were doomed to burn out since day one. Even other college stars like Brian Bosworth and Tony Mandarich, who were big and physically imposing college players, sputtered in the NFL. With all of these failed career cases, it's funny the NFL still relies on its draft.
The first round draft pick is such a big (and risky) investment, many times it has paid off, but what about when it hasn't? When a player "busts", they literally are stealing money from the team who signed them. Even though the money is rightfully theirs, they really haven't earned it. Rodney Harrison was a teammate of Ryan Leaf's. When Leaf retired in 2002, Harrison said in an interview,"It's probably the best thing for him to do. He took his money and ran."
Perhaps, the NFL draft should be eliminated all together. There have been many successful NFL players that were overlooked by the draft that went on to have good careers. Kurt Warner and Ryan Fitzpatrick were mentioned before.
Wes Welker, a wide receiver in the league, signed with the San Diego Chargers after being undrafted in 2004. He would later be traded to the Dolphins, and later the Patriots, where he caught eight of Tom Brady's record 50 touchdown passes. He has since emerged as one of the best receivers in the league.
Speaking of Tom Brady, he was drafted 199th in 2000. Even the casual sports fan knows his name as being one of the greatest. Nobody knew who he was on draft day. Oppositional views to this may bring up the success stories of high draft picks. I acknowledge these as being true. I can name many players picked early that had good careers.
The point is that I think there could be a better alternative to the draft.
Picture this if you will. A player is being monitored as he progresses through his college football career by NFL teams. This is what the NFL already does, but I suggest this here: The teams make a list of players they are interested in. They send them all to the commissioner who then schedules teams, based on their previous year's performance, to have work outs with the players upon their eligibility.
Many times the reason a player fails is he doesn't fit with his team's system. There is never any way to tell how a player will fit in a team's scheme unless they try him out against other options. Having more options allows a team to be able to find the pieces that best fit their organization, rather than blindly guess where they are throwing their money to. If a team likes the way a player meshes with their team, they sign them a stock contract. Having a reasonable set contract would eliminate my next problem. 
My biggest beef with the NFL draft is the sheer money issue. Sam Bradford was last year's first pick overall. He signed a contract with the Rams which guaranteed him $50 million. He hadn't played one single down yet. Following the lockout, new rules did indeed limit rookie contracts. Cam Newton, this year's first pick, was guaranteed $22 million. This was a significant cut, but I feel that it could have been greater. The NFL keeps handing out big checks to unproven players, and it often backfires.
The NFL draft has worked out fine for many teams in the past; my opposition may bring up the Pittsburgh Steelers, who have built two world championships around their drafts. What about the teams that can't make a break? The Cleveland Browns have had some of the worst picks and so have the Seattle Seahawks.
The Raiders top this list. Two of these three teams have never won a Super Bowl and one of them finishes at the bottom of the pack year after year. Yet, these teams just go right at it again the next April.
But for what? With the NFL being such a multi-billion dollar business, it would seem as if they would perfect the way young athletes emerge in its ranks. The NFL needs to find a better way to fill team rosters, there have been too many cases in which millions of dollars are wasted.
No matter what, I will always be a fan of the NFL. It is my deepest concern, however, every April when the NFL looks to young new faces, that they will turn to the wrong ones. But even then, I will continue to watch with attentive eyes.