Boston Red Sox's Infield: Potentially in Flux for 2009?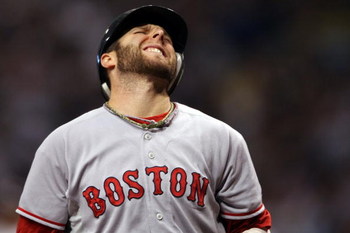 The Boston Red Sox were a few breaks from another World Series appearance in 2008. But if we know anything, it is that this will not stop them from working to improve the team by any means possible.
Absent an unexpected trade, the outfield is probably set, with Jason Bay in left, Jacoby Ellsbury in center, and J.D. Drew in right, although there is still the matter of finding a fourth outfielder to replace the departed Coco Crisp.
If changes are to come, it will likely happen within the infield. Aside from Dustin Pedroia, the reigning American League MVP, it is conceivable that the infield could undergo a major overhaul between now and Spring Training.
Here are the potential moves (or lack thereof).
FIRST BASE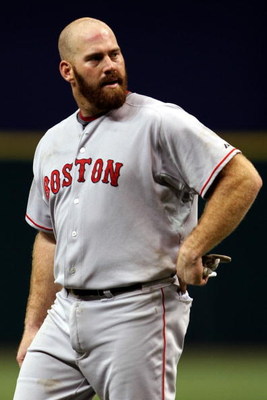 When you're a 29-year-old former Gold Glove winner, coming off a season that saw you hit .312, with 29 home runs and 115 RBI, you would assume that your place on the diamond would be secure.
That is not the case for Kevin Youkilis, thanks to 28-year-old free agent Mark Teixeira. Teixeira's numbers were very similar to Youkilis' (he posted a .308 average, with 33 home runs and 121 RBI, split between the Braves and the Angels).
While this would not be seen as a dramatic upgrade at first, either offensively or defensively, the potential to move Youkilis to third base, where he began his major league career, means that Teixeira is a viable option to replace the power numbers that left town along with Manny Ramirez.
Perhaps the addition of another big bat would allow David Ortiz to recapture his confidence, and his swing.
RECOMMENDATION: Teixeira
SECOND BASE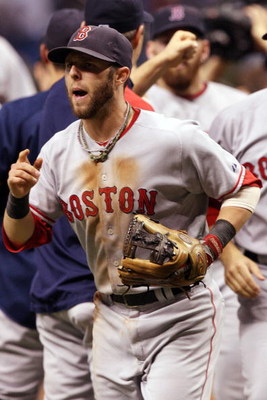 The Red Sox have the best second baseman in the American League and will not be making any moves here. If you are the Red Sox, you cannot ask for more than a second baseman who is coming off an MVP award and a Gold Glove in 2008.
There was talk about moving Pedroia to short in order to make room for Teixeira and Youkilis on the right side of the infield, but this is nothing more than foolish banter from the under-informed 'Red Sox Nation.'
Pedroia will be playing second base for the Sox in 2009, and for many years to come, and I am certain that the team could not be happier.
RECOMMENDATION: Pedroia
SHORTSTOP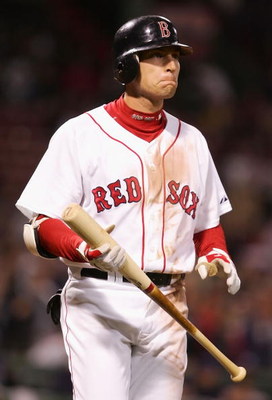 The injury to Julio Lugo was a blessing in disguise for the Red Sox, who were able to bring up their best middle infield prospect, Jed Lowrie, to fill the void.
Not only was Lowrie an upgrade with the glove (not difficult to accomplish when the competition is Lugo), but he developed an ability to work the count and get the timely base hit.
Lowrie may not be a star, but a World Series can be won with Lowrie in the starting lineup.
The problem will arise with Lugo. If healthy, he will be looking for playing time. His time in Los Angeles did not go well, since he was unable to fully adjust to his role as a bench player.
The Red Sox will either have to keep the overpaid, under qualified platoon player, or try to unload his unfriendly contract. There have been talks about a deal with the Tigers for Dontrelle Willis, and the Sox should jump on the opportunity if they are able to do so.
Then, it would be a matter of bringing in a good glove to back up the middle infielders.
RECOMMENDATION: Lowrie
THIRD BASE
Assuming the Sox are able to win the bidding war for Teixeira's services, Mike Lowell would seem to be the odd-man out, with Youkilis moving back across the diamond to third.
In limited action throughout last season (although more consistently at the end of the year with the injury to Lowell), Youkilis has shown himself to be a good, but not great, defensive third baseman.
His issues generally arise when he is forced to rush throws across the diamond. His tireless work in the infield allowed him to become a Gold Glove first baseman, so it is conceivable that he could do the same at third.
The Red Sox would likely look to unload Mike Lowell, who probably has enough left in the tank to be an everyday player somewhere, assuming he is able to fully heal from offseason hip surgery.
Owed $24 million over the next two years, his contract will not be easy to move, but the Red Sox have shown a willingness to pay players to play for other teams in the past.
Although Lowell was nothing but a class act, and was an integral part of a World Series team, it is likely that his time in Boston has come to an end. He will be missed.
RECOMMENDATION: Youkilis
Keep Reading

Boston Red Sox: Like this team?