SEC Football: Week 12 Preview and Predictions Against the Spread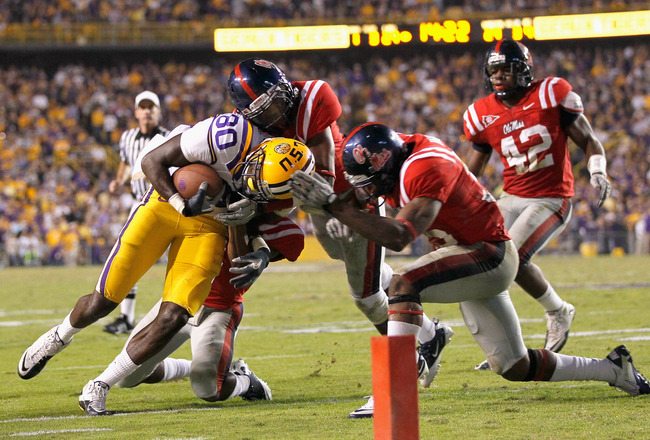 Kevin C. Cox/Getty Images
Here we are, 12 weeks into the 2011 SEC football season.
In what seems like a flash, we are in the final throws of deciding this year's SEC Champion and the bowl pecking order for the conference.
This week's slate is pretty light from a competitive game standpoint, but is also a weekend ripe of upset potential as many teams look towards next weekends rivalry games. These games are the definition of trap games.
Can a David knock down a Goliath this weekend?
Doubtful; but stay tuned.
As I do each week, I will preview each SEC game and make a score prediction against the spread.
I will also be held accountable for my picks, by posting updated results each and every week (I included my Week 11 results below):
Record Straight-Up Week 9: 7-0
Record Straight-Up Season: 70-9
Record Against the Spread Week 9: 2-5
Record Against the Spread Season: 43-32
Click through the slide show to see my preview and predictions for each SEC game in Week 12...
Kentucky at Georgia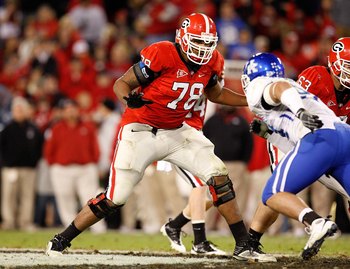 Kevin C. Cox/Getty Images
The Game: November 19th 12:21 PM ET (SEC Network)
What Will Happen: The Kentucky defense has several play-makers, including linebacker Danny Trevathan and defensive back Winston Guy Jr, and will do their best to slow down a dangerous Bulldog offense.
However, the Wildcats are giving up 195 pass yards per game on defense, and could struggle to defend against prolific Bulldog quarterback Aaron Murray and the thriving Georgia passing game. The success passing the ball will open up running lanes for Georgia freshman running back Isaiah Crowell to have a big day as well.
On the other side, Kentucky and new starting quarterback Max Smith will try and grind out yards against a very tough Georgia defense. Bulldog linebacker Jarvis Jones is one of the better linebackers in the league and defensive back Bacarri Rambo leads the SEC in interceptions, which will make it tough for Kentucky to consistently run or pass on Saturday.
Look for Georgia to put up far too many points for Kentucky to keep up on the scoreboard.
Georgia wins big at home.
Predicted MVP: Georgia LB Jarvis Jones
Predicted Score: Georgia 37 Kentucky 13 (line: -30.5)
Mississippi State at Arkansas
Wesley Hitt/Getty Images
The Game: November 19th, 3:30 PM ET (SEC Network)
What Will Happen: Mississippi State is one of the best five loss teams you will find. They have played several top teams close this season and will poise a threat to Arkansas as well.
The Bulldogs will pound big running back Vick Ballard at the suspect Razorback defense and hope to stay close enough to pull off an upset in the end.
However, the Bulldog defense is suspect as well and will struggle to keep the dangerous Arkansas passing game, lead by star quarterback Tyler Wilson and dynamic wide out Jarious Wright, in check.
The Razorback pass game will trumph the Bulldog running game and Arkansas will pull away in the second half for a nice home victory.
Predicted MVP: Arkansas QB Tyler Wilson
Predicted Score: Arkansas 34 Mississippi State 19 (line: -13)
LSU at Ole Miss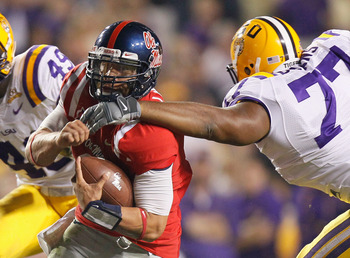 Kevin C. Cox/Getty Images
The Game: November 19th, 7:00 PM ET (ESPN)
What Will Happen: LSU is the No. 1 team in the nation and Ole Miss lost to La Tech by 20 at home last week. The score will be as lopsided as that sentence sounds.
The Rebels have suspended their starting quarterback and running back Jeff Scott (and back-up receiver Korvic Neat) for the game to make it even worse.
LSU will shut down the Rebel offense and keep them off the end zone and the Tiger offense will score at will, as the Rebels have allowed an SEC-worst 425 yards per game on defense this season.
This will be an ugly and unwatchable rout.
Predicted MVP: LSU WR Rueben Randle
Predicted Score: LSU 45 Ole Miss 3 (line: LSU -30.5)
Vanderbilt at Tennessee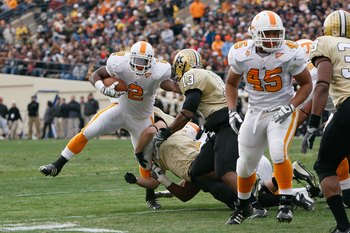 Kevin C. Cox/Getty Images
The Game: November 19th, 7:00 PM ET (ESPNU)
What Will Happen: Without star quarterback Tyler Bray, who is still injured and doubtful for this game, Tennessee will continue to struggle in the passing game.
Adding to the passing woes, is a running game, headlined by the disapointing senior season of Taureen Poole, just 554 yards all season, and you will see a sputtering Volunteer's offense again on Saturday.
Vanderbilt has a solid defense, lead by play-making linebacker Chris Marve, and should be able to handle the Tennessee offensive attack.
While the Vanderbilt passing game struggles as well, averaging just 172 yards per game, the Commodore run game, behind star back Zac Stacey (4th in the SEC in rushing with 89 yards per contest) should be able to grind out yards against a Tennessee defense that allows 166 rush yards per outing.
Look for the grinding Commodore run game and defense to edge out the Volunteers on Saturday and earn their sixth win on the season, assuring them of a bowl invite.
Predicted MVP: Vanderbilt RB Zac Stacey
Predicted Score: Vanderbilt 21 Tennessee 19 (line: Vanderbilt -1.5)
The CReam Puff Games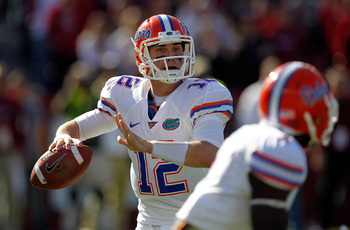 Streeter Lecka/Getty Images
Those of you who are familiar with my weekly predictions know that I do not preview non-Division one match-ups.
I label these as "cream-puff games" and simply give a score. It is my simplistic way to boycott the scheduling of these boring blow-outs.
Auburn 48 Samford 10
Florida 48 Furman 3
South Carolina 45 Citadel 0
Alabama 49 Georgia Southern 0
Keep Reading