Miguel Cotto vs Antonio Margarito on Brink of Being Called Off in New York
November 18, 2011
Patrick McDermott/Getty Images
At slightly past 11:00 a.m. on Friday, November 18, on the 19th floor at 123 Williams Street in New York City, the New York State Athletic Commission's three-member panel will vote on whether or not to grant a professional boxing license to Antonio Margarito.  
Should he be given the license, his December 3 rematch against Miguel Cotto at Madison Square Garden is on.  If he is denied the license, the fight's promoter, Bob Arum, will attempt to move the fight elsewhere. 
A severe injury to his right eye, suffered in his last fight—a 12-round decision loss to Manny Pacquiao on November 13, 2010—is the center of the controversy.  That night, Margarito suffered a broken right orbital bone, then developed a large cataract in the eye.   
He eventually underwent surgery to remove the cataract, and an artificial lens was placed in his eye. His surgeon, Dr. Alan Crandall of Salt Lake City, Utah, gave Margarito the green light months ago to resume his boxing career.
This past Wednesday, the NYSAC's three-member board—Chairperson Melvina Lathan and the two commissioners, Edwin Torres and Thomas Santino—met for over three hours to hear facts about the injury, the surgery and the prognosis from medical professionals who have examined either Margarito or his records.  Later, they will give their vote on whether to license Margarito, who stopped Cotto in the 11th round in 2008.
Since that night in Las Vegas, Cotto (36-2, 29 KO's) has gone 4-1, losing only to Manny Pacquiao on a 12th round TKO in November 2009.  In June 2010, he won the WBA Jr. Middleweight Title by stopping champion Yuri Foreman in the ninth round.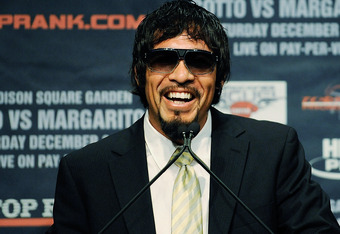 Patrick McDermott/Getty Images
Margarito (38-7, 27 KO's) is 1-2 in his last three fights, with losses to Manny Pacquiao and Shane Mosley sandwiching a May 2010 victory against Roberto Garcia.
Margarito was suspended following the loss to Shane Mosley when it was discovered he had attempted to "doctor" his hand wraps prior to stepping into the ring against Mosley.
The NYSAC hearing and upcoming vote has nothing to do with Margarito on an administrative basis, but only only the medical issue.
The questions Chairperson Lathan and commissioners Torres and Santino had to ask their medical panel were these: does the injured and now-repaired and healed area stand any more or less chance of being injured than a perfectly healthy, uninjured eye? Can another injury to that area cause even worse (perhaps irreparable) damage to the eye?  Not even the best eye specialists in the world—which the NYSAC just may be—can predict that. 
They'll just have to explain the situation to Lathan, Torres and Santino as best they can, and let them make the decision.
If they approve the license by a 2-1 or 3-0 vote, the fight is on at Madison Square Garden on December 3. HBO PPV will telecast the event.
If they disapprove by a 2-1 or 3-0 vote, expect promoter Arum to move the fight elsewhere.  Texas, a rebel state commission which is known for not showing commission reciprocity towards the suspensions dealt out by other state commissions, is the most likely venue the fight will land.
The gut feeling from this corner is that the fight will happen but not in New York, it won't! 
Stay tuned!