NL Cy Young 2011: Clayton Kershaw Wins Cy Young & I Didn't Think He Would
November 17, 2011
I am such an idiot.
Not only am I an idiot, I'm also a terrible Dodger fan.
As I was heading out of the house this morning, I got an email warning B/R Baseball Writers to be ready for the announcement of the NL Cy Young Award today. The nominees: Ian Kennedy, Roy Halladay and hometown boy Clayton Kershaw.
As a newly appointed Dodgers cover man, I saw this as an amazing opportunity to do a little "new guy brown-nosing." I jumped at the opportunity to cover the story, given my man Kershaw wins, in the back of my mind convinced the Cy Young was headed to Roy Halladay in Philly; I didn't think Kershaw would pull it off.
Clayton, you're really chapping my backside, sir!
Who would bet against a true stud on the mound like Clayton Kershaw? This guy is being compared to Sandy Koufax! Especially considering my allegiance to the Dodgers. Especially especially considering he already bagged the Triple Crown!
So there I was, on the way to a meeting, stuck in Santa Monica on the 405 when my phone beeps. I think I might be the only person in greater Los Angeles whose immediate reaction to "Clayton Kershaw wins the NL Cy Young Award" was "son of a b****!"
Bluff called.
Clayton Kershaw is the kind of phenomenal player player that makes people my age—24, a year older than the Cy Young winner—ashamed of whatever they've accomplished to date. He tied for first in the NL with 21 wins, losing only five starts. He led the league in ERA with 2.28 and strikeouts at 248.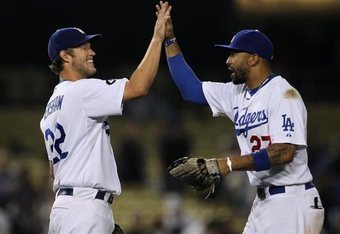 Voila! Triple Crown, Cy Young and egg on a stupid sportswriter's face.
Honestly, though, I'm not planning on holding a grudge against myself for too much longer. In an interview with ESPN, a humble Kershaw gave Dodger fans home and abroad sincere hope in their bleeding club.
Where King Felix in Seattle won his Cy Young almost in spite of his team, Kershaw admitted he couldn't have done it without them. This wasn't in your standard, "I'm a professional athlete, I have to give credit to my team even though I don't want to" kind of way, either. He truly believes it.
It's hard to argue with him considering he's backed by, among others, Matt Kemp—a guy Clayton himself emphasized, multiple times, will win the National League MVP.
Fellow Dodger fans—and more importantly, San Diego, San Francisco, Arizona and Colorado—the Dodgers are on the verge of becoming something special. Kershaw is an archetype of the kind of arm you want on the mound, and he's only 23 with a Cy Young under his belt. He has a team behind him that can and will compete for years to come. All this franchise needs is a little stability in terms of ownership, and it's off to the races—and that, my friends is just around the corner.
Now all I really have to worry about is the announcement of the NL MVP. Mark my words, this time around I'm not betting against Matty Kemp and Dodger Blue.