MLB Interleague Play: Why Bud Selig Must Address the DH Rule
November 17, 2011
Jamie Squire/Getty Images
Full disclosure: I am a fan of National League baseball. In its finest examples, the choice of staying with one's starting pitcher in a crucial situation or sending him to the showers in favor of a professional hitter is a tense one, with dramatic arcs befitting the finest cinema.  
This...style, let's say, of baseball turns the game into something of a chess match and, I believe, is necessary for the game to be played at its highest level. Without it, a great deal of the strategy is lost, and a game of inches turns into a game of feet. 
Even so, I understand the appeal of the designated hitter. A lineup of professional hitters means overall better lineups, and better lineups beget more hitting, and more hitting begets more runs and so on. In a nation where baseball is no longer our favorite sport (and was, prior to the disastrous NBA lockout, in the process of losing its place as our second-favorite sport), getting as many runs on the board as possible is likely a top priority. 
Believe it or not, I'm not here to sway you one way or the other. In fact, this article isn't even about the argument. I won't stop watching baseball if Bud Selig were to announce tomorrow that the National League had adopted the rule. In fact, I hope he does. And, as I've made abundantly clear, I hope for this not because I'm a fan of the DH, but because MLB has to make a choice about it one way or the other. 
Why? Let me explain.
The Houston Astros will join the American League next season, which means that each league will have an odd number of teams. For those of you who aren't mathematically-inclined, an odd number of teams in each league means that there will be an interleague series in process every day of the season.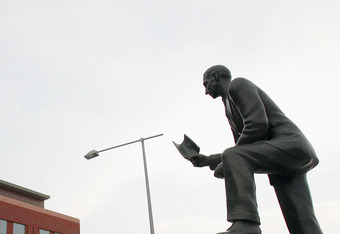 Jamie Squire/Getty Images
I don't have any complaints about this, despite never being a fan of interleague play in the first place. For me, the issue wasn't with the games themselves, but the feigned spectacle surrounding it, and the fact that teams had to give up on intraleague play for a whole month just so MLB could pretend it was showcasing something special. 
A solution for this nonsense would be to do what MLB has done, and fully assimilate interleague play into the culture, making it no more an event than interconference NBA or NFL games. Frankly, there really never was anything special about interleague play, even in the beginning. This is the media age—and has been for some time now—and we can watch teams from other cities whenever we want. The other league isn't hidden from us, and thus it isn't a big deal when they occasionally roll into town. Interleague as a spectacle is an idea befitting the pre-television age, not the 21st century.
Interleague play as a mundane, everyday occurrence, however, is a good idea. But this is where the designated hitter becomes a problem. 
American League teams are, by and large, better than National League teams. They don't have an automatic out in the ninth spot in the lineup, and they don't have to replace that spot at various times with sub-par pinch-hitters. This creates a distinct advantage on the field.
Even with half of the interleague games played on National League fields, the AL has won the overall interleague season 11 out of 14 years, and usually by a decisive margin. Now that interleague play will become an everyday part of our baseball culture, this advantage must be corrected. 
It's easy to forget that the designated hitter exists in one league and not the other, only because, at the time of its adoption, the AL and NL were actually two separate entities, replete with their own umpires and league presidents. 
Today, however, the two leagues are separate in name only, making the American League-only DH an oddity, as well as a relic of a bygone era. In other words, if we've done away with all of the functional measures of league division, including the invisible barrier preventing the teams from playing each other in-season, then there's no good reason to maintain this, seemingly last, division between the leagues. Indeed, there are plenty of good reasons to knock the wall down once and for all. 
As to whether this means that the NL adopts the DH or the AL drops it, well, that's another matter for another time. There are also issues I take umbrage with, such as the proposed inclusion of a second wild-card spot, and how increased interleague play is counter-intuitive to an expanded playoff format, but again, I'll save those bullets for later. Today, our focus should be on ending the natural advantage afforded to the American League.