Philadelphia Eagles : Desean Jackson Will Not Be an Eagle Next Season
November 18, 2011
Nick Laham/Getty Images
The Philadelphia Eagles were defeated this past Sunday by the Arizona Cardinals, 21-17, but the defeat came as one of their key offensive players did not suit up for the game: DeSean Jackson.
There was much speculation about why Jackson was inactive for the game. Media outlets initially stated that Jackson was inactive because he overslept for a special teams meeting on Saturday.
However, according to CSNPhilly.com's Andy Schwartz, Jackson simply missed the meeting because of his displeasure with his current contract, which is not astonishing.
Jackson's discontent with his contract was disclosed during the beginning of training camp.
He was not in attendance for the first 11 days of Eagles training camp and potentially would have missed more days if it wasn't for the revised CBA—collective bargaining agreement—stating that teams can now fine their players $30,000 for each day missed during a holdout.
Adding insult to injury, the Eagles decided to sign Michael Vick to a very lucrative six-year deal worth $100 million before the start of the season.
This contract extension stirred up a lot of commotion, making many ponder if this move was made to free up cap room to sign Jackson, but to the dismay of Jackson and many Eagles fans, no deal ever came to fruition.
Moreover, this has not been a five-star caliber season for the Pro Bowl receiver and punt returner, as his catches and touchdowns have diminished compared to this time last season.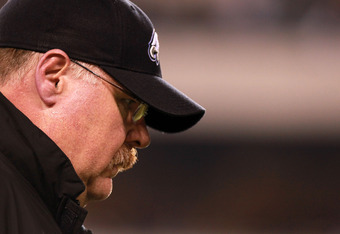 Nick Laham/Getty Images
After playing in eight games this year, Jackson has 29 catches for 503 yards and two touchdowns. He's still on track to eclipse 1,000 yards for the season, but during the course of games, he seems to disappear. Whether if it's intentional or if it's because the Eagles want to spread the ball around is still up for debate.
Jackson and Reid mutually agreed recently that he and Jackson have always had a good relationship, but undeniably, the strength of that relationship is fading as the season progresses.
If Jackson wanted to wage war against Reid and the Eagles' front office for a new contract, Jackson certainly chose the right general to lead him—Drew Rosenhaus, an agent notorious for representing some of the NFL's top athletes, attaining ample amounts of money for his players and having them hold out.
The Eagles know Rosenhaus all too well since he defended a former controversial Eagles receiver Terrell Owens during his frenzied contract negotiations in 2005.
Before exiting Philadelphia, Owens performed for the media and the public on the front lawn of his home, which looked like his own version of "Taebo" or "How to Get Ripped in 5 Days."
So far Jackson has been reserved when in front of the camera, but there's unquestionably more going on behind the scene then what's being disclosed. In previous years, the Eagles have never been hesitant to part ways with players with character issues.
Sooner or later Jackson's demeanor will get the best of him, and he'll be reprimanded for being a distraction to the team, whether through fines or long-term suspension.
The advantageous things Jackson can do are stop being petulant; demonstrate why he deserves the money and is the best receiver in the league; and he will get his payday, just not with the Birds.
Side note: Teams that could use a wide receiver are the Arizona Cardinals, Baltimore Ravens, Washington Redskins and Minnesota Vikings.