Chris "The Crippler" Leben is the Arturo Gatti of MMA
November 17, 2011
Chris Leben is to MMA what Arturo Gatti was to boxing, in the sense that he is willing to entertain the baying crowds while absorbing vast amounts of punishment in the process.
Like the late Gatti, "The Crippler" is a brawler and his style of fisticuffs is sometimes likened to a club fighter—swing and hope for the best.
Leben definitely has the skill set—boxing, jiu-jitsu, wrestling and you guessed it, brawling.
Come fight night, however, the latter is his weapon of choice.
The fight with Wanderlei Silva is a perfect example of Leben throwing caution to the wind—"The Axe Murderer" came out all guns blazing, Leben followed suit—toe to toe and blow for blow, until the inevitable happened.
One of them got sparked. It wasn't Leben but it could've been.
It's a chance The Crippler takes, hoping that during the ensuing onslaught and through all the flailing fists, his will be the punch that connects.
Like "Thunder", Leben has got one of the biggest pairs. To take such risks which have seen him on occasions bloodied and semi-comatose warrants that.
Remember the trilogy war Thunder had Micky Ward—it was boxing, but not as we know it.
Two guys throwing hell for leather—offense all the way, defense practically non-existent.
Was it entertaining? That would be an understatement.
Gatti vs. Ward 1 won fight of the year award by Ring Magazine, and the great boxing trainer Emanuel Steward went as far as saying that the ninth round was the "Round of the Century," following Ward's knockdown of Gatti.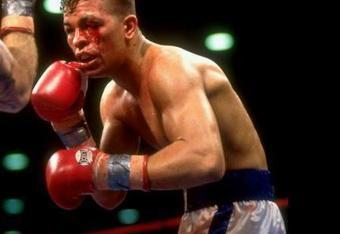 In their third and final bout Gatti broke his hand twice in the fourth round while throwing an uppercut to Ward's hip.
Regardless of the breakage, Gatti continued for six more rounds.
That's what you call entertainment and wearing your heart on your sleeve. Gatti had shown that in abundance and so has The Crippler.
When he fought Terry Martin at UFC Fight Night: 11, Leben was on the receiving end of a blitzkrieg and on the verge of being knocked out before he turned things around and administered a knockout himself.
That fight won him Knockout of the Night honors.
Leben thus far has been awarded the honors of Knockout of the Night (three times) and Fight of the Night (twice).
That's in no small part due to his aggressive gung-ho style of warfare.
Be that as it may, he should take a long look at The Axe Murderer. Well he did, and then he sent him on a short snooze.
The Axe Murderer's punch resistance has gone—and he's set for the knacker's yard.
After his trilogy war with Ward, Gatti was never the same fighter again—he won a few, but in his last three losses to Floyd Mayweather, Carlos Baldomir and Alfonso Gomez, not only was Gatti stopped via TKO, he was taken apart.
In regards to Leben, the wear and tear has become obvious—his last two losses to Brian Stann and Mark Munoz are evident of that.
And at 31, Leben will be lucky if his career isn't over in several years time. That and being the ultimate punch bag gatekeeper to the middleweight division. Gatti retired at 35 and Silva is on his way out at the same age.
Leben's crime is his need to entertain the masses—blood, sweat, tears and knockouts that could go either way.
For what it's worth, while The Crippler is still standing and banging and receiving said doses in equal measure, he'll always be a fan favorite just like the late Arturo Gatti.