10 NFL Records Fans Most Want to See Fall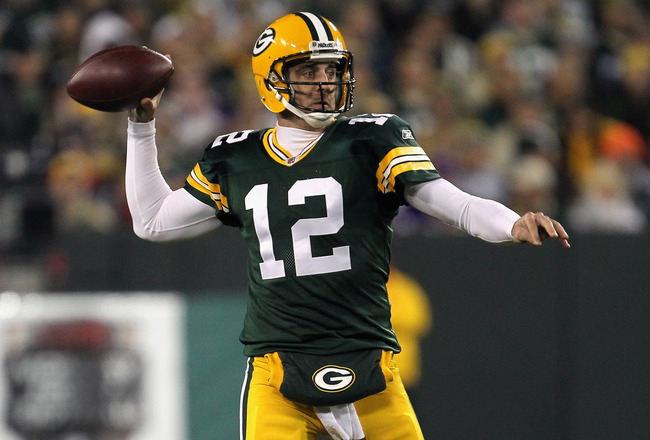 Jonathan Daniel/Getty Images
The high-scoring games of the 2011 season have brought to light a slew of NFL records in jeopardy. Football fans may see several players etch their names into the record books, especially as the year of the quarterback has vaulted the passing game to an all-time high.
Drew Brees' assault on Dan Marino's single-season yardage record has been well-documented, but he's not the only one bearing down on a milestone mark. Aaron Rodgers, Calvin Johnson, Jared Allen and DeMarcus Ware are all well within reach of setting the new standard for greatness.
Everyone loves seeing the pursuit of a record as a player gets closer and closer—the weeks prior, the one to tie the record, the record-breaker and the ensuing celebration and fame the player is granted.
Here are the top 10 NFL records fans would most like to see fall.
Honorable Mention: Peyton Manning: 121.1 Passer Rating (2004)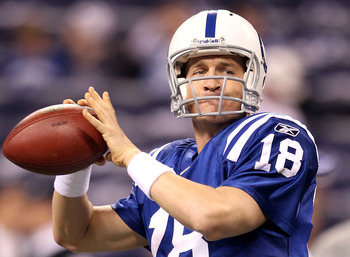 Andy Lyons/Getty Images
Aaron Rodgers will likely break Peyton Manning's single-season mark for passer rating. He's nine points above (130.7) over halfway through the season.
The reason this only gets an honorable mention is because it's much tougher to root for a record that doesn't require Rodgers to keep adding to it; he more has to not lose it. Passer rating is essentially a percentage, and Rodgers already has the record, as he does for yards per attempt and completion percentage as well.
Beating the record would be thrilling, but it is difficult to track throughout the course of the game. Passing yards and touchdown passes are more concrete statistics that are easier to focus on.
10. The Perfect Season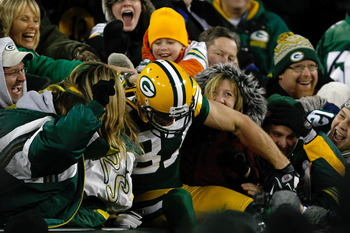 Scott Boehm/Getty Images
Technically, this has never been done in the modern era, so if the Green Bay Packers go 19-0 (including the playoffs), they would be breaking the previous record of 18 wins in a season, held by the 1984 San Francisco 49ers, 1985 Chicago Bears and 2007 New England Patriots.
The Packers are 9-0 and showing no signs of slowing down. They face a tough second-half schedule that still includes a Week 17 matchup with the Detroit Lions. If the Pack could pull off an undefeated season, though, they would be the first team ever to finish 16-0 and win the Super Bowl.
9. Randy Moss: 23 Touchdown Receptions (2007)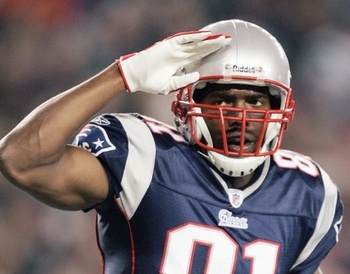 It took a record-setting offense and a 50-touchdown season from Tom Brady for Randy Moss to break Jerry Rice's 20-year-old record for touchdown catches in a season.
Calvin Johnson is the obvious choice to break this. Megatron started the season with nine touchdowns though the air in just five weeks. He has since cooled off, but with 11 touchdowns in nine games, Johnson could break this record.
He would need to score 13 times in the final seven games, not an impossible feat, but certainly a tough one even for a man with Johnson's skill set.
8. Norm Van Brocklin: 554 Passing Yards in One Game (1951)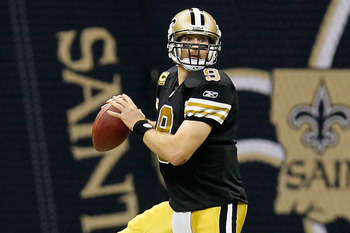 Kevin C. Cox/Getty Images
I'm surprised this record hasn't been broken by now. Norm Van Brocklin pulled off the remarkable night back in 1951, completing 27 of 40 passes for 554 yards and five touchdowns in a 54-16 win.
Back then, throwing for 300 yards in a game was a rarity. In today's elevated passing game, Van Brocklin's record should have been broken. Drew Brees has passed for as many as 510 yards in a game, and Tom Brady has hit 517.
One of the main reasons it hasn't been broken is that most coaches just wouldn't allow their quarterbacks to run up the score that much. Against the Tennessee Titans in 2009, Brady had 345 passing yards and five touchdowns by halftime; he finished with just 380 yards.
While this could happen, either the bulk of the yardage would have to come early in the game, or the score would have to be close enough that the quarterback would need to continue throwing.
7. Marvin Harrison: 143 Receptions (2002)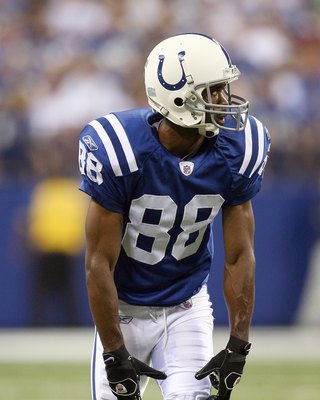 Jonathan Daniel/Getty Images
Wes Welker could seriously challenge Marvin Harrison's record of 143 catches in a single season. Welker plays in the slot for the New England Patriots, and without the help of a deep threat, Welker gets the majority of the passes.
He has 72 catches through nine games, a total that puts him on pace for just short of the record. Then again, the Patriots throw the ball frequently, and they will need as many wins as they can get in the second half, which means a lot of passes for Tom Brady's favorite target.
6. Adrian Peterson: 296 Rushing Yards in One Game (2007)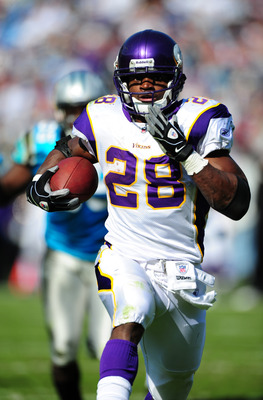 Scott Cunningham/Getty Images
This record could conceivably be broken by anyone. All it would take is one fantastic game by a running back who keeps getting the ball.
DeMarco Murray came out of nowhere earlier this season to rush for 253 yards in a game, posting the 10th-best single-game total in the league's history.
Teams also don't give the ball to solely one guy as much as they used to. Arian Foster might be able to do this, but Ben Tate takes too many of his carries. Adrian Peterson might break his own record one day, but rushing for nearly 300 yards is an astronomical feat. Still, it's one that fans would love to watch, especially as the ball carrier got closer and closer to the record during the course of the game.
5. Devin Hester: 6 Kick/Punt Return Touchdowns (2007)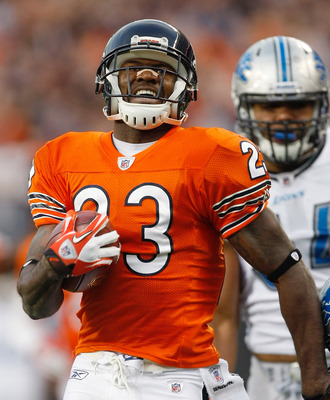 Scott Boehm/Getty Images
The idea of a return man taking back seven kicks or punts for touchdowns—in one season—is almost unfathomable. That would be nearly one every other game.
However, Devin Hester did run back five for scores as a rookie and six the next year. He stalled for the 2008 and 2009 seasons, but came back with three kick returns for scores in 2010. In nine games in 2011, Hester has three return touchdowns—two punts and one kick.
To break this record, Hester would have to run back four in the final seven games. That's absolutely ridiculous. But so are Hester's return skills. How much fun would it be if Hester did this?
4. Michael Strahan: 22.5 Sacks (2001)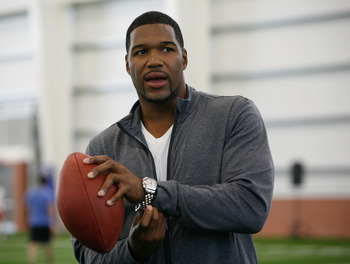 Amy Sussman/Getty Images
Two players—Jared Allen and DeMarcus Ware—have the potential to break Michael Strahan's record. Allen has 13.5 sacks this year and Ware has 13, putting both players on pace to set the new record.
They play different positions in different defenses—Allen is a 4-3 defensive endm, while Ware is a 3-4 pass-rushing outside linebacker. The excitement as these players come closer to 22.5 would build, and Ware especially is the kind of player who can pile up four-sack games in the blink of an eye.
3. Eric Dickerson: 2,105 Rushing Yards (1984)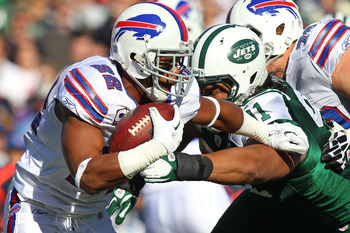 Tom Szczerbowski/Getty Images
Six players have topped 2,000 rushing yards, but no one has reached 2,100 other than Eric Dickerson. Chris Johnson came within a few plays of breaking the record in 2009, rushing for 2,006, but given the season he is having, he won't be the one to top Dickerson.
Fred Jackson and LeSean McCoy lead their respective conferences with 917 and 906 rushing yards, numbers that put both players on pace for around 1,600-1,650 yards. That's a far cry from 2,105, but there are still seven games left and things can happen.
To break the record, Jackson would need to average about 160 ground yards per contest. He is having a career year as it is; the odds of maintaining even his current yards per game is unlikely. McCoy has the skills to do it, but he doesn't get the ball enough.
Realistically, this record won't be broken this year. And probably not next year, either, or the year after that. That doesn't mean it wouldn't be fun to see someone take a serious shot at it, though.
2. Tom Brady: 50 Touchdown Passes (2007)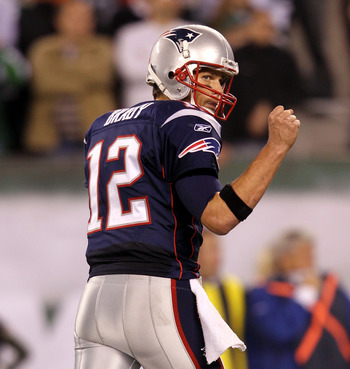 Nick Laham/Getty Images
It's either this or the passing yardage total for the No. 1 slot, and the passing yards win out because the touchdown pass mark has been broken twice in recent years.
In 2004, Peyton Manning bested Dan Marino's 48 with 49, and three years later, Tom Brady took Manning's 49 by throwing 50.
Aaron Rodgers has 28 touchdowns through the air in nine games. That puts him on pace for about 50 exactly. Rodgers will also be going for the single-season mark in completion percentage, yards per attempt, passing yards and passer rating while trying to lead his Packers to an undefeated season.
1. Dan Marino: 5,084 Passing Yards (1984)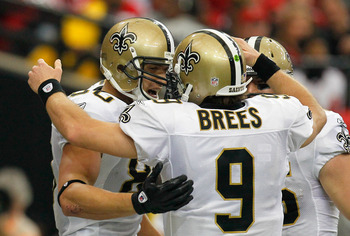 Kevin C. Cox/Getty Images
This record will very likely be broken. Drew Brees came within 15 yards of Dan Marino's record in 2008, and he is well on pace to break it this year.
With 3,326 yards through 10 games, Brees is on pace for 5,322 passing yards. That would beat Marino's total by nearly 250 yards. Tom Brady has fewer yards at this point, but he has also played in one less game. His pace of 336.9 yards per contest puts him on a pace to reach 5,390 on the season.
Aaron Rodgers (5,100) is on pace to do it too, while Philip Rivers (4,876), Eli Manning (4,779), Cam Newton (4,630) and Ben Roethlisberger (4,604) are also within striking distance. Realistically, one of the guys on this list will do it, and maybe even a couple of them.
Keep Reading