MLB Playoffs: How the New System Affects Wild Card Races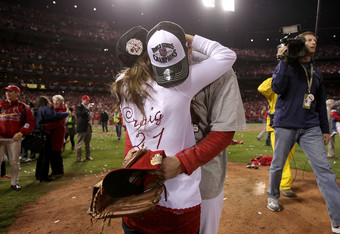 Ezra Shaw/Getty Images
Bud Selig announced on Thursday that each league would add a second wild card team. The new system could be in place as early as 2012.
After two of the most epic wild card races in history, which saw the Rays and Cardinals overcome huge September deficits against the Red Sox and Braves, respectively, many baseball fans are bemoaning the new rules.
However, there would still be a battle for the final wild card spot in each league. Will that race be more or less compelling than the races we've already seen?
The following spreadsheet lists the number of games separating the first and second place wild card teams in each league, as well as the second and third place teams, each year since the wild card was introduced in 1994.
American League
National League
Year
1st and 2nd place
2nd and 3rd place
1st and 2nd place
2nd and 3rd place
2011
1
4
1
3
2010
6
1
1
4
2009
8
1.5
4
1
2008
6
1.5
1
2.5
2007
6
0
1
0.5
2006
5
1
3
3
2005
2
5
1
5
2004
7
2
1
2
2003
2
7
4
1
2002
6
0
3.5
8
2001
17
2
3
2
2000
1
5
8
1
1999
7
3
1
9.5
1998
4
3
1
0.5
1997
12
3.5
4
0
1996
2.5
0.5
2
5
1995
1.5
3.5
1
3
1994
2.5
0.5
2.5
10
Average
5.36
2.44
2.39
3.39
Larger Split
13
5
7
10
(One tie in 2006)
How many wild card teams do you think there should be?
In the American League, the second and third place teams have actually been separated by fewer games, which means we should get livelier wild card races on average.
However, in the National League, the first and second place teams have been separated by one fewer game on average. In fact, the NL wild card race has come down to the last game of the season nine times in 18 years!
Overall, it seems like the excitement factor should be a wash. We'll get tighter races on average in the AL, but slightly less intrigue in the NL.
A greater complaint could lie with the one-game wild card playoff, which will determine which wild card team in each league advances to the divisional round.
That playoff could mean that the higher-ranked wild card team loses out on the playoffs to a team against whom, in the AL for example, it finished an average of more than five games ahead in the standings.
Even in the NL, the first place wild card team finishes an average of nearly 2 1/2 games up on the next place team.
Is it fair to ask a team that won the wild card race by five or more games, which has happened nearly 30 percent of the time since the wild card was introduced, to play another do-or-die game?
That one-game playoff may be exciting for fans, but many losing teams will have legitimate gripes that they had a better season but missed the playoffs nonetheless.
This article is
What is the duplicate article?
Why is this article offensive?
Where is this article plagiarized from?
Why is this article poorly edited?