Philadelphia Eagles: Jeremiah Trotter Says Eagles Are Vindictive, Untrustworthy
November 17, 2011
Hunter Martin/Getty Images
Former Philadelphia Eagles linebacker Jeremiah Trotter was recently on the radio with Tom Byrne of 97.5, the Fanatic. They talked for about an hour regarding many things about the Eagles.
Trotter had some pretty interesting things to say about the Eagles organization.
Much of this may not exactly be new news to you, depending on your level of knowledge about the Eagles, but it was still interesting to hear these things come from a former player.
Keep in mind that Trotter isn't on bad terms with the team so he has no motivation in that regard to speak ill of the organization. In fact, he stated he still considers Andy Reid a friend and that they text each other once in a while to stay in touch.
During the one-hour podcast, which you can listen to here, Trotter touched on the following subjects and I am just writing the gist of what he said below:
The wide-nine scheme
He thinks it "sucks" (yes, he said "sucks"). The main reason he thinks this way is because it's an easy defense to run against when the line is spread out wide.
He also makes mention that you need to have good, physical linebackers in order for that scheme to work. Obviously, that's not news to us because we've talked about that several times.
He agrees that the Eagles' linebackers are just not good enough.
The Eagles make you not want to go to work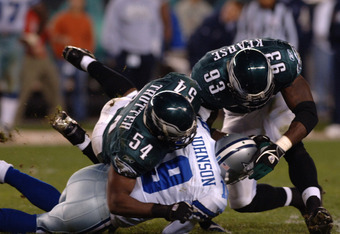 A. Messerschmidt/Getty Images
Here he is referring to how they handle contract situations. Basically, they pay certain players but not others and it makes those unpaid players unhappy and disgruntled.
The Eagles place a value on a player and will not pay a dime more
Here he's sort of expanding on the previous topic. Trotter says the Eagles come up with a certain monetary value they think you're worth and will not budge over that number.
He says this is especially true for players they draft. And it makes sense because the Eagles are known for approaching young players and offering them an early extension to their contract.
When any player, young or veteran, rebuffs overtures for contract extensions, the Eagles don't take too kindly to it and that player ultimately doesn't stay with the team.
See Michael Lewis, Lito Sheppard, Sheldon Brown, Brian Dawkins and David Akers for examples.
Eagles are vindictive and can't be trusted
Trotter says they'll "cut off their nose to spite their face." Again, here he is talking about how they handle contract situations with players.
If you don't agree with the value they place on you, they get upset. When he says they can't be trusted, he stated that people will approach you during the season and say things will get worked out in the offseason.
As in, they promise players a new or better deal and then after the season is over, that player never hears from them again. In essence, the Eagles don't do what they say they will.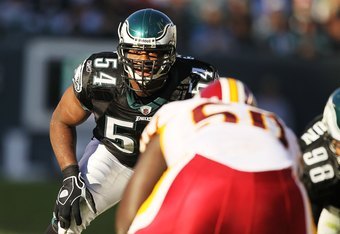 Al Bello/Getty Images
He believes the Eagles think their fans are stupid
This is because the Eagles have the attitude that they're going to do things their way, like it or not, and that the fans will still spend their money on them.
DeSean Jackson
Trotter said Jackson might as well get ready to be playing for a new team next season because with the way things are going, the Eagles will not re-sign him.
That opinion came on the heels of Trotter talking about how the Eagles place value on players, so it makes sense.
Those are pretty much the highlights of the broadcast. Feel free to listen and see if you can catch anything interesting that I may have missed.
All in all, Trotter pretty much confirmed some things I have thought about this Eagles organization and the way it does business. As a matter of fact, I've previously written about it as well, as you can see here.
Trotter knows firsthand how this regime is when it comes to contract negotiations. Granted, he is the only one who seems to have handled quite the way he did, but he ended up getting what he wanted: a ticket out of Philadelphia.
Back in 2006, Trotter and the Eagles had an extremely volatile situation. The Eagles wanted to extend Trotter prior to his contract expiring but the two sides could never agree on a dollar figure.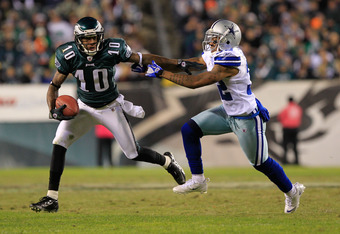 Chris Trotman/Getty Images
While it could be viewed as purely a logical decision, the Eagles placed the franchise tag on him at the end of the season. However, the move appeared to be in spite because of the heated nature of the relationship between the two sides.
Trotter made it known publicly he did not want to be tagged. When he was, he literally went
into Reid's office and went on a tirade. The Eagles eventually removed the tag but the situation had gotten out of control.
Trotter and perhaps Brian Westbrook were the only players to ever "win" against Eagles management. The rest? Not so much.
Unfortunately, the biggest point Trotter makes is that by doing things the way they do, it makes players "not want to come to work." DeSean Jackson fits that profile this year.
Asante Samuel was offended by management as well.
These types of things just don't go over well with players. Yeah, there will always be haggles over money but when players see others getting paid big money, and then see the Eagles come to their own bargaining table with low-ball offers, they find it personally offensive.
At the end of the day, all contract-related issues should be dealt with during the offseason. Once the season begins, it should be all about football and helping the team win on the field.
Players will say football is a business. That's true, but it's also an entertainment business. If you aren't playing well, you aren't entertaining.
And that does nothing but hurt their own value as well as the NFL's value in general.