Notre Dame vs. Boston College: Senior Day Not About the Players Alone
November 17, 2011
Jonathan Daniel/Getty Images
Notre Dame prepares to celebrate Senior Day this Saturday during the game and during the festivities leading up to the game versus Boston College.  
It should be remembered that for every senior football player that the Notre Dame faithful will be cheering for and honoring this day, there will be nearly eighty more just like them—fellow members of the Class of 2012 who will be in the student section for one final time, cheering them on along with the rest of us.
At Notre Dame, unlike most schools, these seniors—athletes and non-athletes alike—have sat side by side in classes and shared dorm floors, dorm rooms and other aspects of student life for the past four years.
While the football players are the most visible and high-profile of the senior students that the university celebrates on this special day, they comprise only a small percentage of the senior class as a whole.
Most of the the rest of the seniors will, on this day—as they have for nearly a month's worth of days over four years, through all kinds of odd weather and, until lately, lots of lousy football—be in the stands, loudly and enthusiastically supporting their classmates on the field for what will be one last emotional time together.
Unlike the star football players in their class, the vast majority of seniors have never had their many achievements highlighted on the evening news or in the Sunday newspaper.  Though with this being Notre Dame, it is likely that many will someday.  
Regardless, for four years most of the roughly 2,000 members of the class of 2012 will have pushed themselves hard in the classroom and outside of it in so many varied and remarkable ways in an effort to achieve personal goals, to serve their fellow man and to represent Notre Dame and her spirit to the best of their ability.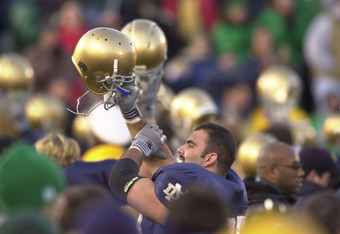 Jonathan Daniel/Getty Images
Many, perhaps even most, have excelled in ways that have gone largely unnoticed by all but their closest associates and professors. Let's face it: helping a professor to make a new discovery in a Notre Dame lab, writing an outstanding paper on any given subject or giving a great performance on a stage rarely draws the headlines that a pick-six touchdown to win a game does for a D-back.
Yet despite a lack of notoriety or an absence of promises of glory and fame, these unheralded seniors—not unlike the football players—set their goals high, sacrificed much and worked hard every day to make their time at Notre Dame productive, memorable and meaningful.
As they prepare to go out into the world beyond The Dome in a few short months, let's remember their efforts, their achievements and their love for and dedication to Notre Dame. And, if you are at the game Saturday, please keep all of the seniors in the Class of 2012 in your thoughts and prayers as you rise to applaud the ones with the shiny hats, and sway to and sing the Alma Mater with  them for their last time as a class.