NFL Week 11: Who's Hot, Who's Not in the AFC East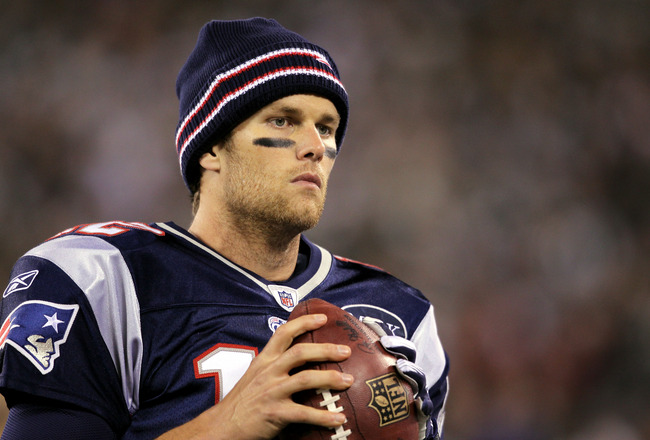 Nick Laham/Getty Images
The NFL is a week-to-week league. Players and teams are only as good as their last game.
Through the first five games of the season, the Buffalo Bills, behind the efforts of QB Ryan Fitzpatrick and RB Fred Jackson, established themselves along with the New England Patriots as the class of the AFC East.
The New York Jets heated up with a three-game winning streak and challenged, albeit lightly, the Patriots for the division lead last Sunday night before losing that game as well as Thursday's game at Denver.
Going into Week 11, two of the hottest AFC East players come from unusual places. One player is from the division's worst team, while another is a player from the league's worst defense.
These hot-or-not players can switch positions very quickly. As of right now, here is who's hot and who's not in the division:
Hot: Andre Carter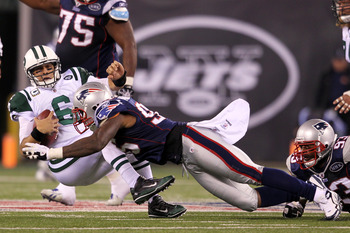 Nick Laham/Getty Images
After coming off a down season with the Washington Redskins, where he recorded only two-and-a-half sacks, 32-year-old pass rusher Andre Carter was up for grabs to sign with any team.
Other teams must have been scared away by his age or did not do their due diligence while evaluating Carter because nobody seemed to want him except for the New England Patriots, who were able to sign him to a one-year contract for $2.25 million.
The modest signing by the Pats has really paid off.
Through nine games this season, Carter already has 8.5 sacks, four of them coming last week against against Mark Sanchez and the Jets.
Carter also has one forced fumble and 37 tackles, whereas he only had 44 tackles through 16 games last season.
While Bill Belichick could not work his magic on Albert Haynesworth, he is doing just fine with Carter.
Not: Shonn Greene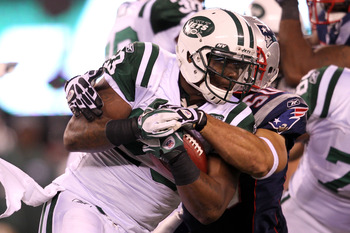 Nick Laham/Getty Images
Shonn Greene was supposed to be the New York Jets' lead back this season. Through the first 10 games, he has shown that he cannot handle it.
Greene has only had one 100-yard rushing game once all season.
He has only averaged 57 yards per game with just two TDs.
In his last game against the Denver Broncos, Greene ran the ball three times for 10 yards before leaving with an injury.
After Greene went out, Joe McKnight filled in and provided a bit of a spark. He finished the game with 16 carries for 59 yards while also having six receptions for 62 yards.
McKnight's performance should have earned him some extra playing time. He may even supplant Greene as the starter within a few games. If he doesn't, he's definitely going to take a few carries away from him.
Hot: Reggie Bush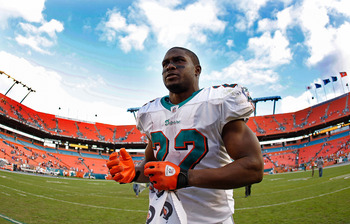 Mike Ehrmann/Getty Images
After getting traded from the New Orleans Saints to the Miami Dolphins in the off-season, Reggie Bush was assured that he would be the primary running back.
Well, it really isn't happening. While he definitely is Miami's starter, Bush is only averaging 11 rushing attempts per game.
He has produced in the last three games, though, gaining 313 yards from scrimmage and scoring three TDs.
It looks like coach Tony Sparano found the right balance between Bush and rookie RB Daniel Thomas.
Behind Bush's recent hot play, the basement-dwelling Dolphins have showed some signs of life, winning two straight.
Not: Ryan Fitzpatrick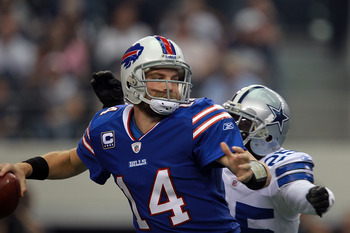 Ronald Martinez/Getty Images
Ryan Fitzpatrick started off the season on fire.
In the first game of the year, against the Kansas City Chiefs, Fitzpatrick threw for 208 yards, four TDs, no interceptions and had a QB rating of 133. In his second game, against the Oakland Raiders, he threw for 264 yards, three TDs and an interception.
Fitzpatrick continued his hot play as his surprising Bills beat the New England Patriots.
Then, after leading Buffalo to a 5-2 record, the New York Jets happened.
The Jets held Fitzpatrick under 200 yards passing while intercepting him twice. His QB rating in the game was 51.9, a far cry from what he accomplished in his first game.
In his last game, he was even worse. Against the Dallas Cowboys, Fitzpatrick completed 20 of 31 passes for 146 yards and threw three interceptions, bad enough for a 46.6 QB rating, his worst of this season.
Hot: Rob Gronkowski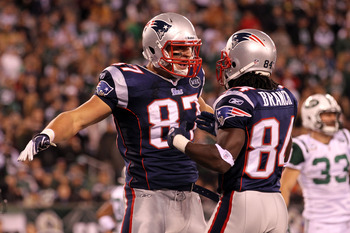 Nick Laham/Getty Images
It looks like Rob Gronkowski is slowly becoming Tom Brady's favorite target.
Gronkowski is a matchup nightmare for most teams. He's quicker and stronger than most linebackers, is almost as fast as most cornerbacks and dwarfs most safeties.
With 52 receptions, he trails only the Saints' Jimmy Graham for catches by a tight end. His eight TDs lead the league among tight ends.
In his last game, against the Jets, he had eight receptions for 113 yards and two TDs.
In his previous game, against the New York Giants, Gronkowski had eight receptions for a 101 yards and a TD.
Not: Dustin Keller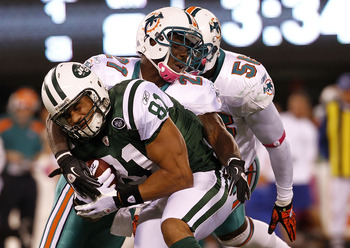 Jeff Zelevansky/Getty Images
Dustin Keller is having a disappointing season. He seems to be the forgotten man in the Jets' offense.
In his last five games, Keller has been averaging just about three receptions per game.
Keller's only 100-yard game this season was in Week 2, the last time he scored a TD.
Hot: Fred Jackson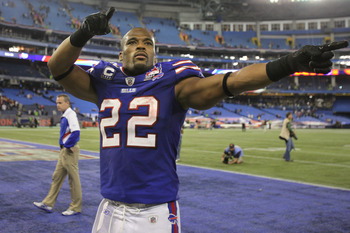 Tom Szczerbowski/Getty Images
No one can put blame for the Bills' recent bad play on Fred Jackson.
Jackson ranks first in the league in yards from scrimmage with 917 and first in the league in rushing yards per game with 101. He also ranks sixth in the league in TDs with six.
In fact, he's only failed to go over 100 yards from scrimmage in one game this season.
Jackson was the only bright spot for Buffalo in the blowout against Dallas Cowboys. He rushed for 114 yards on just 13 carries.
Not: Mark Sanchez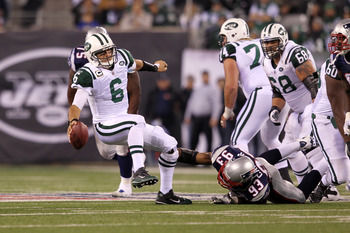 Nick Laham/Getty Images
Mark Sanchez could have redeemed himself quickly in the Thursday night game against the Denver Broncos, but he didn't.
The Broncos game was there for the taking. It was a low-scoring game where Sanchez should have been able to find ways to connect with his receivers, but he didn't. Sanchez finished 24-of-40 passing for 252 yards with an interception returned for a TD for the second game in a row.
Denver has the 20th-ranked pass defense but Sanchez made it look like it was one of the league's best.
In the game against the New England Patriots, who have the league's worst pass defense, Sanchez also struggled.
He held on to the ball too long, a reason for some of his five sacks. Sanchez was also off target at times and threw two interceptions.
Hot: Tom Brady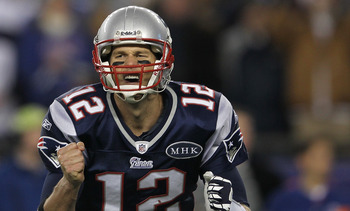 Jim Rogash/Getty Images
After two rare consecutive losses and a subpar game against the Giants when he threw two interceptions, Tom Brady got back to his MVP self against the Jets.
Brady controlled the game against New York. He completed 26 of 39 passes for 329 yards, three TDs and no interceptions.
He escaped several sacks and masterfully used the pocket.
Brady was able to do all of this on the road against a hyped-up Jets team which had the league's eighth-ranked defense overall.
With what looks like the easiest remaining schedule, Brady should be able to remain hot all the way to the playoffs.
Not: Wes Welker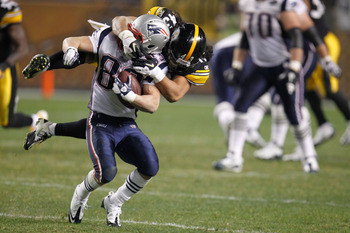 Gregory Shamus/Getty Images
Saying Wes Welker is not on a hot list may seem like a bit of a stretch. Especially since he ranks first in the league among WRs in receptions, total yards and yards per game.
Welker even had a good game in the loss again against the Giants with nine catches for 136 yards.
But in his last game, he only had six catches for 46 yards. In the two games before the Giants game against the Dallas Cowboys and Pittsburgh Steelers, Welker had a total of 12 catches for 84 yards.
His dip in performance can be due to his injured ribs, combined with Brady throwing more and more in Gronkowski's direction.
Keep Reading

New York Jets: Like this team?