WWE Survivor Series 2011: How Will Mick Foley Factor in to Sunday's Event?
November 17, 2011
On the November 14 edition of Raw, Mick Foley made his triumphant return to WWE television.
After a lackluster stay with TNA Wrestling, Foley, who arguably never should have left Vince McMahon's company in the first place, appeared "at home" inside a WWE ring. The fans reacted favorably, as if the "Hardcore Legend" had never left.
And while the "John Cena: This is Your Life" segment was terrible, apparently scripted to be so, Foley's return should be considered a success.
The question now remains as to what Mick Foley's role at Sunday's Survivor Series event will be.
It is hard to believe that WWE would bring Foley back to television, just six days away from one of its premier pay-per-view shows, without plans to involve him in some way during the broadcast.
The future Hall of Fame inductee is among the most popular stars in the history of the sport. He is originally from the New York area, home of this year's show, and is familiar with Madison Square Garden and the rich history of the venue.
There are a number of ways Foley could fit into the event, some more effective or popular than others. He could be a part of a backstage pre-taped segment. He could factor into the conclusion of a high-profile match. He could be an integral part of an ongoing storyline.
There is the simple way of incorporating Foley into the Survivor Series activities. Something as small as a backstage promo with the unused Zack Ryder or any number of the WWE Divas would allow Mick to get face time on the show.
It would help keep him fresh in the minds of the WWE fans, including those who may not have seen Raw due to the horrible Dancing With the Stars or one-sided Monday Night Football programs.
It would also allow whoever is one the screen with the former WWE Champion the opportunity for a little rub. If anything, Mick has forever been great at helping to get over younger talent within the company.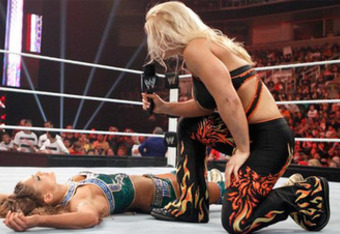 The first alternative is for Mick to become involved in a match. And on that end of the spectrum, there are a few different matches he could conceivably involve himself in that would prove entertaining and could possibly help shape future pay-per-view events.
The first would be the WWE Championship match between CM Punk and Alberto Del Rio.
In this case, both men could benefit from the experience of working with Mick. Punk is the established star that, as of yet, has not truly had a "Wrestlemania moment."
As Edge found out at WrestleMania 22, a high-profile, hardcore match with Mick Foley can make even the most jaded and distrusting fan respect any wrestler. A feud with Foley would produce a series of legendary promos and would give Punk that much-needed moment.
As for why Mick would interfere against Punk, perhaps he is apart of the much larger and never-ending "conspiracy" angle.
Alberto Del Rio is a different story.
The fans still have not fully bought into the experienced Mexican Superstar. His two championship reigns have been failures, largely due to poor booking, but Del Rio has yet to fully mature as a performer. His promos are the same and he shows little-to-no in-ring charisma.
Most lacking is an aggressive streak, the kind of trait that allows fans to see just how dangerous one can be when the time calls for it. That trait is non-existent in Alberto Del Rio.
There is absolutely no better way to bring that out in him and for the fans to buy into his character, than to have him go toe-to-toe with the likes of Mick Foley and show he is capable of stooping to the hardcore level and surviving.
The second way would be the traditional Survivor Series tag match, which features a number of young stars for whom the experience of working with Mick Foley would instantly elevate them to the upper-card in WWE.
Cody Rhodes, Dolph Ziggler, and Wade Barrett are three of the company's future franchise players. As previously mentioned, Mick has an uncanny ability to take a young star and bring him to his level, based only on a few promos and a hellish brawl.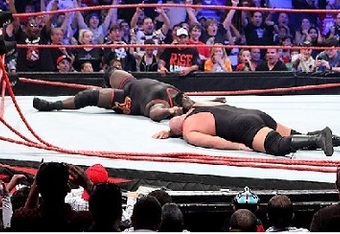 While he has absolutely no reason to have any interaction with anyone in the aforementioned matches, something as simple as a quick backstage segment can be the catalyst for involvement.
With that said, the best chance for involvement by Mick Foley in a match at Survivor Series comes in the main event.
The Rock taking Mick out with the Rock Bottom on Raw Monday night is another example of Mick's friendship with the captain of "Team Bring It" being taken for granted. He has remained a loyal friend of The Rock for a decade, even when he was the butt of many jokes and insults.
Could this have been the final straw that broke the camel's back?
John Cena was largely unreceptive and disrespectful of Foley's attempt to present him with a "This is Your Life" segment.
Could that disrespect and lack of appreciation for Foley's hard work in planning the segment and attempting to make Cena and Rock work as a team cause Foley to betray the leader of the "Cenation" and ignite a rivalry that between the two leading up to Cena's showdown with Rock at WrestleMania?
Perhaps Foley backs up Cena and Rock in the face of the conspiracy involving Miz, R-Truth, John Laurinaitis, Kevin Nash, and anyone else WWE sees fit to involve in the senseless angle.
Whatever the case, the anticipation to see just what Mick Foley's role at the 25th annual Survivor Series will be is growing.
At the very least, it gives fans something to look forward to in terms of an event that has been poorly promoted and is currently suffering from a serious lack of hype, considering it is The Rock's return to the wrestling ring.
Mick Foley is one of professional wrestling's greatest stars ,and seeing him back in the company that made him the household name he has become is a welcome sight.