Georgia Football: Report Card for All 11 Members of the Bulldogs Coaching Staff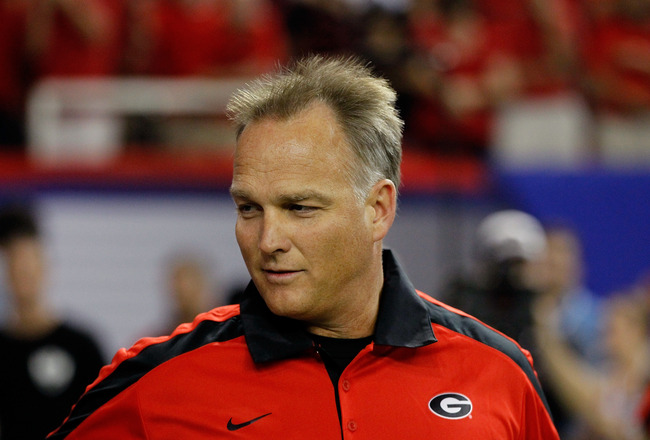 Kevin C. Cox/Getty Images
Just two short months ago, many believed the Georgia Bulldog coaching staff was on their way out the door. The season had started with the conversation of hot seat talk for Mark Richt and after an 0-2 start the flames were reportedly blazing.
Fast forward to the present and the coaching staff is on the verge of a trip to Atlanta for the SEC championship game.
This start led journalist, Larry Burton, to state, "If he's still cashing checks next year in Athens, then I'm convinced he has pictures of the school president naked with six-year-old boys."
Yeah. That sounded bad before the Penn State scandal broke. His point, however, was that this ship was out of control and Richt could not possibly get it steered back correctly.
As it turns out, not only could he, but he did.
In this article I will give an overall grade for each member of the Georgia coaching staff.
Joe Tereshinski Jr.: Strength and Conditioning Coach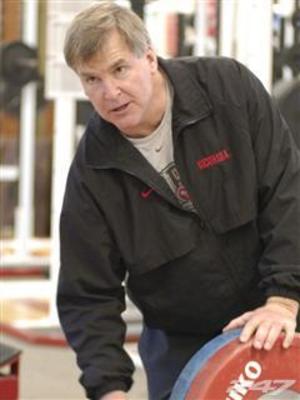 I will be releasing an article in the near future about strength and conditioning coach Joe Tereshinski Jr. There is no one on the UGA campus that loves the Bulldog program as much as Tereshinski.
However, I was vocally critical of this hire as soon as it was made.
Georgia finally had their shot to bring in a big time name to the S&C program, and they chose a video coordinator? As it turns out, Mark Richt knows what is best for his staff better than I do.
There are still people who criticize the hire of Tereshinski. Those people, however, are either blind or too stubborn to admit they are wrong. This team is like night and day from strength perspective. The 2010 team was very finesse in their approach.
This season's Bulldogs are big, fast and just flat-out mean.
Defensive coordinator Todd Grantham deserves high praise for the job he has done with the defense. However, if it had not been for Tereshinski he wouldn't have them big ol' boys to work with.
They are not only big but they are finishing the drill. Last week's game against Auburn was the proof. Georgia jumped out to a big lead in the first half behind the arm of Aaron Murray. In the second half they only threw the ball twice.
Instead, they lined up and ran it down Auburn's throat.
Auburn knew where the ball was going but they could not stop them. The Bulldogs didn't just beat Auburn, they made them tap out.
Grade: A+
Will Friend: Offensive Line Coach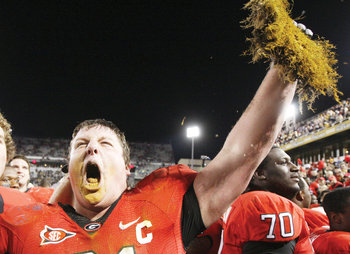 Will Friend is the newest member of the Bulldogs coaching staff. He was hired in the offseason from the University of Alabama-Birmingham, where he had gained a reputation as one of the top up-and-coming young assistant coaches.
I will be the first to admit I was critical of the hire of Friend, a former All-SEC player at Alabama. At the beginning of the season, it seemed my argument had value.
However, Friend has done a great job of shuffling linemen and dealing with injuries. The run offense has grown by leaps and bounds since last season; the pass blocking has been sporadic but has improved over the last month.
The injuries will be beneficial for Friend going into next season because he is losing Ben Jones, Cordy Glenn and Justin Anderson. However, players like Dallas Lee were able to get tons of unexpected snaps and performed well.
Overall, the line has played well with the circumstances, but not enough to get an A.
Grade: B+
Bryan McClendon: Running Back Coach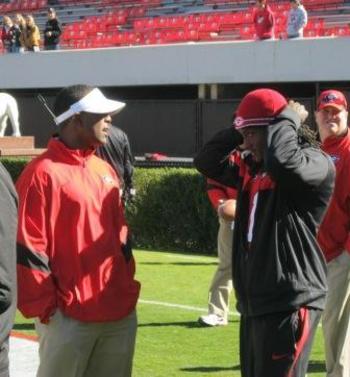 Coach Mark Richt had received a great deal of criticism for the hiring of Bryan McClendon as the running back coach, since he had never played that position. McClendon was a wide receiver for the Bulldogs from 2002-2005.
He became the running back coach in 2009 and his results coming into this season were mediocre at best. The rushing offense was horrific last season and for most of McClendon's prior seasons.
However, much of that falls on the character of the two running backs he was dealt. Knowshon Moreno was no longer on campus and he was dealt Caleb King and Washaun Ealey.
While both players had talent and showed flashes of great play, they were both constantly suspended for one reason or the other.
This season was expected to be dreadful as well as Georgia lost their top two rushers from the previous two seasons. They would be left with a true freshman in Isaiah Crowell, Richard Samuel—who had spent the previous season at running back—and a running back who was 5'6" and 160 pounds in Carlton Thomas.
The result, however, has been solid. The Bulldogs are fourth in the SEC in rushing yards per game and only 27 yards per game behind Alabama, who is run-heavy with Heisman hopeful Trent Richardson.
Grade: A-
John Lilly: Tight End Coach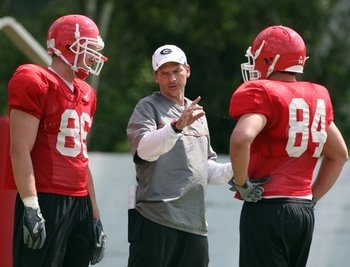 John Lilly joined the UGA staff in 2008 after five seasons with the Florida State Seminoles in a similar position. Lilly has been a solid coach for the Bulldogs, who have had a track record of success at tight end under Mark Richt.
Georgia has one of the best tight end units in college football once again with Orson Charles and Aron White. The two have combined for just under 500 yards and seven touchdowns.
Charles is a possible All-SEC and All-American candidate. However, to be honest, neither he nor White has met the standard that I thought they would.
Both players are future NFL starters and should have solid careers. Perhaps this does not fall on Lilly because his tight ends have not been properly used in the game plan, but they've disappeared in too many games to get an A.
Final Grade: B+
Tony Ball: Wide Receiver Coach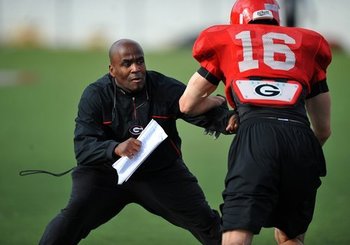 Tony Ball was hired as the running back coach at Georgia in 2006 after eight seasons as wide receiver coach at Virginia Tech. However, in 2009 he was moved to wide receiver coach and this proved to be a great decision.
Prior to 2009, the Bulldogs wide receivers had become synonymous with big plays but dropped passes. In 2009 and 2010 the Bulldogs showed a dramatic improvement in this area, but most of the credit was given to the players AJ Green and Kris Durham.
However, this season we are seeing the fruit of Ball's labor. Aaron Murray is second in the SEC in yards per game, but there is not one wide receiver in the top 10 in yards. This is because UGA has so many weapons at receiver that they are spreading the wealth.
More amazing is the fact that three of their top wide receivers are freshmen. The future is as bright at the wide receiver spot as any time in recent memory for the Bulldogs.
Grade: A+
Rodney Garner: Defensive Line Coach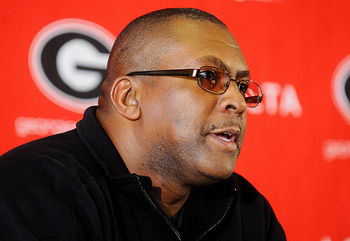 Rodney Garner came to the Bulldog staff in 1998. Most people tend to acknowledge the job he has done as a recruiter over the last decade as his strength.
However, at some point, he needs to start getting credit for the job he has done as a defensive line coach.
Georgia is once again solid on the defensive line. These mammoths on the front line are one of the main reasons the Bulldogs are fourth in the nation in total defense.
The Bulldogs are able at times to only have three down linemen but still stop the run and get pressure on the quarterback.
If you are looking for a coach who coddles his players and uses positive reinforcement, Garner is not your guy. However, if you want results, he is the man for the job.
Grade: A
Kirk Olivadotti: Linebacker Coach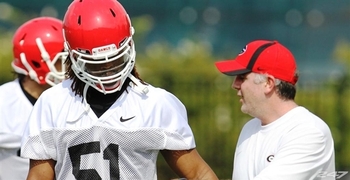 Kirk Olivadotti joined the Bulldogs staff this season after 11 seasons in the NFL with the Washington Redskins. His imprint on this team has been clear.
The Bulldogs have faced one injury after another this season. However, one by one they were successfully replaced following their departure.
Olivadotti's linebackers are the best at UGA since Brian Van Gorder left. Moreover, it is just his first season and the best is yet to come.
Jarvis Jones could win the SEC's defensive player of the year award, and he is just one of the standouts. This group of linebackers plays furious defense and is both aggressive and fundamental.
The Bulldogs need to make sure that Olivadotti is a part of this coaching staff for many years to come.
Grade: A+
Scott Lakatos: Secondary Coach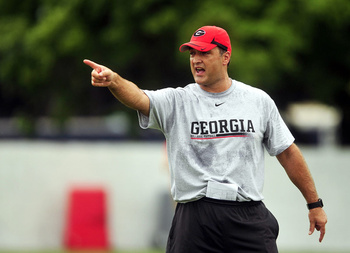 Scott Lakatos was one of the first additions to the new defensive coaching staff under Todd Grantham. After six seasons as defensive back coach for UConn, Lakatos moved to the deep south and has fared quite well.
Bulldog fans remember the days of the 15-yard cushion played by former defensive coordinator Willie Martinez.
This is not the case any longer; these defensive backs are aggressive and love to hit.
Safety Bacarri Rambo leads the SEC in interceptions and passes defended. Sander Commings is third in passes defended and Brandon Boykin is one of the best lockdown corners in the nation.
The Bulldog secondary is not perfect, but they are very good and improving.
Grade: A
Mike Bobo: Offensive Coordinator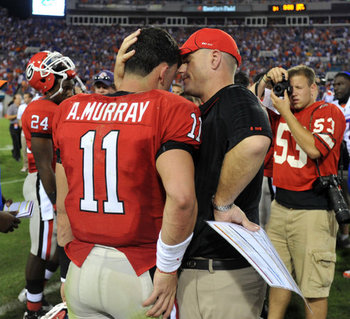 Mike Bobo came on staff for the Bulldogs as quarterback coach in 2001. He would then be promoted to offensive coordinator in 2007.
Since that time, no one has been criticized more.
The offense under Bobo has always produced yards but has always seemed to stall at the worst times. At the start of this season, it appeared to be much of the same. I tabbed their offense as "70 yards—then brain fart."
They would move the ball efficiently until they get inside the 30-yard line. However, starting with the Florida game, Bobo has called some of his best games. The offense was not productive against the Gators, but that was because of execution. The plays were there.
Despite having a sophomore quarterback, freshman running back and mostly freshman receivers, this offense is starting to click.
The Bulldogs are second in the SEC in total yards and first in the SEC in total yards of SEC games only. They are also third in the SEC in scoring offense. Not bad when your leading rusher and receiver were playing high school this time last year.
Bobo is moving up the charts but started the season in a deficit.
Grade: B
Todd Grantham: Defensive Coordinator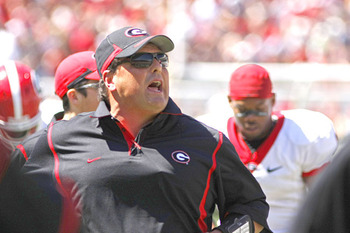 It will be nothing short of a travesty if anyone but Todd Grantham wins the assistant coach of the year award this season. Grantham has taken this defense from horrific to dominant in less than two seasons.
The Bulldogs are currently fourth in the nation in total defense. They are first in the SEC in both sacks and tackles for loss.
This defense is playing physical and disciplined football. The two seasons prior to Grantham's arrival the defense was 58th and 64th in scoring defense. The Bulldogs are currently 12th in the nation in scoring.
However, the actual defense is only giving up 11.9 points per game—good enough for third in the nation.
Grantham is the perfect complement to head coach Mark Richt. Grantham is a fireball and Richt is calm and collected. Together they are headed to Atlanta and will be a top five team headed into next season.
Grantham: A++
Mark Richt: Head Coach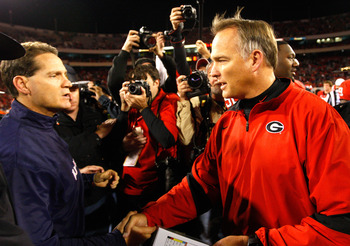 Kevin C. Cox/Getty Images
Coming into the 2011 season, Mark Richt was on the hot seat, according to the national media. After an 0-2 start the rumors increased.
However, eight straight wins later, the Bulldogs are one win away from heading back to the SEC championship for the first time since 2005.
Critics will point to their schedule as the reason for the turnaround. However, the SEC teams that Alabama has defeated only have one more win than Georgia's schedule.
Richt has won over 100 football games at Georgia but will never get the praise he deserves, as he is an easy target because of his low-key demeanor.
Richt is a heck of a football coach and has done a great job keeping this team together despite all of the hardships they have faced. The Bulldogs will not finish the season with their highest ranking under Richt, but this might be his best coaching job.
He is at a solid A right now but could finish the season with an A+.
Final Grade: A
Keep Reading

Georgia Bulldogs Football: Like this team?