WWE: Raw Gets Rocked, but Should We Still Care 'What the Rock Is Cooking?'
November 17, 2011
This Monday night's Raw marked the triumphant return of The Rock; but after nearly six months without a live appearance in the WWE, is it too little too late from the most electrifying man in all of entertainment?
Ever since The Rock character was developed for Dwayne Johnson, it gave him the ability to connect with the fans in a way no other superstar could. Whether he was a face or a heel he always managed to get the reaction he wanted from the crowd. This led The Rock to superstardom in the pro wrestling industry, and is now regarded as one of the greatest performers that sports entertainment has ever seen.
So when it came to The Rock's original return back in February it sent shock waves through the WWE. The promo he gave that night was a thing of beauty and overran the show by a whopping 20 minutes. However looking back at it now, it appears that the words he said that night didn't mean as much to him as it did to the fans.
When The Rock stated "He would never, ever leave the WWE again" we all jumped for joy despite many of us being skeptical. Strangely enough this pessimism was justified as after he finished hosting Wrestlemania, which was a huge let down, his appearances on WWE TV became sparse. This led to The Rock pretty much leaving us again after his 39th birthday party on the May 2nd edition of Raw, in his home town of Miami.
He didn't return until this Monday; spending over six months away from the company.
As a long-term fan of The Rock, I couldn't help but feel a little betrayed by his actions, or lack there of. Sure the man has other commitments to keep to film companies and other such productions, but it is not hard to make an appearance now and again.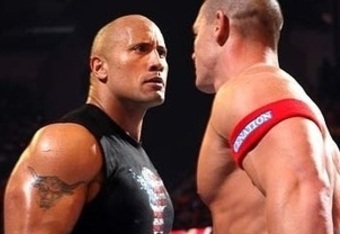 This is where you have to give John Cena some credit. The man is hated by a lot of the older audience, but that doesn't stop him from turning up week after week to put on a show. Cena has made many movies over the past few years, although not very good, as well as making appearing in a number of other medias. Yet, he always makes time to show up and perform at two or more WWE live events a week, not including house shows.
It just seems like The Rock isn't taking us, the fans, seriously; going backwards and forwards between us and his movie career.
Yet, like your cheating ex-girlfriend you just can't get over, we always forgive him and end up taking him back. This could easily be seen from the audience reaction he got when he interrupted Mick Foley's segment. It was phenomenal especially seeing as he was only out for about thirty seconds.
Which brings me to my next point. What does a fan expect when they hear that the 3-hour edition of Raw is given the title 'Raw Gets Rocked'? I for one expected something a bit more than a couple of Rock Bottoms, and a rather tame promo at the end of the night. The man has been gone for half a year, and this is all he gives us in return for our patience? At least he could of done a bit more one on one with Cena to prep for their match at Wrestlemania, or even have a backstage tangle with the Awesome Truth.
The lack of interaction between The Rock and Awesome Truth has left this blockbuster of a tag team match without a whole lot of hype. Sure some will argue that having The Rock there is all the hype you need, but has the WWE forgotten about the other team in the match? If The Rock came back a little earlier and did some more of his brilliant promos, we could be a little more excited but unfortunately he didn't.
Now this does look like a very negative outlook on The Rock since his return to the WWE, but I assure you I will keep supporting everything he does.
As a fan I just wish he could of done that little bit extra to make us all remember why we used to turn on the TV during the late 90's and early 00's. Looking towards the road to Wrestlemania we just have to hope that The Rock really pulls his socks up and makes an effort. His match with Cena has already been thoroughly hyped but a few more appearance here, and there would go down a treat not just for the fans but for the company in general.
Fingers crossed that after Survivor Series The Rock won't vanish till a week before Wrestlemania because my god does the WWE Universe love getting Rocked!