Pre-Thanksgiving Hokie or Duck For Dinner? Week 12 Predictions
November 17, 2011
Al Messerschmidt/Getty Images
We're not going to lie to you - we knew this was going to be one of our roughest week-ends of college football. It usually is the week before Thanksgiving. The football teams want to go on a break, so they generally schedule a terrible school to beat before facing their arch rival.
ESPN College Gameday decided this would be the week to actually pay attention to someone other than LSU, so it's opted for the Texas showdown between...... Houston and SMU! All the focus is going to be  on Case Keenum, but watch out for those Mustangs - June Jones is one hell of a coach.


THURSDAY


North Carolina at Virginia Tech


While North Carolina's season was pretty much over before it started after Butch Davis was fired, Virginia Tech has only one loss to the record - and that was to Clemson. 'Enter The Sandman' will be played nice and loud - and Tech can once again remind the BCS of its defensive mettle (or is metal?!). PREDICTION: Virginia Tech by 10.


FRIDAY


Oklahoma State at Iowa State


People are talking up this night game in Ames as a 'trap', but we said that about Texas Tech, too, and were wrong by around, well, 60 points. And although Iowa State isn't terrible this year (5-4), they have the 81st best offense in the land. Good luck against a team that scores a ton of points, folks. PREDICTION: Sleeping all the way to Bedlam, folks! Oklahoma State by 24.


SATURDAY


Penn State at Ohio State
A few weeks' ago, we would have been really excited about Penn State's visit to Ohio State. It would have been the old man - just a week after beating Nebraska at Beaver Stadium - going to the VFA's most hated rival to potentially take a one small step to the Big Ten Championship Game. But it's all changed. The bloodbath off-the-field has meant that Penn State's visit to Ohio State is going to be a much quieter affair. It could be a close one though. PREDICTION: Ohio State wins by a field goal in a close-but-ugly game.


SMU at Houston


Houston potentially could reach the first BCS games in their history after the debacle at Boise, and that can only be a good thing for college football. Of course, everyone else is going to be yelling about having a play-off, but who would want to see LSU hammer Houston? You - the cougar in the shirt? Really? PREDICTION: Houston by 21.


Kentucky at Georgia


So weak is the SEC's schedule this week that Kentucky at Georgia is seen as being one of the 'choice' games on the conference's calendar. UK still have no offense, and Georgia's playing the best football in the land, highlighted by its recent wasting of Auburn. How do you reckon this one's going to play out? PREDICTION: Georgia by 30 in a laugher.


Nebraska at Michigan


With Brady Hoke in charge, Michigan fans have been ignited recently. True, they've still played badly at times, but it's a pleasure watching Denard Robinson do his thing (thankfully, Penn State avoided the Wolverines this year!). Nebraska came to an angst-ridden game in Happy Valley and managed to pull out a 17-14 victory in a game that meant much more to Blue than it did to Red. Can they do it again? PREDICTION: No. Michigan by 3.


Vanderbilt at Tennessee


This. One. Is. Going. To. Be. Ugly. PREDICTION: Vanderbilt by 7


Clemson at NC State


Clemson's mad celebrations after winning the Atlantic Division showed how much winning means to the fans in Death Valley - and if we're honest, the program's rise to some prominence after years of self-sabotage have been a joy to watch. This game - which will be played in a loud Carter-Finley Stadium - 's a classic 'trap game', which is why....PREDICTION: Clemson does 'A Clemson', and NC State wins by 3.


USC at Oregon


The Ducks were an awful lot of fun against Stanford, and this week's going to be tougher for them. True, they generally play well against the Trojans, but after an emotional victory anything can happen (and usually does in Eugene!). If the Trojans - who aren't a slow side themselves- can deal with Oregon's speed and the occasional stupid mistakes by QB Darron Thomas, Matt Barkley and wide receiver Robert Woods (who will catch the ball 400 times better than the 'Hi, We Suck' Stanford receivers did) will terrify the Ducks 'D'. PREDICTION: Oregon by 7 in a classic.


Oklahoma at Baylor


Be a great game to see two future NFL quarterbacks battling it out. One of them, powerful in the pocket with a rocket arm (Landry Jones), and one with amazing feet (Robert Griffin III). This is going to be fun. PREDICTION: Oklahoma by 10 - Baylor's D making the (bad) difference.


Kansas State at Texas


Everything in me should be saying "Kansas State" after their emotionally exhausting, amazing win over Texas A&M on Saturday, but everyone's still talking about Texas' speed. What Texas are missing now is an injured Jaxon Shipley, who's injury helped to ensure a Week 11 loss to Missouri. And Kansas State has a great play - give the ball to Collin Klein, their quarterback. He'll run you over. PREDICTION: Texas. By 3.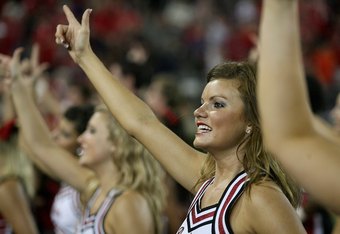 Thomas B. Shea/Getty Images