SEC College Football: Why Knile Davis Should Play for Arkansas, If Healthy
November 17, 2011
Streeter Lecka/Getty Images
When the story broke Tuesday about Knile Davis being cleared by team doctors for practice, Razorback Nation was left with mixed emotions. Should Knile Davis play this year if healthy enough? If so, what would Davis' contributions mean to the Hogs over the remaining three to four games left in their season? With No. 1 LSU looming in the near future could he be the difference maker Arkansas needs to pull off the biggest upset of the 2011 college football season?
Knile Davis was arguably the best player on the Razorbacks squad going into the 2011 season. He was coming off a season where he rushed for over 1,300 in what seemed like only half of a season. Once Davis took the reigns as the starting running back for Arkansas in 2010 the offense clicked and Petrino had found a stud running back to compliment former quarterback Ryan Mallett's talent that he needed.
With Mallett departed for the NFL, Davis was primed to have an All-American 2011 season and lead the Hogs back to a BCS Bowl berth. An ankle injury during a scrimmage in August quickly stalled any notion Razorback fans had of Davis becoming the next Doak Walker Award winner from Arkansas like former running back Darren McFadden, at least for this season.
On Tuesday, three short months after Davis' season ending injury, offensive coordinator Garrick McGee announced that Davis was cleared to play by team doctors. The next day Arkansas head coach Bobby Petrino again stopped the daydreams of the Razorback Nation by declaring Davis out for the remainder of the season. Petrino's decision raises more questions than gives plausible answers.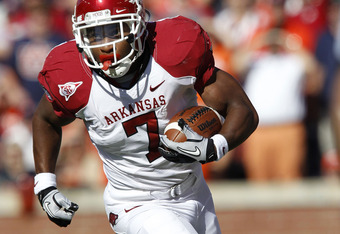 Mike Zarrilli/Getty Images
If Knile Davis is healthy enough to contribute and is cleared by the team doctors to play, is the decision to sit him for the rest of the season the best choice for Knile Davis and the Razorbacks? The answer is no.
Most NFL Draft pundits and Razorback fans alike figured 2011 would be Davis' last season on "The Hill" in Fayetteville assuming he produced similar 2010 numbers. If Davis has an outstanding season in 2012 for the Hogs, he more than likely will declare himself eligible for the NFL Draft. Either way Davis appears to be gone after next season assuming he has no more injuries. 
Why would Davis or the Arkansas staff waste any opportunities for the talented junior running back to play, especially if he will be gone after next season?
The only potential negative on Davis' return is if he were to get hurt again. Petrino and the Arkansas staff would take a heavy public relations hit with the immediate thought being Knile was brought back too soon, even if the hypothetical injury was not to the same left ankle that has sidelined him to date.
Should Davis injure himself in 2012 he would have a medical redshirt to use if he plays this season. If he is not injured, again, he will be gone to the NFL and having a medical redshirt will not be an issue. Davis also has a redshirt season unused to fall back on if warranted.
The rest of the possibilities centered on Davis' return are all positives.
Starting running back Dennis Johnson would still be the starter and get the majority of the carries. Ronnie Wingo and Broderick Green would be used in the same fashion Petrino has used them since Johnson has taken over as the team's starting running back. Wingo will get a couple of rushes off tackle and pass catching opportunities out of the backfield while Green will get some short yardage rushing attempts and batter the opponents defensive line in spots throughout the game.
Dispelling the myth of too many carries, Davis initially would not be counted on for 20-25 carries nor would he be expected to gain 100 yards per game. He would be the change of pace back with breakaway speed and unique field vision that could be the difference against upcoming quality opponents.
Using Knile in the second half against worn down defenses sounds like a safe bet. Better than placing Joe Adams in the backfield and hoping he can create something in space on sweep right or sweep left plays. Let Adams stretch the field on pass routes and wear down corners and safeties with his speed instead of taking on linebackers and defensive linemen which will wear him down.
If Davis could contribute 50, 80, or 100 rushing yards in any game would the risk of playing him be worth it? Yes!
At this point in the season all college football players are banged up and a step or two slower than at the start of the season. Davis would have fresh legs as compared to everyone else on the field. This would be a great advantage for Davis and Arkansas.
Further more every football player is one play away from being injured for the rest of any season at any given point in a particular year. Holding him back is not necessarily injury prevention.
Also, Davis could make an incredible difference in the Razorbacks bowl game after a month of practices and live game reps. This would allow Davis to get in a rhythm before spring practices and a get a jump start on next season as well.
Petrino and his staff have proven they will not rush a player back if he is not ready. Defensive end Tank Wright dressed two games without playing before being placed back as a starter against Tennessee last weekend. The same approach was taken with Broderick Green coming back from his ACL injury earlier in the season.
The Razorbacks mean business on the field but not at the risk of their players. In a win at all costs era in college football this is a reassuring and refreshing approach by the Razorback coaching staff.
If healthy, not playing Davis sure seems like a wasted opportunity against an upcoming LSU team that is second in college football in total defense and third in the nation in rush defense only allowing 83.80 yards per game. Last season Knile Davis carved up LSU's defense for 150 yards rushing with one touchdown on 30 attempts. Hard to imagine Petrino passing on the possibility of similar results come November 25.